It's really been a lot of fun watching you build this beautiful tank, Izzy. I can't wait to see where it goes next :) Great work, for sure!
Did the new cardinals arrive? Crypts don't really grow that we'll in my tank they don't melt they grow very slow
Posted via Mobile Device
Thanks, Jes! <3 I'm so proud of the way this tank has turned out. Better than I dreamed!!!

The new cardinals aren't scheduled to be here until Tuesday. The seller was on vacation, and said she would ship them as soon as she gets back. I've been trying to hold in the excitement lol!
New arrivals are here! I finally got my amanos for the tank! I ordered seven but found one dead after an hour or so of acclimation. I did not get my cardinals, tho. The seller said they were having some issues with not eating or behaving correctly, so she didn't feel comfortable selling them which is very respectful of her.
Funny thing, tho. As I was unpacking the amanos I saw a white towel at the bottom of the box and thought she might have run out of newspaper. I pulled the towel out and found a little note from her thanking me for my patience. And the towel has a little blue betta on it! It's sooo cute!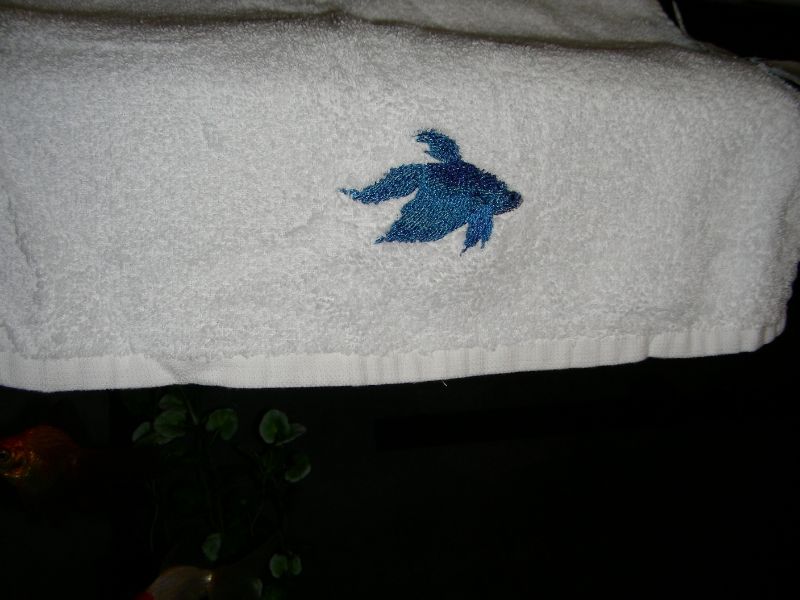 I tried to get pictures of the new shrimpies, but with little luck. However, Mr. Sunshine was in the mood to display this afternoon so I did get some shots of him. All of the gourami have been in a**hole mode... which is kinda a good thing as it keeps them from bothering the shrimps. Who cares about the new shrimps when you want to chase your neighbor?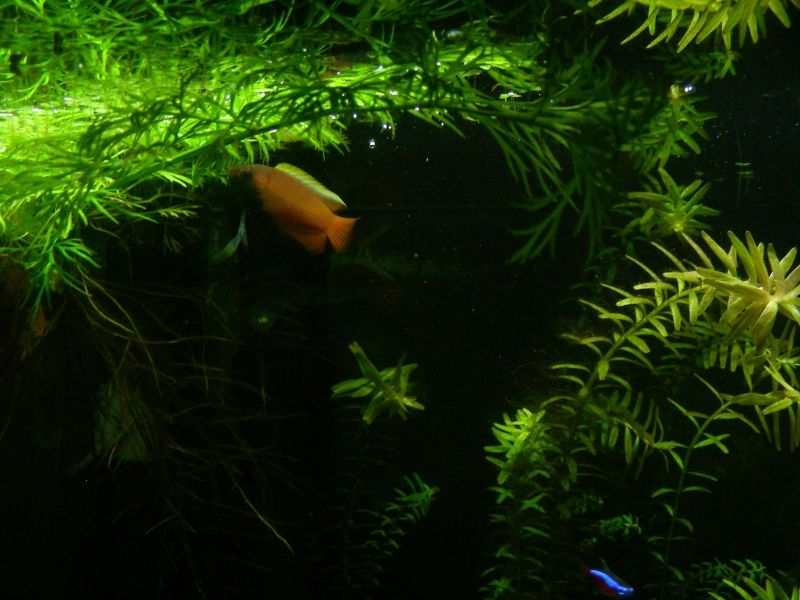 And now the shrimpies!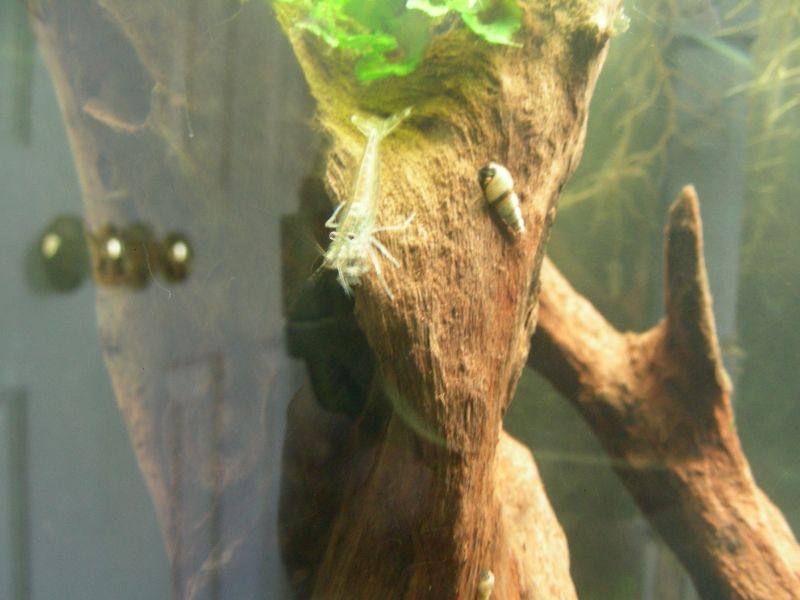 I appologzie for the glares. These shrimp are insanely hard to photograph...
Aww! I want a fish towel! AND shrimp! AND GOURAMI! *ish jealous*

These shrimp are giving you a hard time this week, poor Izzy *hugs* Really wonderful that the seller held the fish rather than sending potential heartbreak. That is always appreciated, and the kind of seller that I'd be sure to return to time and time again - all adorable Betta towels aside. :)
Thanks, Jes! It has been a hard week for my shrimps. I really hope these amanos (who are huge BTW) will turn that around. They are sooo active. I've already seen the work they've done on some crypt leaves. I do that stupid thing where I order on the low amount and now I want more of them lol!
I think I've said it before, but the seller is
Invertebrates by Msjinkzd | Specializing in invertebrates and micro fish from around the world.
I've had nothing but good experiences with her. And she's not too far from you, Jes... if you are looking for some more little fishies for your 125.
I set up the tripod tonight hoping that Sturgeon would come out and I could show you guys how much he has grown! But he's playing hard to get <.< So are the shrimps, but I figured as much with the trip they have had.
| | |
| --- | --- |
| The Following User Says Thank You to thekoimaiden For This Useful Post: | |
It really has! But. . . from what I've read, it's kind of to be somewhat expected with shrimp, and. . . you know. . . less is more when starting out, even if us fish (and shrimp) keeping types tend to also be hoarders!
I'm POSITIVE you'll end up with more shrimp than you know what to do with a few months down the road, lol. Nothing but confidence in your skills, love!
Amanos are awesome!
I'd love to keep them one day, too! I was looking at them as a possibility because the females are so big, but without being able to have a breeding colony. . . I suspect they'd only get picked to death and make me sad in the end. I'll have to be content (for now) with your excellent photography (yay, tripod! Boo hard-to-get)!
The deaths are expected, but it doesn't make them any less depressing. At this point I've lost most of the adult shrimp I bought this past week. In my shrimp tank that is. But I don't want my complaining about that tank to clog up this thread so
PICTURE TIME!!!!
And a two for the price of one! Even if that extra one is blurry...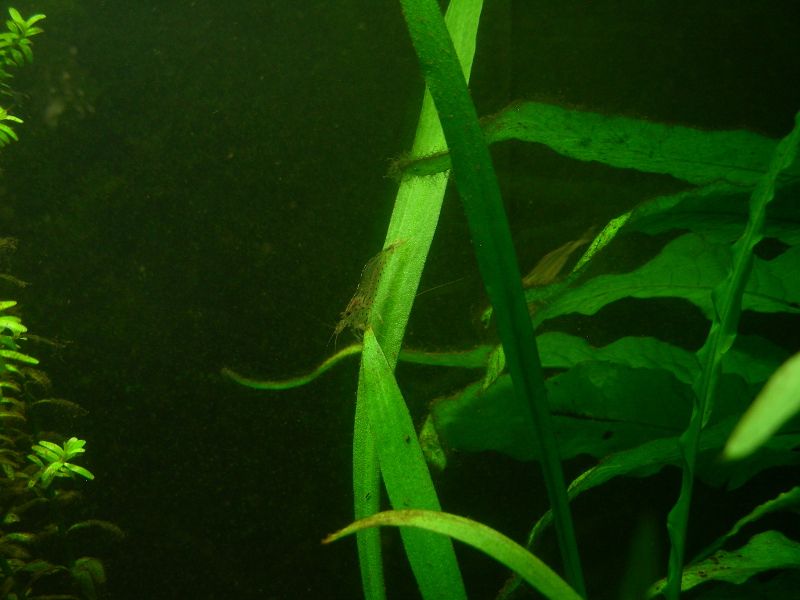 Yay! For tripods! I did lose an amano today, tho. She didn't look so good when I put them in yesterday. I originally got 7 in the shipment and didn't see any bodies this morning. I've only seen three simultaneously so who knows how many are really in there. These guys are clear and really good at hiding. But I so totally want MOAR!!! GAHHH I LOVE SHRIMPS!
SOOOOO CUTE!!! :)
One day you'll realize that there are 389 of them in there, and wonder how that happened! Rock on, Izzy!
Farlowella!
---
I finally caught him! And now I'm reasonably positive that he's actually male. I think I can see bristles on his nose which means male (I think). Look at how he's grown!!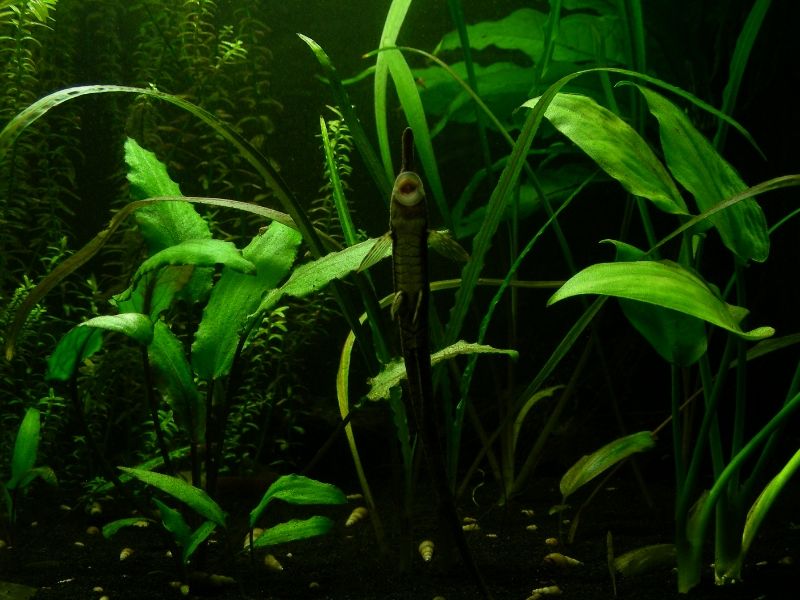 Also a neat shot of one of my amanos.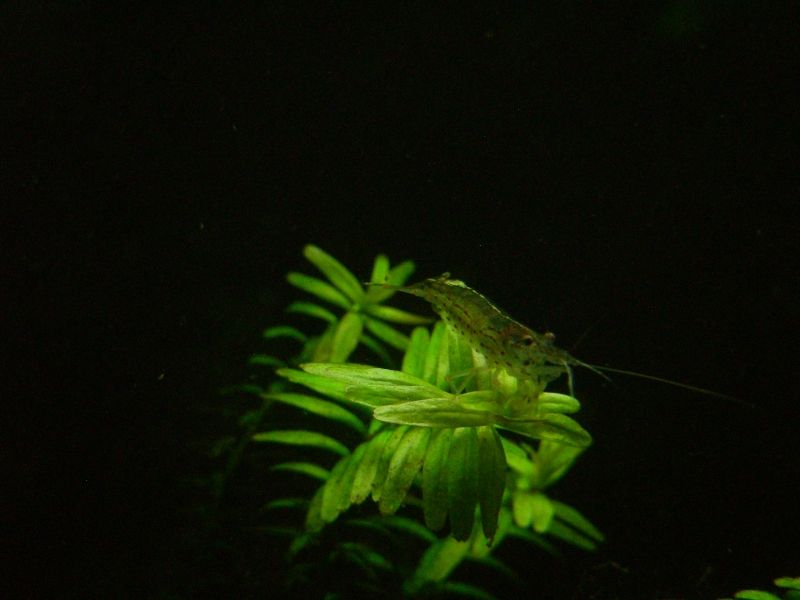 So... I've been watching these gourami for months now. I thougth the aggression between the two females (or more like directed at one female) would subside, and it hasn't. It's stayed about the same, but even at this level I don't think it is right to keep that second female in there. She is chased whenever she comes out of her corner. Later this week or next week, I'm going to remove the shy female, place her in the breeder box in the shrimp tank, and watch the dynamics between the male and the aggressive female. They seem to get along much better. If all looks well, I'm going to look for another permanent home for the shy one. I just don't feel that it's right for her to live in fear like that. Somehow I wound up with a super aggressive female, and I have to deal with that.
Posting Rules

You may not post new threads

You may not post replies

You may not post attachments

You may not edit your posts

---

HTML code is Off

---