PERSONALLY, I prefer to see one larger shoal . . . and with the gourami that you have reigning at the top of the tank. . . I'd stick with the ones that tend to be mid-swimmers, so that each species can have their own level of the tank. Some of the smaller Tetra get nervy when there is a larger fish occupying the same level of the tank as them, just based on what I've read while figuring out my eventual stocking. . . but I have no hands-on experience keeping either of these fish together, lol! So my opinion of sticking with one shoal is pretty much personal aesthetics. . . I'm sure you could get away with it, stocking wise - with your care to parameters and all the beautiful plants you have, and if you did, I'm certain I'd absolutley love it! So I'm no help! ;)
---
Last edited by Chesh; 02-27-2013 at

01:03 PM

.
I'm a bit of an overstocker myself so I think your tank looks empty right now so my opinion is go for it
Posted via Mobile Device
I've always been in love with shoaling species and tend to have a top, bottom, and substrate fish. If I have a centerpiece I never really counted that as one of the levels, it was just an addition. I reread some profiles on black neon tetras and recommended tank mates do include small gouramis. I don't think you'd have a problem with compatibility, with the possible exception of if the gouramis spawn again. I actually kept dwarf gouramis and black neons together with no problems, but that was probably almost 20 years ago so my memory might be a bit fuzzy. I had more problems with the gouramis fighting each other than any other fish.

The good thing is that you're going to be getting the cardinals first so don't need to make up your mind right away. You can see how the tank looks and go from there. If you think it would be too much then you can get more cardinals. If you think it would look better with the black neons than you can get them. Change your mind and you have that empty 20 gallon.
Jes, I'm with you in that I normally like 1-2 large shoals of fish, but this is probably the last community I will have a chance to stock for years. So I'm kinda trying to put a bit more in there than I normally would.

Boxer, even I think my tank looks empty right now lol! Unless of course you look at the substrate when I'm feeding them. Then it's like my sand comes alive!

Cory, I think you hit the nail on the head. I don't have to decide right now. I've been thinking about this a lot while I've been cleaning stuff for my shrimp tank I'm setting up tonight (super yay!). I'm going to see how my cardinals look in the tank before I get any black neons. I'm also going to use them to "test" how aggressive the gourami can be to other fish in their space. They completely leave the loaches alone, but that might be because they don't look fish-like lol. But I'm really glad to know that you did at one time keep the black neons with gourami.
SO excited for the shrimpy adventure!!! And I can't wait for the next addition to the 29. . . so much FUN!
I'm excited about the cardinals since I'm stocking my 30 gallon Pleco tank so far I've put in 2 gold ram and I'm going to put in 12 cardinals and maybe some kuhli loaches
Posted via Mobile Device
Quote:
I'm excited about the cardinals since I'm stocking my 30 gallon Pleco tank so far I've put in 2 gold ram and I'm going to put in 12 cardinals and maybe some kuhli loaches
Posted via Mobile Device
Yes! Add kuhlies!! They are adorably fun to watch!!
I showed some pictures last night in chat, but I figured I should share them with you guys, too. Introducing my (work in progress) shrimp tank!!
This is the whole tank. That betta in there will be going into a breeder box once the shrimps are in. Even though the filter is cycled, I'm doing tests on the tank for about a week to make sure it's safe for shrimps. I'll put the shrimps I have in there, and then in about a month I'll order some new ones. I have some more plants coming in on Friday, so it will look a bit more filled in by then.
REALLY excited to hear all about your shrimp... I've been harboring an odd obsession with shrimp for some time now! The tank is off to a really great start! *squints* What substrate do you have in there?
So. HUGE update. My plants came in today so the shrimp tank looks much more full! And I stuffed the 29 gal with crypts!! Unfortunately I dug up a lot of unused root tabs (those dwarf sag and pygmy chain swords just never grew) so the water is horribly cloudy. I did a water change to remove some of the excess nutrients. Now for the pictures!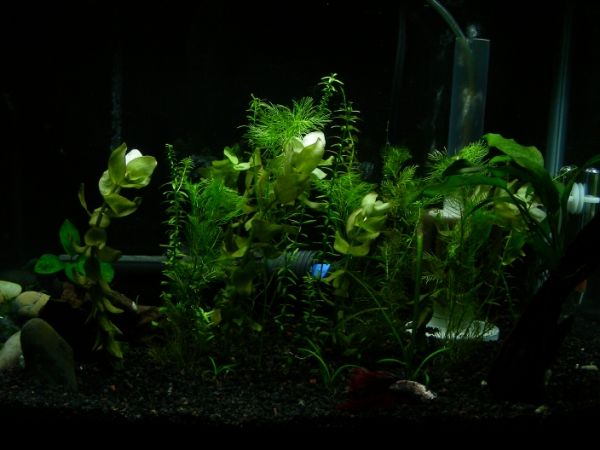 I added Myrio and Bacopa to the shrimp tank. It looks so much more full now! I tested the water, and it all looks clean. If it stays this good I'll put the remaining cherries in the tank! Jes, the substrate is eco complete. I wanted to try something new. I'll see how it works for me.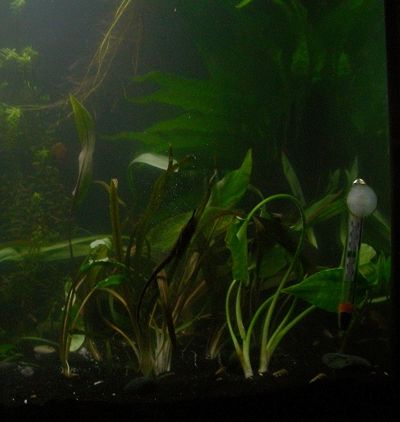 These are the new crypts. Any full tank-shots I took just came out terribly. I even had to edit this one to get the plants to show up better. I really hope these guys recover from their trip and grow nice and big!
GORGEOUS new additions! LOVE!!! I hope they all grow and thrive for you :) Please do keep me posted on how you like the eco complete, I've always been curious to try it.
Posting Rules

You may not post new threads

You may not post replies

You may not post attachments

You may not edit your posts

---

HTML code is Off

---