I talked to Mika about it, and she suggest it might be a scar. Sang reminded me that injuries do happen in wild captures, and all kulies are wild-caught. I'm trying not to worry about the little guy and just keep my eye on it the next few days.

But.. I seriously do want to try my hand at breeding the gourami later this year, tho! It's soo neat watching the male guard his eggies!
Pics or it didn't happen, right?
TA-DA!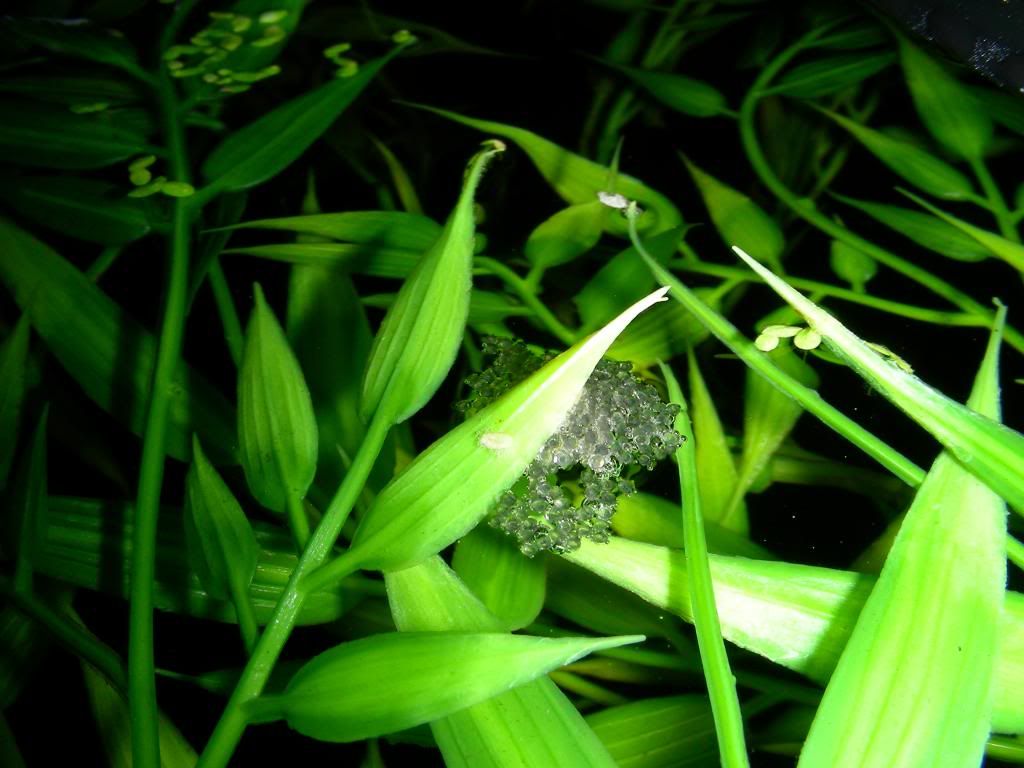 haha, well *I* believed you, lol! But thanks for the image - I always love to see pics! HUZZAH for almost baby fish!!!!
Well... I had to remove the nest. The male was just being too nasty to EVERYTHING in the tank. Even me when I came close.

But I do want to raise a spawn (on purpose!) later this year!

EDIT: .... They're at it again. The male has built another nest and is enticing the females. STAHP!
---
Last edited by thekoimaiden; 02-01-2013 at

10:09 PM

.
LOL, it is never a win win situation! Right?
---
540L/140G - 'Tidal Jungle' (Crabs) | 254L/67g - 'Backwater Pool' (Fish/Snails) | 96L/25G - ''Twisted Minds" (Fish/Snails)

I've never had any problems with 'Impulse Buying'. They're just animals that I forgot I had planned to get.
LOL! Even if it's a bit of a troublesome situation, it's still just wonderful (to me) that you've gotten such amazingly healthy and perfect fish. Always nerve-wracking to order online where you can't CHOOSE the fish yourself. . .I hope they all do okay in the 29, and don't get too snarky with the nest and need to be rehomed. That would suck! Speaking of health, any changes to your lil' loach?
I am happy that I got healthy fish. But I'm also a little worried about the gourami. One of the females seems to be much more aggressive than the other. I'm hoping this will clear up when I put them in the 29 gal as they'll have more hiding spots and more things to hold their attention. Maybe without the tannins the male will calm down, too. He's in crazy breeding mode, and while he's gorgeous, he's being a butt.
The little loachy with the spot (who I'm now calling Scar) seems to be doing about the same. Maybe his high level of activity is what got him the wound in the first place. He's always the first one to food and sometimes just runs laps for the fun of it.
Heehee! Scar sounds like a cutie! I've noticed that with my loaches there are a few who are just. . . insane, and more prone to cruise the tank - even though they all do it from time to time. But with those, specifically, I've noticed that once they settle into a new place (a month or two), they seem to settle down, and once their tank 'matures,' they seem to chill out a bit more. I'm no expert, lol! Just something I've noticed over the 4 batches of loaches I've had. I'm always super-attached to my 'cruisers!' Love seeing that loachy craziness come out!

I hope you're right, and that the move to the main tank calms things down a bit! Crazy gourami! Another user on here had a similar problem with 1m/2f - when they hit breeding age, one of the females was really getting snarky. She ended up returning her to the shop and *knock on wood* hasn't had any problems since. Hopefully you're right, and they ALL settle down a bit in their new home. I've really been studying up on gourami since I decided to put some into Becoming when I upgrade, based on many experiences I've seen, I think I'll be keeping more females in the harem than the two that are usually recommended. . . it does seem to be hit-or-miss sometimes. SHE'S prolly just trying to win her mate - can't blame her, really. He's a pretty boy!
The female that is being witchy is the larger one who did breed with the male. I thought that might have something to do with it. I really do hope that putting them in the main tank will decrease the general nippyness I've noticed. The alternative is to rehome the submissive female... I'll keep an eye on things and make a decision later.
Posting Rules

You may not post new threads

You may not post replies

You may not post attachments

You may not edit your posts

---

HTML code is Off

---