Very nice!
What plants do you have in there? How often do you use the Flourish?
---
150 Gallon - Mostly American Cichlids
135 Gallon - Angelfish Community
75 Gallon - Odd couple (Polleni/Angelfish)
55 Gallon - African tank
20 Gallon Long - QT
10 Gallon - Empty

Oh, dang it. Can't seem to find my list. I can name some of them at least. Some of the plants are in more of a plantlet form, while others of course are larger.


Wendtii, Red (Cryptocoryne wendtii)
Wendtii, Green (Cryptocoryne wendtii)
Frazeri (Anubias 'Frazeri')
Anubias Nana (Anubias barteri v. 'Nana')
Anubias Coffeefolia (Anubias barteri v. 'Coffeefolia')
Amazon Sword
Balansae (Cryptocoryne crispatula)
Bolbitus (Bolbitus heudelotii)
Sword, Red Melon (Echinodorus barthii)
"Dwarf" onion plant
Amazon Sword "Giant Mother Plant" (Echinodorus bleheri) (20"-24+")
Anubias Barteri Round Leaf "Giant Mother Plant"
Java Fern (Microsorium pteropus)


There are probably a couple I am forgetting too. I had to order off the net because the LFS's around here can be very hit and miss. Aquariumplants.com was awesome - will use again.
Here are a couple updated pics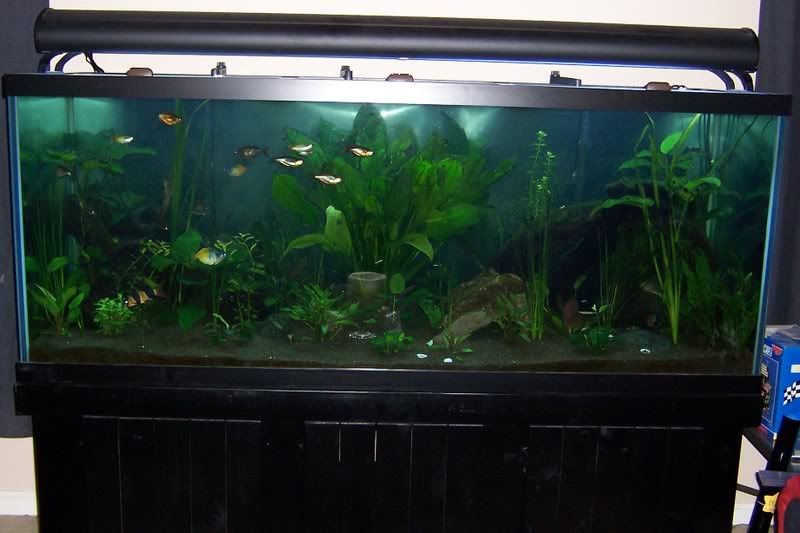 New Flower on another nana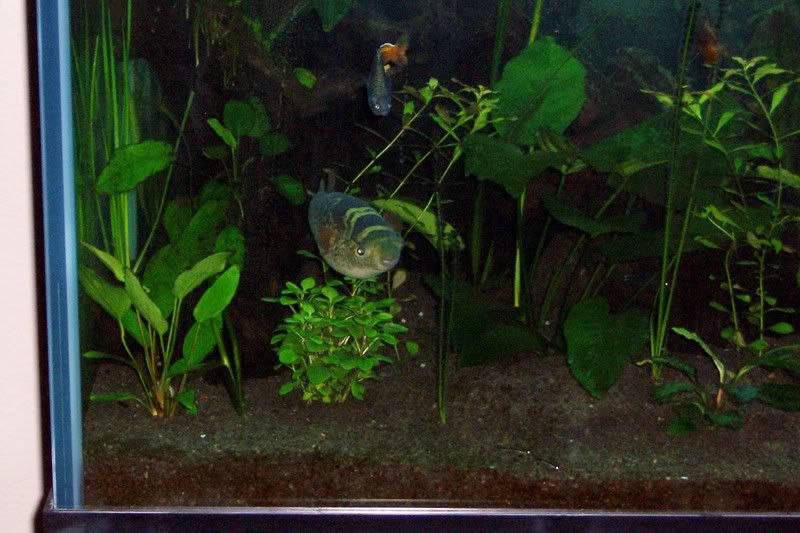 ---
210 Gallon

Live Plants
~38 Otos
10 Cardinal Tetras
5 Red Iranian Rainbows
5 Boesemani Rainbows
4 Roseline Sharks
1 Gold Nugget Pleco
1 Peppermint Pleco
1 Clown Loach
1 Honey Dwarf Gourami
1 Big Clear Shrimp (2-3x normal Ghost)
1 Green Spotted Puffer (Think we actually got the rare FW one)
1 Ceylon Puffer (we think - sold to us as FW, still trying to figure him out)
1 Bumble Bee Goby
1 Flounder
6 Ember Tetras
Think u have a black brush algae problem. better take care of it before it gets out of hand, cos that would be a shame.
Got any tips how?? I have 30+ otos, gold nugget pleco, peppermint pleco and a siamese algae eater. Trying not to go chemical route, but....
---
210 Gallon

Live Plants
~38 Otos
10 Cardinal Tetras
5 Red Iranian Rainbows
5 Boesemani Rainbows
4 Roseline Sharks
1 Gold Nugget Pleco
1 Peppermint Pleco
1 Clown Loach
1 Honey Dwarf Gourami
1 Big Clear Shrimp (2-3x normal Ghost)
1 Green Spotted Puffer (Think we actually got the rare FW one)
1 Ceylon Puffer (we think - sold to us as FW, still trying to figure him out)
1 Bumble Bee Goby
1 Flounder
6 Ember Tetras
oto's dont eat bba. The only fish that does, reluctantly, is the SAE.

Tufts often appears on driftwood, decorations and r green leaves of slow growing plants like anubias.
bba is brought into the tank by something...maybe one of the plants was affected when u bought and planted it. I saw little black spots on my newly planted Parva once and took them out immediatly.

Get a test set.
i think ure nitrate and phosphate levels are a bit high.....red algae can thrive if that's the case.
Remove all the dead and decomposing leaves.

Since u have a lot i would consider pruning all the affected leaves.
and try to keep it under control checking ure water parameters.

U can also bleach ure plants.
The thing is that traces of the algae are probably all over ure tank now (tubes, filter and so on).

BBA is the worst algae ever and sometimes requires very extreme measures

The experts here on the site can probably help u better
Off hand I believe they are approx 72 L x 24 D x 29 H
---
210 Gallon

Live Plants
~38 Otos
10 Cardinal Tetras
5 Red Iranian Rainbows
5 Boesemani Rainbows
4 Roseline Sharks
1 Gold Nugget Pleco
1 Peppermint Pleco
1 Clown Loach
1 Honey Dwarf Gourami
1 Big Clear Shrimp (2-3x normal Ghost)
1 Green Spotted Puffer (Think we actually got the rare FW one)
1 Ceylon Puffer (we think - sold to us as FW, still trying to figure him out)
1 Bumble Bee Goby
1 Flounder
6 Ember Tetras
Posting Rules

You may not post new threads

You may not post replies

You may not post attachments

You may not edit your posts

---

HTML code is Off

---