20 Gallon Planted Tank
---
Hey all.
I got my first fish a little over a month ago, he was an impulse purchase betta with a 2.5 gallon tank.
Over the past month I struggled with water quality issues, mostly maintaining an even temperature.
About a week ago I remembered that my father in law had a 10 gallon tank before he got the 40 gallon he has now.
I asked him if I could have his old tank, and he said sure.
I went over to pick it up, and discovered it was a 20 gallon rather than a 10 gallon.
After perusing this forum and seeing all the beautiful planted tanks, and after reading the cycling and plant how-to articles I elected to give a planted tank a try.
Here is an overall shot of the tank, beside it you can see the tiny little cup in which Harvey came home from the store:
I had a devil of a time finding driftwood around here, almost all of the stores I went to carried plastic pieces, with the one exception being massively expensive logs at the nicest of the local stores. I found this piece at a place that caters more to reptiles. Had to soak it for quite a bit to get all the tannins out, and it still wanted to float, hence the rocks: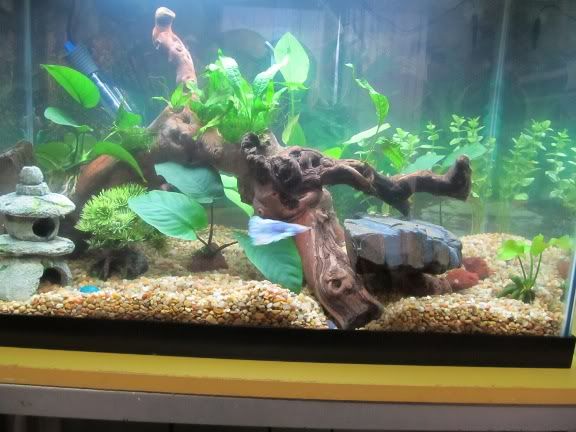 I've mostly got Anubias, Java Fern, and Java Moss. I have a single Argentinian Sword and a Banana Plant and a couple of bunches of Lemon Bacopa for variety: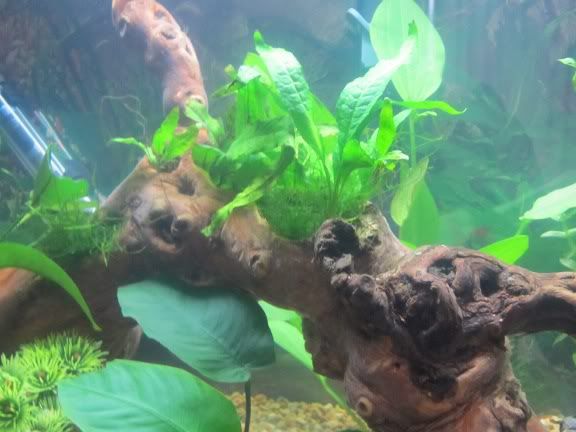 I also found a couple of nice interesting rocks and plan a bit of a canyon when I can take them off the driftwood. They are some kind of layered shale or mudstone and I find them very unique(the pale streak is Harvey on patrol):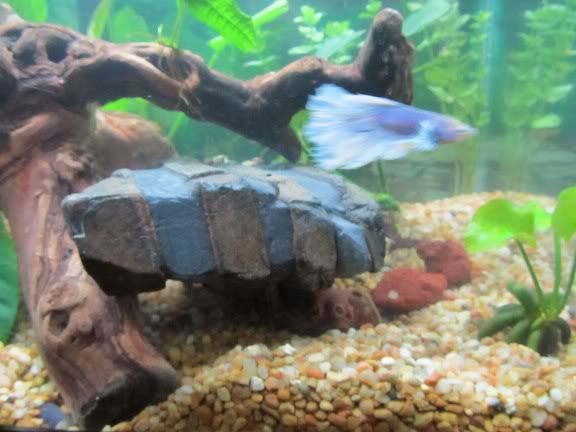 After Harvey settles in a bit I plan to get him some tankmates.
First on my list are some corydoras, not sure which subspecies just yet, and then some smaller shoaling fish.
Any suggestions would be welcome.
I keep the tank at 78 degrees, and have been told that our water in on the hard side with a PH between 7 and 7.5.
Also, I intend to get some floating plants, either Pennywort or WaterSprite. Is there anything else I should get?
Thanks for looking.
Matt
Wow it looks really, really good! The plants will really help with the water quality.
---
Kindest Regards,
Amanda
Keeping fish its not a hobby it is a passion!
I have a 55 gallon, 40 gallon, 29 gallon, 20 gallon tank, 5 gallon , and a 2.5 gallon all with real plants.
Thank you very much.
There is an abundance of beautiful tanks to use for inspiration on this site, I spent quite a bit of time perusing the pics and videos for ideas.
The only thing i would suggest is a black background it will make the plants and fish stand out, you could use blackposter board it works good and is cheap. ; )
---
Kindest Regards,
Amanda
Keeping fish its not a hobby it is a passion!
I have a 55 gallon, 40 gallon, 29 gallon, 20 gallon tank, 5 gallon , and a 2.5 gallon all with real plants.
It actually has a printed background, I'm just a lousy photographer
I think that I'll probably go with Bronze Corys as they seem to fit my water parameters the best, hopefullly I can find the colored morph rather than the albinos.
For upper level fish it looks like livebearers are my best bet, I'm thinking Platies.
I've read that Bettas can be aggressive toward Guppies and that Mollies can get nippy.
I would also like to add a Red Lizard Whiptail catfish at some point for algae control.
How do I determine good stocking levels?
I've always heard the "One Inch of Fish per Gallon of Water" rule, but one of the reference books I've been reading says that with a 24X12 inch tank I can have 24 inches of fish.
Do plants affect how many fish one can have in a tank?
Posting Rules

You may not post new threads

You may not post replies

You may not post attachments

You may not edit your posts

---

HTML code is Off

---