20 gallon danio and ghost shrimp tank
---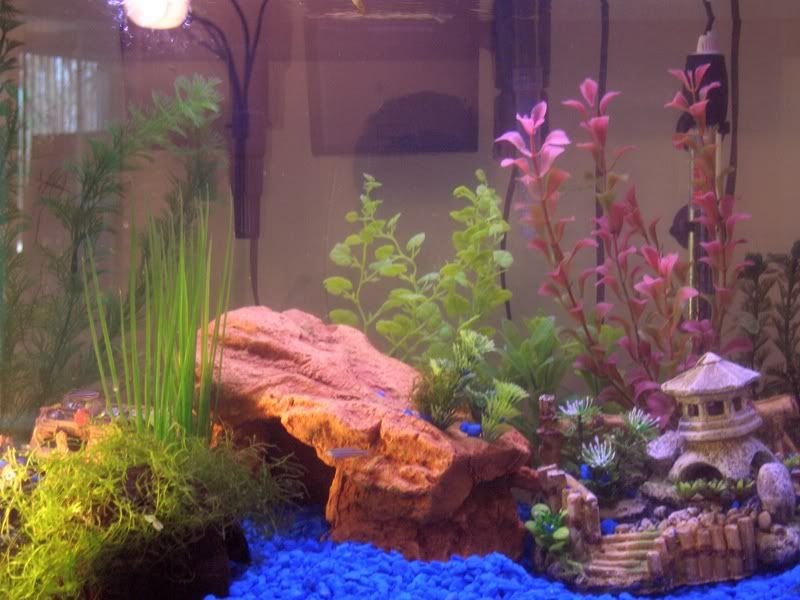 Any comments?
Tank looks great. It would look a lot better with natural looking gravel tanish brown gravel. Would look great :D Nice Fish.
---
55 Gallon:1 Baby Bristlienose,1 Swordtail, 1 Bala Shark, 2 Common Pleco, 2 Clown Loaches, 2 angel fish,3 (look a like) rasbora Tetra's, 4 Black Skirt Tetra's, 4 Long-finned Gold Zebra Danios, 4 Cardinal Jumbo Tetra's,6 Red Eye Tetra's, 7 neon tetra's
10 Gallon Nano Reef:1 Chocolate Starfish, many snails...Work is in progress...err
yeah but since everything else seemed artificial i thought i might as well go with the flow and get blue gravel.
love it. i agree with nick tho. would look awesome with a natural gravel or sand. great job!
Wow that is a gorgeous tank.
lovelly little set up! :D i like the gravel its very noticable
lol why be boring like the rest eh?
---
About As Innocent As a Nun In a Cucumber
Field
Posting Rules

You may not post new threads

You may not post replies

You may not post attachments

You may not edit your posts

---

HTML code is Off

---