I do love my little shrimplets! I'm glad to see so many of them. But I have more sad news. I woke up to find two more shrimp dead. I really think my high tap water pH is the problem. I have a lot more driftwood in my other tanks and that brings in down, but here I just have two dinky pieces. I ordered some more last night, so I hope they come in before I lose too many adults. I'm down to like 5 now, but still see two saddled females (ovaries full of eggs).

As for the eggies... I had some trouble with my setup come water change time, so I extracted the eggs (using a magnifying glass lol) and plopped them in the bag with the leaves. I originally read not to do that because the snails literally suck the eggs out, but these guys are buried in leaves. They will have plenty to eat, so I don't have to worry about that.

As for the leaves having any effect, they are. The pH today was 7.8 where it used to be 8.0. But I want it lower. I want it around 7.2. Really anxious for that wood to get here. :s Depending on when it does I might not have any adults left.
Big Changes!
---
So the wood and the moss arrived this weekend! I took out the bacopa stems because I just didn't like their look. I like the dainty leaves of the myrio and rotala. I've added java and x-mas moss and some frogbit from BWG. I'm hoping this will bring down the pH enough for the shrimp. I also added a feeding dish. The shrimp deaths appear to have stopped since I upped the feeding (knock on wood), so maybe it was a problem of the tank not being mature enough.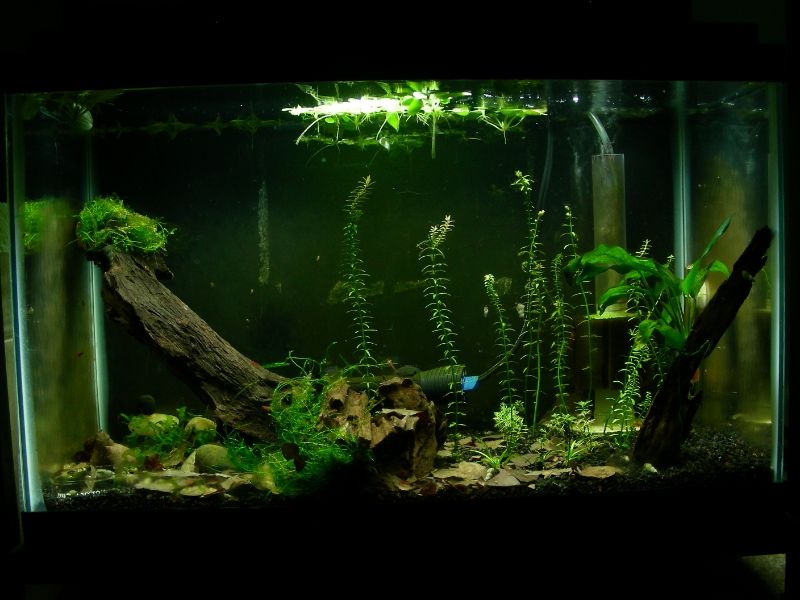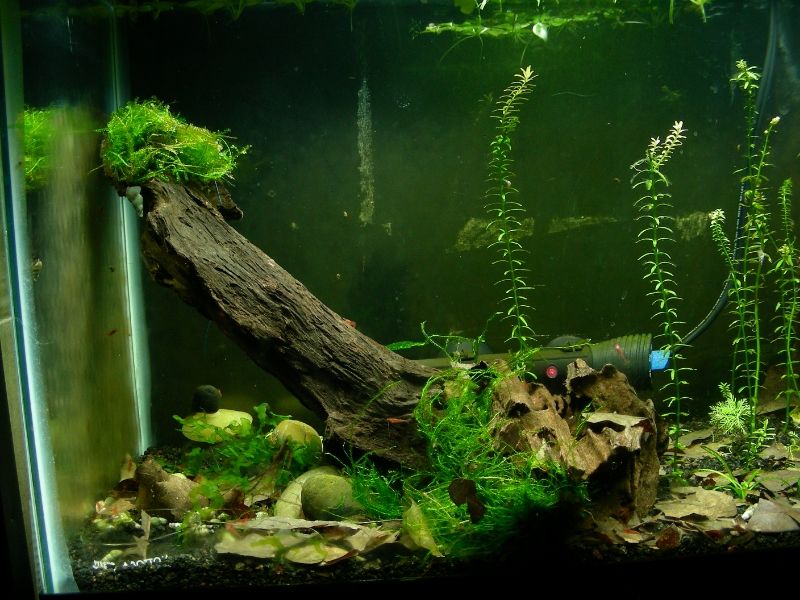 You can see the feed bowl on the far left corner. I'm waiting for my planting tweezers to come in. I tried to drop food in there tonight and missed. :/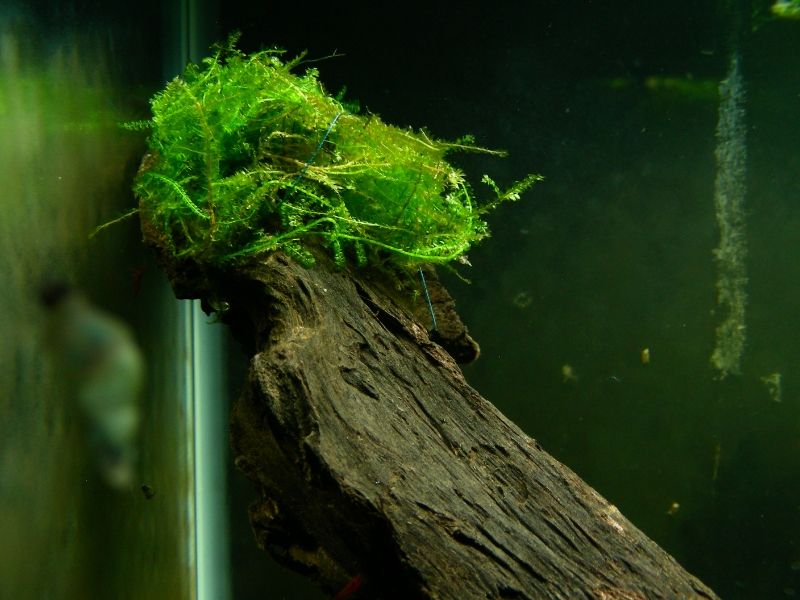 A close up of the x-mas moss. I really hope it attaches and grows well.
You should be able to see some of the shrimps around the tank now. Those are the first and only batch that have hatched in this tank. I honestly don't think the eggs from the dead female hatched. I will try again with a different method. I think I see a saddled female, so I'm really hoping for some eggs with this pH drop.
wow, looking great!! Good luck with the pH, I personally haven't had luck as of yet with lowering it.
Tank is looking good! Did you move the Myrio and bacopa to another tank or did they die on you?
Thanks! The myrio is still in there, but took a hit when I had to keep the light off for a couple of days due to really warm temperatures a couple of weeks ago. I'm hoping it will bounce back because I really like it. And I kinda wish those warmer temps would come back. I'm wrapped up in a blanket right now. I moved the bacopa up to my betta tank. I just didn't like how thick the stems and leaves are. But it looks great in the betta tank.
The tank really is looking lovely! I hope your moss does well, the shrimp will love it, plus it'll just look amazing! Good luck with dropping the ph. . . and fingers crossed for the newest batch of babies!
| | |
| --- | --- |
| The Following User Says Thank You to Chesh For This Useful Post: | |
So by this time I thought I would be reporting I have berried females. Not yet, but the three saddled females are eating well. I do have other good news to share, tho. My egg-hatching experiment was a success! Today I spotted four shrimplets that are too small to be from that first batch that hatched in the tank. The only option is for them to have come from those eggs I tried to hatch. They are so tiny and there are now so many hiding spots it's impossible to know how many I have, but I know I have at least five! I'm so excited!! This is the first batch that was fertilized and hatched in this tank!
YAY for Shrimplets!!! That's awesome Izzy, Glad the experiment worked for ya.
I haven't had the same luck with mine but I did a water change today and found some shells were they molted! So at least they are growing!
---
So this is going to sound creepy, but I just saw my shrimps mate. I came upstairs to feed the goldfish and hopped down to check on the shrimps. I saw a large molt on the ground and found my saddled female hiding in the anubias next to glass. Next thing I know the males of the tank (didn't know I had so many mature ones) were all headed towards the anubias. One found her and bam. Pregnant. I couldn't believe what I was watching. She's now hiding away in the moss, hopefully laying eggs!

Just wanted to share this odd/happy/creep moment with you guys! :D
That mating resulted in a berried female! The first one I've had in months! I'm really hoping she carries them to term!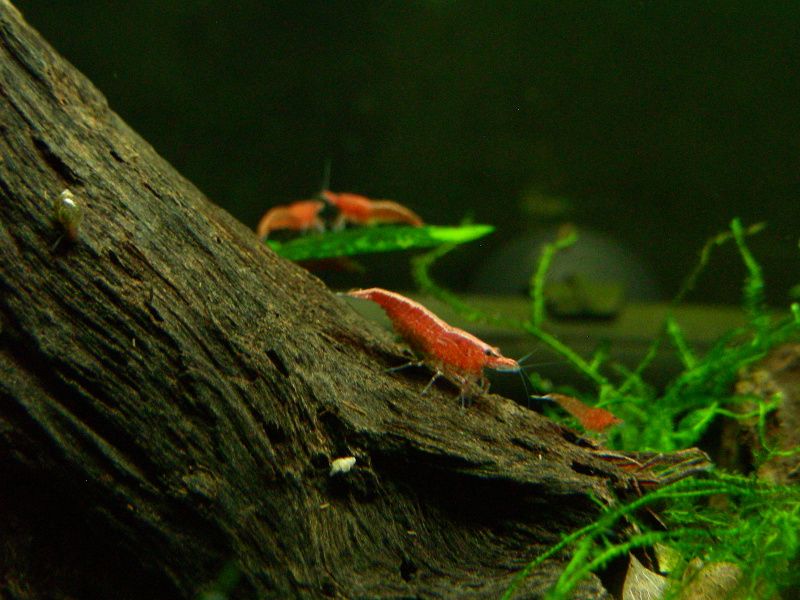 And! I see one of my other saddled females getting ready to molt! Maybe by this time tomorrow I'll have two berried females!
This isn't the one about to molt, but this is another female growing a saddle.
Posting Rules

You may not post new threads

You may not post replies

You may not post attachments

You may not edit your posts

---

HTML code is Off

---