As I planned, my new shrimpies arrived today! I am thrilled to have some more females. I got at least four more. Most of them are as gorgeous as my shrimps, but some are more red cherry grade. But right now I need to worry about getting my numbers up lol. I can cull later.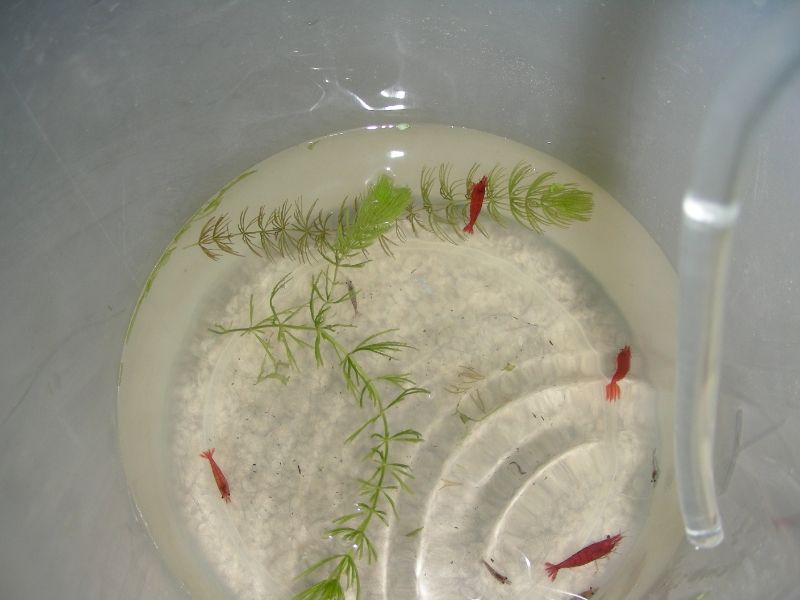 Here they are being drip acclimated. You can already see that some are a really deep red. At least two of my females are saddled already.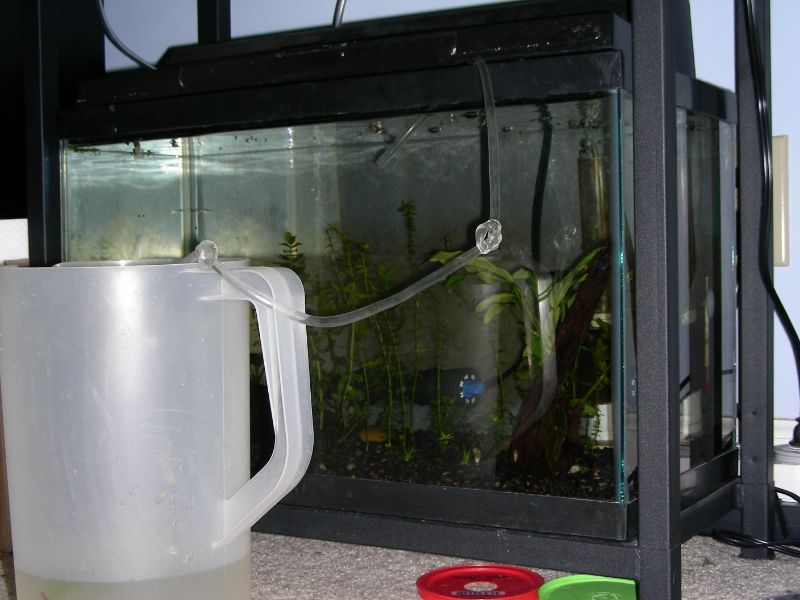 Don't know why I took this acclimation picture, but I did.
This is the only picture I was able to snap of my new shrimps. This is that massive, red female. She's at least a couple cm longer than my big girl (who I previously thought was big!). I really hope she has at least one clutch of eggs before she died (large shrimp are old shrimp). She would be able to carry a ton of eggs!!
Unfortunately I have already lost a shrimp. One of the deep red females jumped while I was putting them in the tank. I think I damaged her when I picked her from the carpet. Really bummed about that, but overall please with these guys. Now I just sit back and let them breed!
They followed your command! I woke up this morning to find my female (who was previously the only mature female in the tank) had molted and was laying eggs.

Unfortunately I've lost two of the new shrimps today. That large female from the picture was the first to go. She was really old and I kinda questioned why the seller sent her. Old shrimps don't take the changing tanks really well. And I also lost an older male. I'm more bummed about the female because I really only need one male.
Sorry about the losses. How many did you get? I counted four females and four males in the picture, but could easily have missed some.
I want to say I got 6 females and 4 males, but I'm really not too sure as some of them aren't mature yet. I think I have a couple of immature females along with those large red ones you saw in the photo. So some of those you counted as males (and I thought they were males too at first) were just females that paled during the trip. I also got one that is like less than a month old juvvie. No clue what that little bugger is lol! But he was a freebie.
So now that my shrimps have been in the tank for a few days, they are settling in very well. While I was laying in front of the tank I got out my tripod and took a few shots. The plant growth is slow, but steady which is pretty much what I expected. I didn't expect the tops of some of my rotala to begin turning red! It's quite pretty!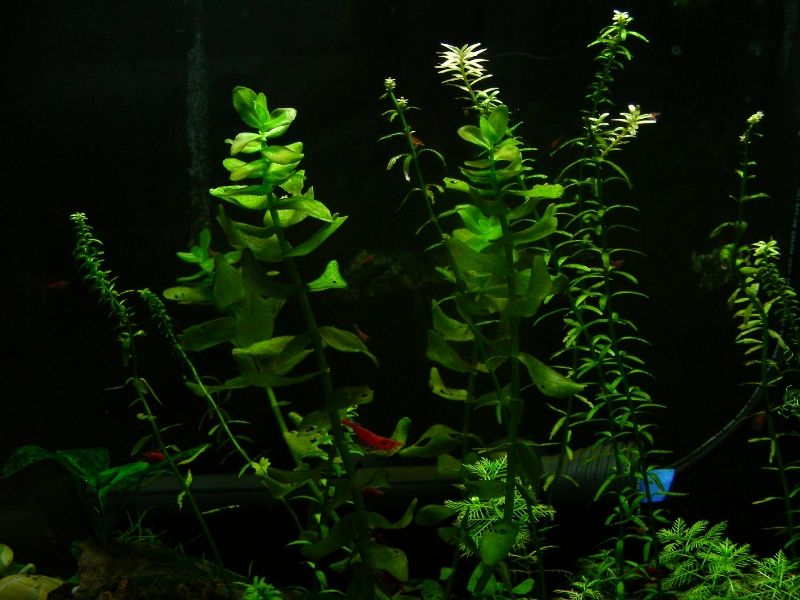 And I even managed to snag a pictures of my first batch of shrimp babies!! They are showing great color!
So with the good, comes the bad. I turned on the light to find my
only
berried shrimp dead. She was the last remaining female from my original batch. I'm so thankful I bought those extras now. I'm going to try to hatch the eggs she was carrying. I've read that placing the body in a net near the outflow of the filter will help increase the chances of the eggs hatching. So I've done just that.... Give it a couple of weeks and we'll see how it goes.
I have come to the conclusion that the pH in that tank is just a tad too high for the shrimps. Most people keep these sakura reds around 7.2, but my pH is 8.0. I want to add more driftwood to the tank, but for now I have a filter bag filled with oak leaves in there. I'm hoping this will help bring it down until I can get the wood.
I don't know what I did to cause the universe to unsubscribe me from this thread, but glad to be back and see how lovely everything looks! Bummer about the losses, but congrats on the new additions! The little ones are just too adorable for words. REALLY interested in seeing how it goes with trying to hatch the eggs without momma's help. Good luck - I hope it works! It'll be so fun when you reach the point where you have TOO many shrimp :) *can't wait*

P.S. because acclimation pictures are fantastic, and for some reason nobody ever posts them! Thanks for filling a void!
---
Last edited by Chesh; 04-16-2013 at

02:10 PM

. Reason: P.P.S. Izzy rocks.
Posting Rules

You may not post new threads

You may not post replies

You may not post attachments

You may not edit your posts

---

HTML code is Off

---