White stuff on filter and walls of tank, but not in water
---
I have this white residue stuff that is on my tank. It's a 10 gallon tank and only has 1 betta in it. It's been set up for 5 months about.
The residue stuff is only at the parts of the tank where there ISN'T water, such as the upper 1 inch of the glass (I don't fill it to the very rim), on top of the heater on the part that isn't submerged, and on most of the parts of the filter that aren't in direct contact with water, and I think there may be some in small crevices in the hood.
It's ugly and I'd like to get rid of it safely, but I'm not even sure what it is and what's causing it. I wiped some off the front and sides of the glass with a dry, clean washcloth so it looks better, but still I need to get rid of the worse parts on filter, heater, and back wall of tank.
Also, when I vacuum clean then add new water, I sometimes add a bit more than what was previously in there (like if some had evaporated), and the residue gets slightly covered, and I'm pretty sure it is coming off the glass and going into the water as I can see small chunks of white stuff floating.
I took some pics of the stuff on the filter (with my camera phone though so they aren't the best), but you can see the white stuff is pretty bad on the filterright above the water line and higher. And in the 1st picture if you look closely you can see what looks like a big scratch on the glass, but its not its the white residue: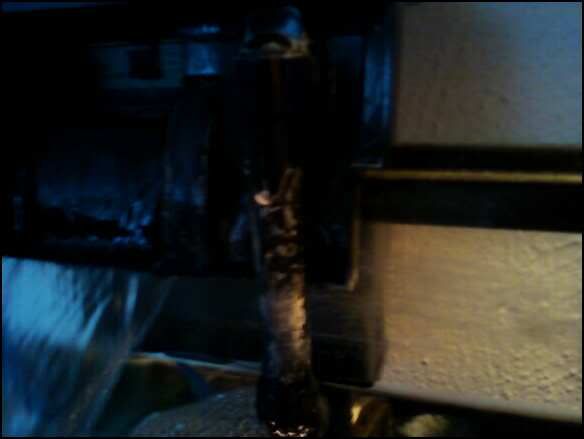 I can't really tell from the picture, but It could just be the calcium build up of water if you have hard water. The only thing I know for the issue is to simply add it to your regular maintenance to clean it up. I imagine you could get some water softener, but I'm not sure the benifit would be worth the results, or extra danger of more chemicals in your water. Again I can't really see the pics that clearly, so it coul dbe some sort of fungus or algea too. I'll let someone else comment on it if thats what it is.
---
55 Gal x2, 30 Gal, 20 Gal, 20 Long, 10 Gal x 3, 2.5 Gal, 1 Gal
4 Beta's, 3 Pleco's, 4 Convicts, 4 Fire Belly Toads, 4 Serpe Tetras, 3 Angel Fish, 5 Tiger Barbs, 2 Rosey Barbs, 2 Cherry Barbs, 2 Odessa Barbs, 2 YoYo Loaches, 3 Ottos, 2 Yellow Labs, 2 Snails, 1 Black Tiger Barb, 1 Pictus Cat, 1 Balla Shark, 1 Rainbow Shark, 1 Ghost Shrimp, 1 Oscar, 2 Chinease Algea Eater,2 Tadpoles
4 Ferrets,3 Gerbils, 2 Cats, 1 Dog
1 Child, 1 Girlfriend
A calcium build up could be likely. So I can just wash it off in tap water then? Is wiping the glass with a paper towel ok? It's almost kind of flakey and would probably just wipe off.
I have the exact same thing. It's nasty. Especially if you let it go for a long time like me........ Some of it's actually hard to get off. I'd get it off now though I think mine ended up with some mold and thats why it didnt come off. bleck. I'm guessing it's mineral buildup from water. idk how safe it is for it to fall into the water so when you wipe it off try to avoid it falling in.
ditto on that.....it sucks if you let it go...

when I do my weekly water change, I use a sponge, only used for my tank....

I fill my sink with white vinegar and water...let all the detachable pieces of the filter (not the intake tube tho) and the glass lids and scrub it with the sponge, rinse it like hell and it's good for another week....it did build up on the center brace of my tank which is not caked on there and isn't going anywhere...ugh...

if you keep it under control on a weekly basis, it's manageable....
Posting Rules

You may not post new threads

You may not post replies

You may not post attachments

You may not edit your posts

---

HTML code is Off

---