Sump as filter
---
I'm not sure if I'm insane or not, so I thought I'd ask here. :D
I've currently got a Fluval 303 on my 20 gallon Convict tank and I really like how it well it works, but it's such a pain in the rear to take apart, clean, and restart it.
So, I'm planning out a new 55 gallon setup and have a spare 10 gallon tank, so I figured I'd turn it into a sump, and build the filter directly into it. But I'd like some feedback before I start down this road.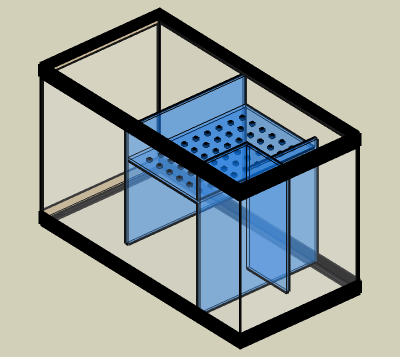 The first chamber in the front corner in this view is where the water would come down from the overflow. It'd then go under that baffle to the right and go through a column of pre-filter media (something like
this
). Then I'd have an inch or so of filter floss over that perforated platform, and bio-balls below it, for a wet/dry like filter. Then under the last baffle and into the return chamber where the return pump will live.
My goal is to have something that will work as well as my canister, but be much easier to do regular cleanings and media changes.
I welcome any and all thoughts, comments, and criticisms.
While I don't know much baout them, most sumps I have seen are not quite so complicated. The ones i have seen are much simpler. Layers of media that goes form finest to largest and in simple procession.

The first layer would be sponges and/or filter floss, the next stage would be bioballs and often egg crate is used for added surface area for biological filtration and as a way to keep things seperate if needed.

There are other things that can added if desired but that is just a basic idea.
Well, while that design should work, I dont believe it will be anywheres near as effective as a canister filter. One of the benefits of the canister is that the water is forced through the media without the ability to bypass it. while I agree that your design should work, I think you would be doing cleaning far more frequently then you would with the canister. Additionally, have you given thought to how you will get the water from the tank to the sump? You would need to buy, or build some type of overflow system. Unless you had the ability to have your tank drilled, and build a coast to coast overflow, it would leave you with a bulky box hanging into your tank.
---
Take pride in what you do, for it is a reflection of who you are.
The Haunting Grounds
-
SKAustin's Reef Diary - Part 2 (the 75g upgrade)
I'm curious where you see a possibility for media bypass? I tried to design it so that wouldn't happen. I should add that I'll be using egg crate to keep the media in place where there are openings in the baffles. It just seemd way too hard to draw that.
As far as the overflow system, if I can verify that the back glass is not tempered, my LFS will drill it for me. I would then put in a coast-to-coast style overflow box. If I can't determine if it's tempered, I'll just use an HOB overflow system. Some of the ones I've seen are still better looking then the HOB filters.
Quote:
Originally Posted by scottven
I'm curious where you see a possibility for media bypass?
when the media gets plugged to the point that gravity is not sufficient to allow water to pass through the media, the water will take the next available route. in the case of your design, that would be over the top in the form of a flood. your return pump then runs dry, and burns up.
I just think you may be better off looking into an easier to clean canister. I have the Rena XP3 on my FW Cichlid tank, and it's quite simple to clean. It has a ball valve worked into the hose release so when you release the hoses from the filter, the water stays in the line. It takes only a few minutes to rinse out the coarse media pads, replace the water polishing pad, and rinse out the unit itself. I hook it back up and it self primes as soon as the hoses are hooked back up.
I use a sump designed very similar to yours for both of my SW reefs, but I would never replace my rena on the FW tank.
---
Take pride in what you do, for it is a reflection of who you are.
The Haunting Grounds
-
SKAustin's Reef Diary - Part 2 (the 75g upgrade)
Posting Rules

You may not post new threads

You may not post replies

You may not post attachments

You may not edit your posts

---

HTML code is Off

---