Does anyone's heater do this?
---
It appears to be bubbling when turned on and it has bubbles sitting on the outside of the heater.
BTW it's a video. Clicky it.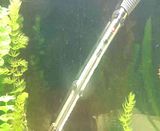 Tanks!
Hmmmm....no idea. My only observation would be that the suction cup should not be on the heater element part. Move it back a ways so it's not on the element. Not sure if it's related to the bubbles but it did seem to be bubbling where the suction cup was.
---
150 Gallon - Mostly American Cichlids
135 Gallon - Angelfish Community
75 Gallon - Odd couple (Polleni/Angelfish)
55 Gallon - African tank
20 Gallon Long - QT
10 Gallon - Empty

Hhhmmm
Ive contacted Aqueon last night. Ill unplug, check the heater for water and if no water. Ill reposition it and see what that does. This tank has been running 1-2 weeks and when 1st set up it had 2 bubblers going for goldfish. But Ive since turned off the bubblers as i decided to house angelfish.
Looks like Aqueon is sending me a new heater.
That's actually not unusual. I'm guessing it's a larger wattage heater? The elements get pretty hot and heat up the heaters glass. The water surrounding the heater heats up and the warmer the water, the less gas the water can hold (like CO2 and O2). The gas comes out of solution, sticks to the outside of the heater and, in your case looks like it's hitting the suction cup and releasing at that point.

Unplug the heater. Take it out of the tank and check for any condensation inside the glass. If no condensation, you have a good heater. If ANY condensation, stop using the heater immediately you have a bad seal somewhere. You can get shocked, it can literally crack , or go "boom" if the water turns to steam inside the housing.
---
18 species/varieties of fish, 15 species/varieties of plants - The fish are finally ahead of the plants!
*560 gallons (2120 liters) in 5 tanks -> you do the math.

I did that this evening. It all seems in tack. I guess i can just plop in the 2nd heater for when its cold outside(we dont use our home heater). And when its not cold outside i can keep it as a back up.
I'll be doing that when I get the one Aqueon sent me. It is projected to be here around the same time my baby angels get here.
Posting Rules

You may not post new threads

You may not post replies

You may not post attachments

You may not edit your posts

---

HTML code is Off

---