new member! my fish room
---
hello Im new here I breed angelfish I hope to learn alot here and give so in return. they are not the best pictures but they will do I guess. I have around 12-1300gallons and around 8 breeding pairs im setting up the rest of my tanks as we speak I have currently 800 running.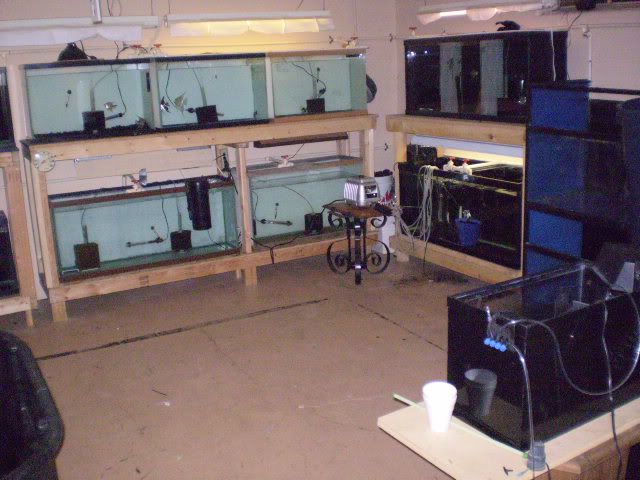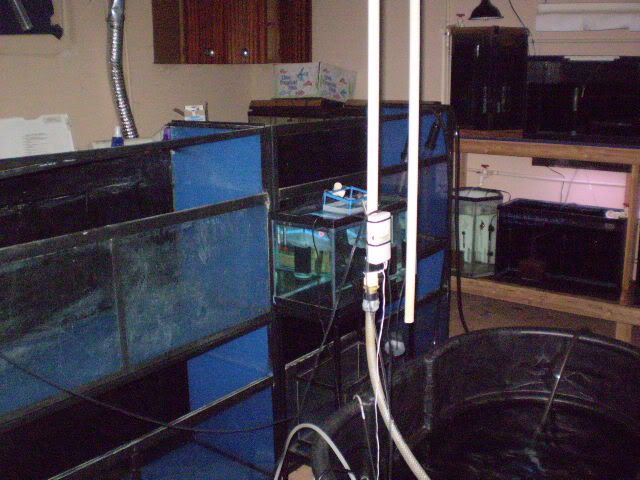 Welcome nice setup! seems you have more tanks than my local fish store rofl friend request sent :D
Holy crap.

Welcome. I'll bet you have a lot of people on this forum drooling over the number of tanks.
---
Animal testing is a terrible idea; they get all nervous and give the wrong answers.
I am so jealous,, I think I shall not speak with you for some time!
Welcome.
---
The most important medication in your fish medicine cabinet is.. Clean water.
thank you all it great to be here. in the next 2weeks I plan on getting alot done and looking better. I still have to plumb my central air pump and seal and fill about 8 29s for my pairs so they are not all spread out. I just cant get enough tanks once the babies start popping out its a mad dash to find room for them all.I try and keep everything as cheap and easy as I can make it. I have no fancy central filter set-up only good ol sponge filters which work much better than people think. the cpvc that is running along the walls and to each tank is for my water changing setup its all ran in a loop to 2 100 gal water containers. it doesnt look the best but dang it works. I can fill about 5 tanks at a time at 10 gallons aminute to each tank.
WOW. Quite the set up. How fun! Welcome to the forum
---
If you don't stand up for something you'll fall for anything...
I agree on the sponge filters.................If anyone is gonna setup a system for breeding purposes, they are the way to go.......easy maintainance, and it takes alot of other things out of the equation..........I plan on doing the same kind of setup eventually, but not on the scale you have done..............Great Job!
Posting Rules

You may not post new threads

You may not post replies

You may not post attachments

You may not edit your posts

---

HTML code is Off

---