hehe thanks for the write up. Not so easy to breed :s I read that they are easy to breed. Unlike other species like angelfish, ancistrus, kribensis I think that these are more easy to breed then corydoras.

I have 2x Albino, 1x Bronze and 15-20 sterbai but they are in a 120 gallon tank and to catch them since it is planted it si IMPOSSIBLE hehe.

Will try to buy some more bronze or albinos or peppered and try to fix them an aquarium. About PH my tap water is 8. Do you think that they could breed in it?

About current stock that I have I will try to take a picture of them and see if someone could sex them. Will post them later.

Thanks mate
The high pH is beyond me. I think I have read that the easy ones can be done at high pH but dont know about 8. Peppers or bronze would be the best bet. If you have 5+ sexing is not that important, they breed in a schooling manner. It is said that 3 males and 2 females is the best ratio. I have 3 females and 2 males and it still works well. I have very few unfertilized eggs.
24 hours after being laid the eggs that are unfertilized will turn bright white and you will want to remove them if you can. They will grow fungus easily and can spread to health eggs. As the fertilized eggs age, they move from a light white to a gray/tan color.
Steribi are on my list of wanting to breed and if I cant find some violet corys soon I will try them.
get an plastic 12 oz water bottle, cut the top 3 inches off, flip it around inside the rest of the water bottle and you have a catfish trap. Fill it with food and place it in the tank. Fish go in and have a hard time getting out. Its better to understand with a picture. Link...
Homemade Fish Trap
The albinos are not an individual species. They are likely albino bronze corys but many species come as albinos.
Hi mate,
I finally got some photos of my corydoras stock :)
Can you help me sex them?
This sterbai Cory seems to be a male for me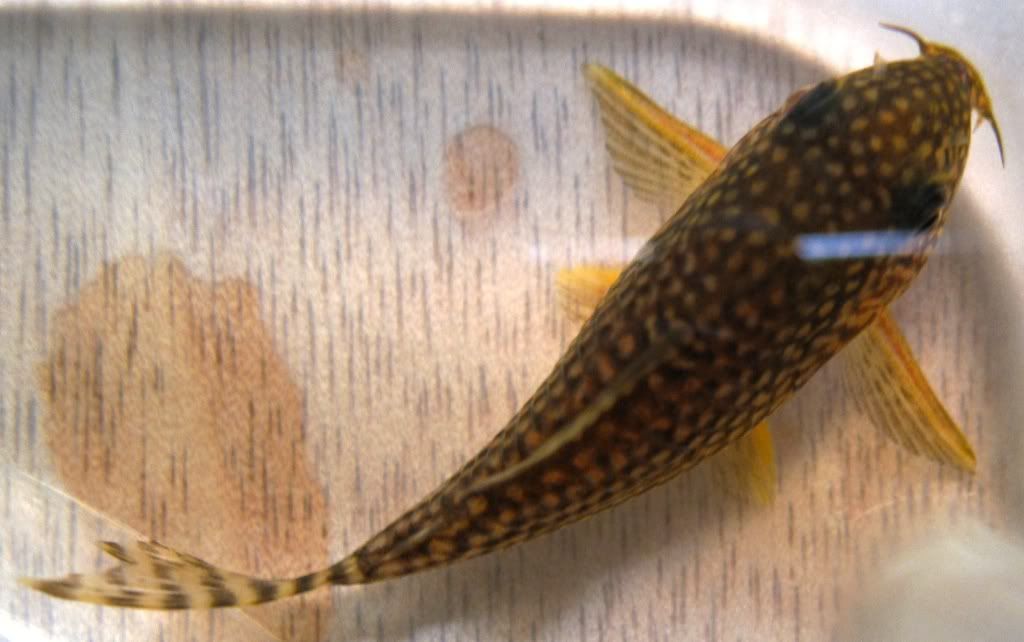 Bronze on the left seems to be a female, albino bottom male and albino upper seems to be a female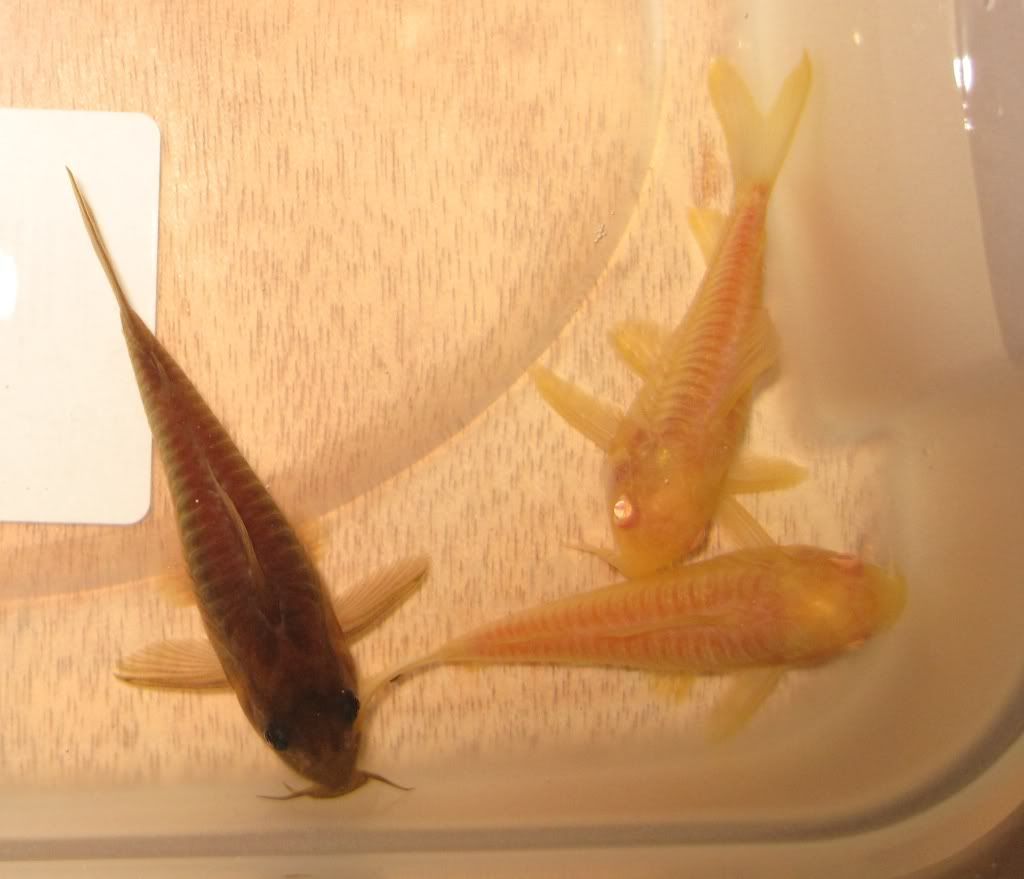 Final photo all together but difficult to sex for me hehe same ones of the above. left albino female, right albino male, sterbai male and bronze female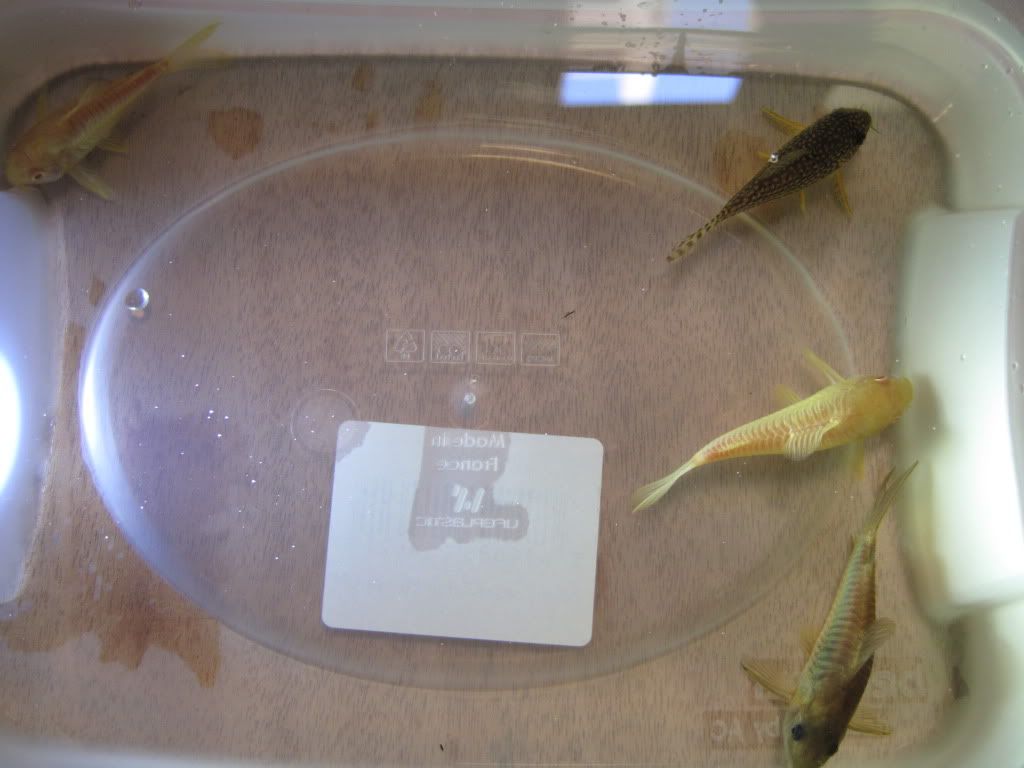 It could be great if you can tell me the sexes and tell me where i went wrong :)
Thanks in advance.
If the catfish are the same age, there is usually a size (length) difference between male and female but the difference varies per species. I was able to ID my group with 80% accuracy.


Did you buy all of the fish when they were full grown? If you buy full grown corys (~2 inches long) and select the largest fish, it is possible that all of the corys will be female. When I selected my breeding group, I picked 5 corys that were a little bigger than an inch, clearly not full grown. It looks like most of the fish are female.

Photo 1: *Sterbai is female
Photo 2: *Bronze is female, bottom albino is female and dont know the top albino but could be male.
Photo 3: *Sterbai and Bronze are female. Left albino could be male and the right female


*Confident in sexing
Well I bought them at the same age more or less and about 1 - 2 months apart. Also by now they should be adults because I bought them 9 months ago.

When I picked them they were not adults.

Thank you for sexing. Some people told me that they are all males do not know why.
I tried to get you a picture of my catfish close up so that you can see the difference in size. No luck so far but I will continue to try, the males are very timid. My canon rebel, which would make for an easy shot, has a damaged lens so Im using an inexpensive pocket digital with a not so nice zoom.

The yellow fins on the sterbai are just amazing. Love it
hehe thanks. I have around 15 in a 450 litre planted tank and surely I am not going to try and pick 1 hahaha because it is 99.999999% impossible hehe.
http://www.planetcatfish.com/images/...similis/14.jpg
here is a link to a picture of the difference in size between adult Cory. Female on left and male on the right. My pepper corys have an even more noticeable size difference but it will vary per species. I did finally get my violet cories. Hopefully in 4 months I will have some breeding. :)
Similar Threads
Thread
Thread Starter
Forum
Replies
Last Post
Will this make good LR?

McFishin'

Beginner Saltwater Aquariums

5

01-22-2009

09:59 PM
Posting Rules

You may not post new threads

You may not post replies

You may not post attachments

You may not edit your posts

---

HTML code is Off

---