Crayfish Clarkii and CPO
---
Wanted to find out if anyone had experience tank breeding clarkii crayfish? I have been thinking about giving it a try this winter with an eye toward spring. I'd like to know if I can get them to breed without killing each other in a tank. I would also like to know if one color variety is more or less agressive than the others. I have worked with them before, just kept one per tank. Even if somebody tried and failed I would like to hear from them.

As for CPO's I'd like to hear other peoples experience. I will be working with them when the weather cools off. Here again, I would be looking toward spring as a possible kiddie pool breading project.

I currently have marble crayfish.
Well maybe I know. From looking it up I think that is what I have a pair of. I have the blue ones if in fact they are Clarkii. First pics then I'll tell what I know.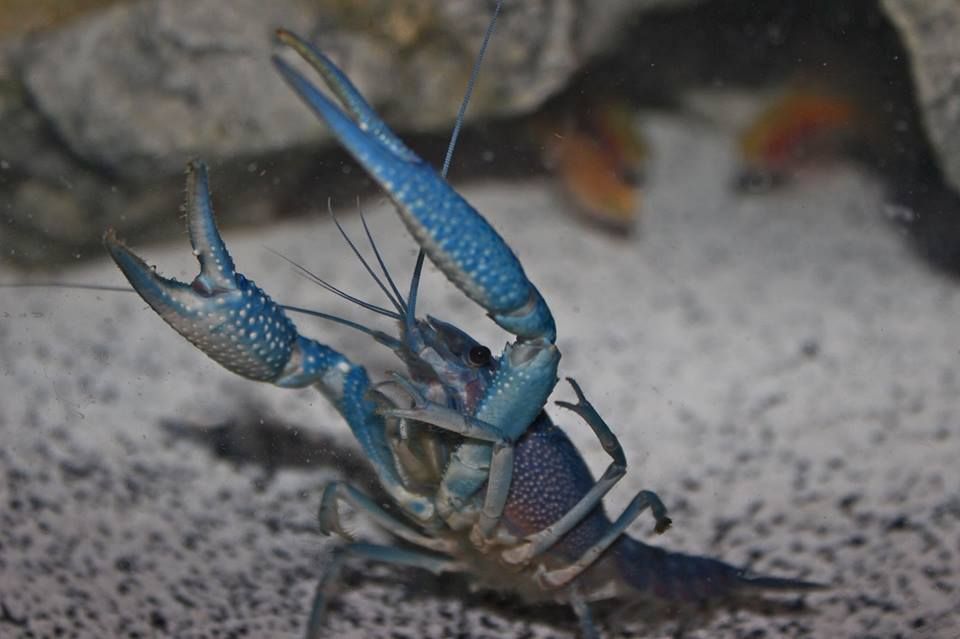 The boy trying to sink floating plants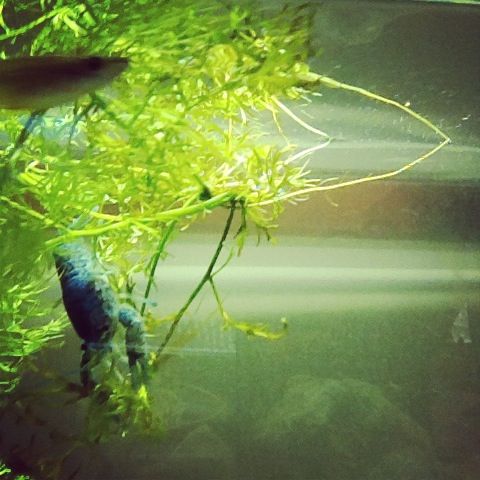 Female defending her food
Ok so here is what I know. The store I got them from carries the other colors shown for Clarkii in tanks next to eachother. I have been floored by the violent behavior on the female blue I own. She is about a little over 5 inches and the boy creeping up to 4inches. They tolerate eachother and respect their shedding times alone and on occasion share the same rock to sleep. No breeding yet but only had them since..May?? I think. An employee of that same store got a pair of blues and they have bred successfully in the same conditions I keep mine. He is now raising a bunch of their babies. Keeps them in a 40gallon and I keep my pair in a 48g. The white one they have currently is beautiful but I don't want to start another tank and she doesn't exhibit the mean streak my blue female does.
The problem that I encountered trying to breed CPOs was cannibalism.

One color isn't any more or less aggressive than another color.
---
125 - BGK, chanchito cichlid, pictus cats, silver dollars, palmas bichir

125 - cichlids (severums, bolivian rams, chocolate), rainbows ( turquoise, red), loaches (angelicus, zebra, kuhli and horseface), plecos (BN, RL and clown), denison barbs, tiretrack eel, pearl gouramis, betta
90 - Congo tetras, african knife, upside down cats, spotted ctenopoma, kribensis, delhezzi bichir
2.5 - betta

oh CPO as in dwarf crays? I love the kept 6-7 orange ones at onetime. With a big enough tank I didn't see cannibalism... however I could see that happenning as these thumbnail sized guys would pinch anyone and everyone who was trying to get their food. 5 inch bala shark ..whatever... GDs got a good beating from them. In a tank of fish growing to 12+ inches they can hold their own but that also leads me to agree with Jaysee...If they are not faced with serious larger fish I can easily see this happening
Thanks for the replies. I'll be looking at some Clarkii in a few months. We will see what happens.

As for CPOs, I've read they only attack each other if they are crowded and there is not enough cover for each animal. Eventually I'll run some of them as well.
From what I read it seems as though female CPOs are significantly more aggressive than males.
---
Everything happens for a reason, but the reason isn't always good.

Thanks for the information, never heard that, but I can see it making sense.

I plan to put a few in a C.A.R.E.S. tank. They will be natives with the Goodieds.

Next smmer I would like to pool breed them just to see if it works.
Posting Rules

You may not post new threads

You may not post replies

You may not post attachments

You may not edit your posts

---

HTML code is Off

---