another productive day at pork's place. week 3 update...
finished up both bottom deck lids and did a decent sand job on them. had to check the cuts where possible. this is not a good piece to have a tight fit on. gaps could be caulked in if the builder deems appropriate.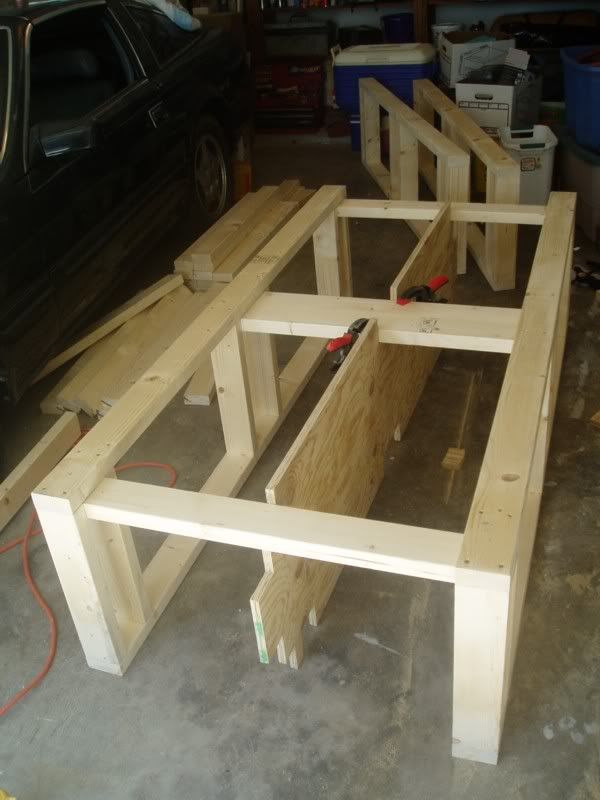 again the lower deck lid has to be in the stand before the back verticals supports can be put in. i used a couple of clamps to hold it upright in the center of the stand, so i could slide the verticals in.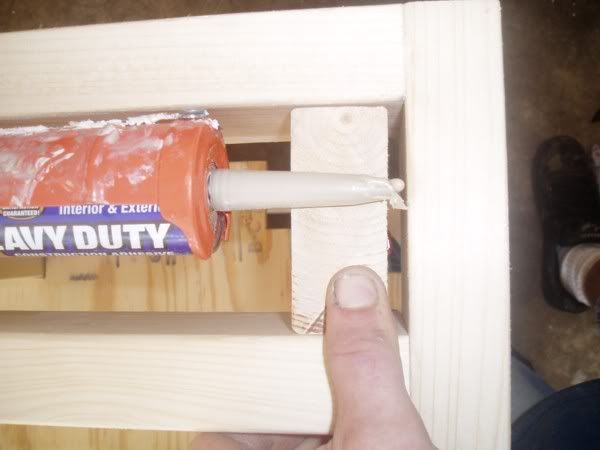 this can be a tight fit...that's why i say make sure to overcut the lower deck lid a lil bit so these pieces can be slid into place. this pic shows how i pumped glue into the joint prior screwing. some were tighter than others, and on those i couldn't seperate i just put the glue down then slid the verticals into place.
this is another critical measurement. the stand must be exactly 36" on all 4 corners now, prior to installing these vertical supports.
here's where i bolted in the rear, center vertical. didn't bother to countersink these two pieces, as it's not really necessary. plus, i won't need a socket to get them out. 2 wrenches will work. these bolts are 3/8" x 4. 3 1/2" would have been fine, and that is actually what went into stand #2.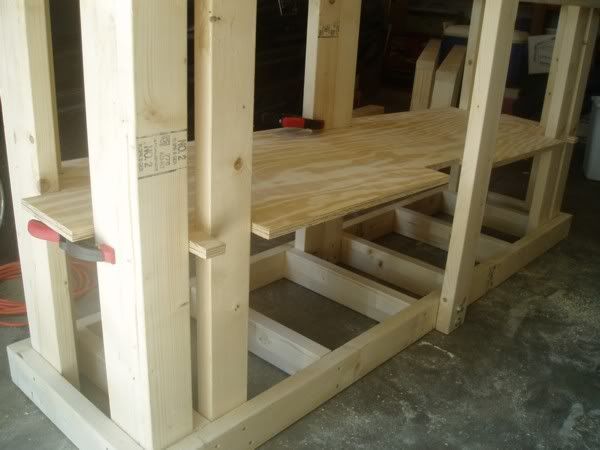 i moved the two center cross members from the design point to better support the 55g. the upper deck does not have these 2 crossmembers. the ones i'm referring to, are the 2 that stand alone...about 1/3 and 2/3 the way down. i put them at 14.5" from the center crossmembers...relative to the side it's on. hope that makes since.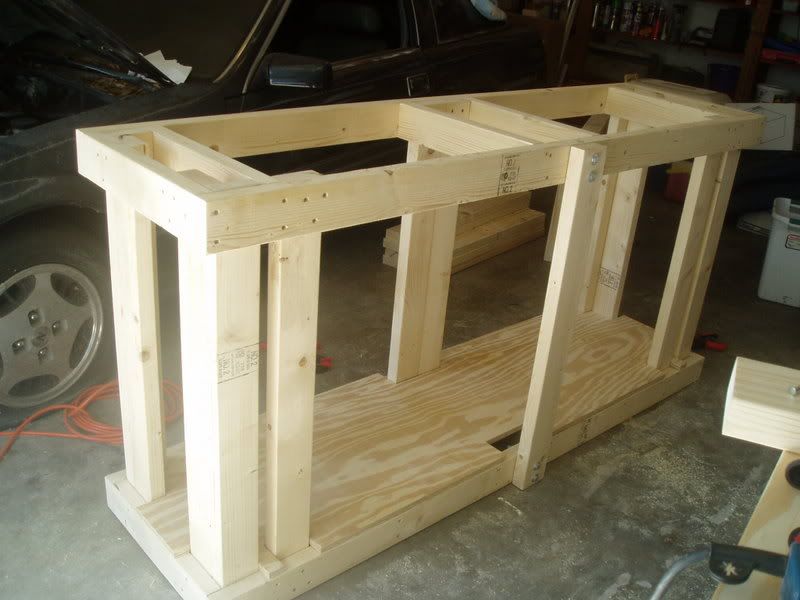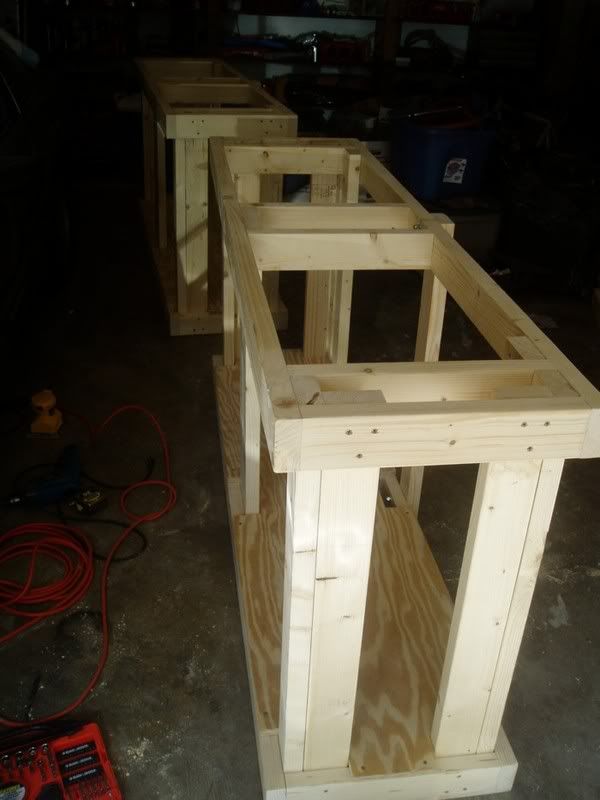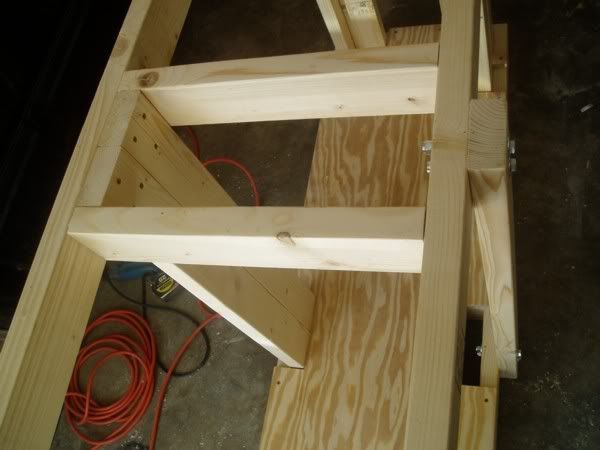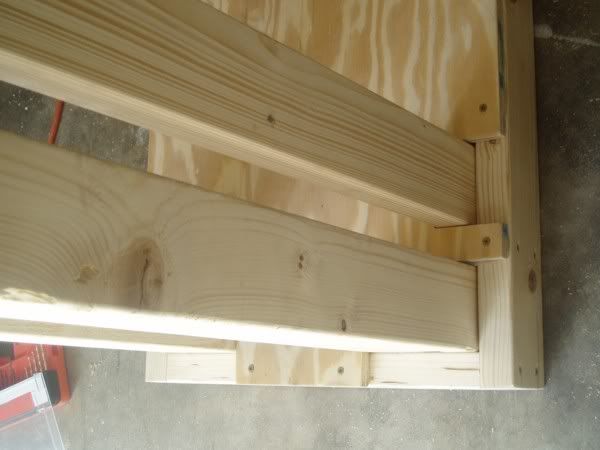 the mainframe skeleton complete. had to kick the lower deck lid into place. again...to tight. i put glue around the the edge where the lid meets the lower deck, then put in #7 ceramic coated 1.5" screws, at each corner.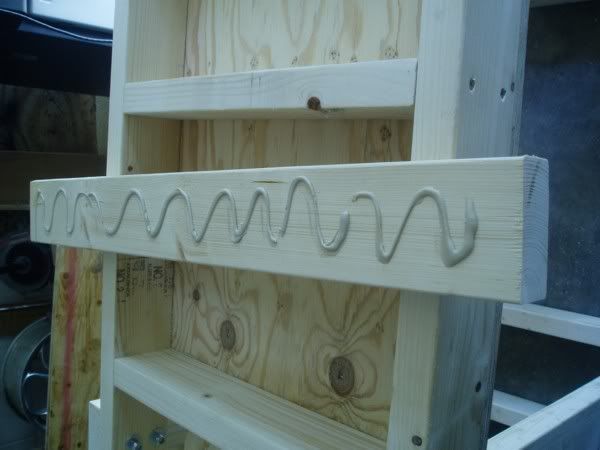 now for the "stacking" as i've heard it called. if i were to put a tank on one of these stands right now, the tanks weight would be on the screws, instead of the wood. so we remedy this by doubling all vertical supports...sandwiched in between the upper and lower decks. this requires 9 29" 2x4's, per stand.
the tighter these pices are the better...but not imperative. i flipped the stand bottom end up, so i could press the stacked vertical against the upper frame as tightly as possible. on most pieces this wasn't really an issue. i had to beat them into place, cause the fit was pretty tight.
i started w/ the 4 front/rear/outer supports. these had to be screwed into place because bolts won't fit into these,do to the fitment of the side verticals. i started using 4 screws right down the middle, but after doing 2, i discovered i was going to run outa screws. so i went to 3 per vertical to avoid buying another box. as these pieces are screwed instead of bolted, a nice tight fit is needed to keep the weight on the 2x4's and off the screws. all i want the screws to do is hold the vertical in place. the clamp u see is just holding the wood where i want it.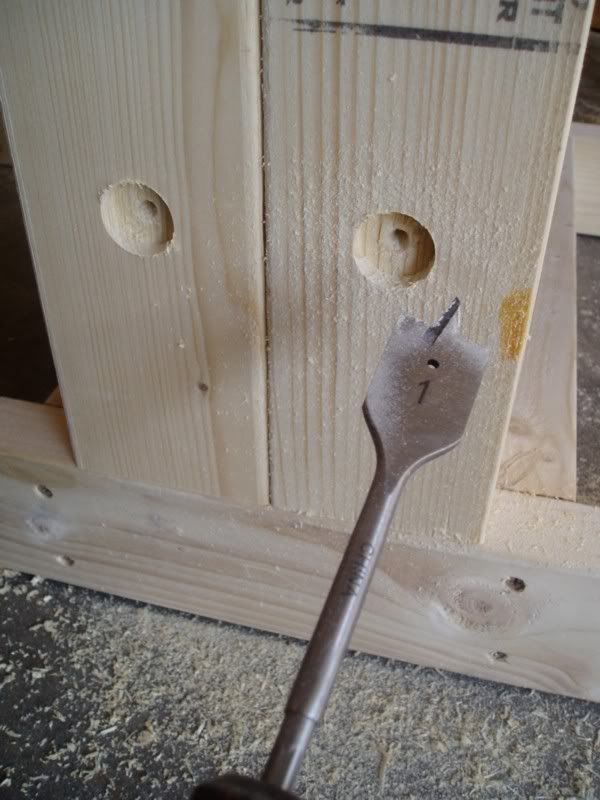 for the other 5 stacked verticals, i'm using 3/8" x 3.5" bolts, w/ 1 inch washers on either end and a nylon prevailing torque fastener [locknut,layman].
there are 2 per beam and they are set at 5 inches from the top or bottom deck. all of these are countersunk and bolted from the outside.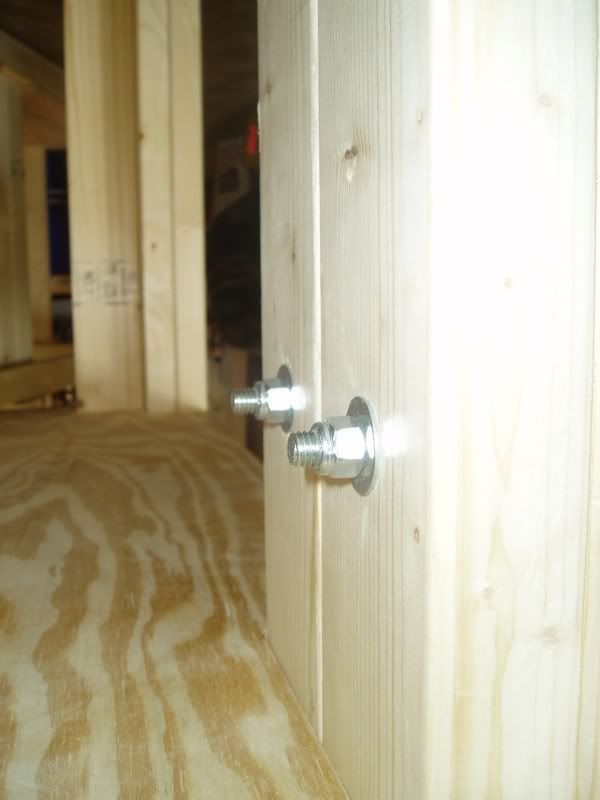 gratuitous nut shot!
and...1 full frame in all her glory. got cut short here today, so i'll have to do the other stand next week. i'll also be adding the top deck lid [i bought these pieces today and had them cut, but soon discovered i had bought the wrong kinda wood, and didn't match the bottom. looks like i'll be making a workbench or something soon]. next week, i'll also be adding the exterior cover and cutting the door holes. i must find someone who sells unfinished cabinet doors. i think i saw some at home depot. doors are beyond my tooling and knowledge. hopefully i'll be able to sand next week and be ready to stain the following week. till then...
Hello, I'm new here. I noticed that you mentioned you were putting the tank at a 36" height for better viewing. Just thought I'd mention the only problem I ran into with a large tank on a tall stand. The problem is that if the upper rim of the tank is above the height of the inside of your arm pit you cant reach the bottom of the tank with your hand from standing on the floor. Meaning that when you place the tank you have to leave room around it for a step stool. I do think taller makes for better viewing though..
If the man overbuilds a simple stand like that, bet he will build a nice step.

Enjoy it PS. Thanks for the pics.
ty mike. havin a good time building it ...didn't think i would. i had tried this years ago and for a 75g tank, and it was a disaster. amazing what a lil info and the right tools can do.

vidiot...good point on height issues and maintenance. i think i'll be ok though as i'm 6ft tall. might have to stand on my toes, but i think it'll be worth it for the few extra inches. especially when i'm working underneath.
Quote:
Originally Posted by caferacermike
If the man overbuilds a simple stand like that, bet he will build a nice step.
LOL, when I was first looking thru those pics I was thinking to myself that it ought to be sturdy enough to land a 747 on. One of my future DIY projects will be to build a step around the back side of my 180g planted tank because it's upper trim is about even with the top of my shoulder and that makes maintenance a chore cause I have to keep moving the step stool to reach a different spot.
slow weekend at pork's. couldn't get as much done as would have liked as i had to do some babysitting. to much sanding to have baby in the garage w/ me. but...i did get both frames completed and got all the cover wood picked up, which is no small project itself.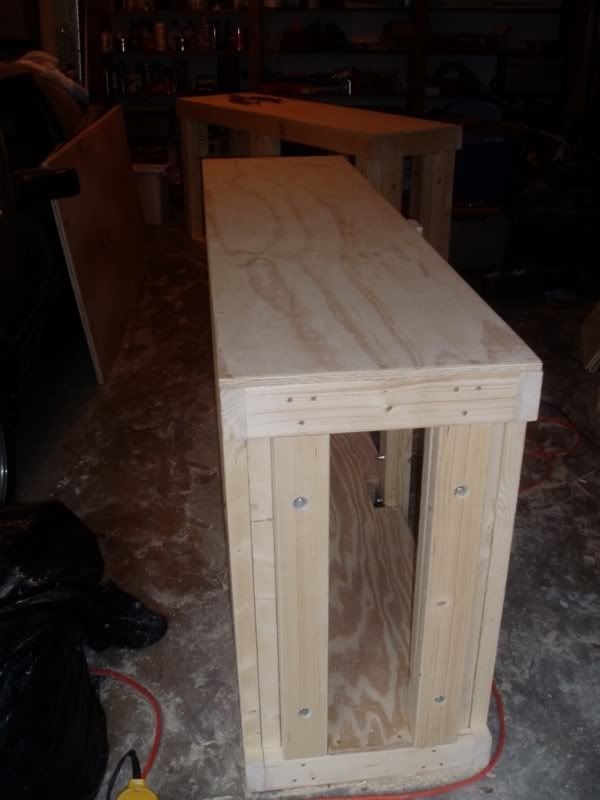 both frames now completed w/ upper deck lid installed. got the right plywood this time, which is a nice grade 3/4" oak sheet. one 4x8 does both upper decks...cut at 20"x74". this piece took some doing to get it situated properly. about this time i'm discovering just how imperfect wood is to work w/. it is glued and screwed where applicable. had to watch the corner screws, so they didn't get to close to the 3" crossmember screws.
for the exterior i chose a wood called AC PLYwood. was also labeled blondewood. similiar to the birch stuff they had, just less expensive. the wood is harder than the oak top, but smoother, w/ less imperfections. i know it will not stain the same color as the oak, but the oak will be mostly out of sight. anyways...did all the sanding prior to installation. i rounded the corners and edges to keep them from splintering. i didn't sand the the sheet part of the wood because it mars to easily. doesn't really need it anyway. just the edges where it's been cut. this wood is a nice enough color that i may not even stain it. doesn't match the other furniture though. i'll have to see what the g/f thinks.
again the pieces don't line up perfectly,mostly do to warpage. glued w/ a screw at each corner and middle top and bottom. the sides can't be screwed, as there is nothing behind it to screw through. this may be a problem when i put the front on. i'll see how it goes.
till next week...
ty joe.

[that flat tire belongs to an 85 300zx.

40 over and NA. just an abandoned project really.]
oh i know mon. poor car has a nice rebuilt engine, but needs lots of work everywhere else. i intended to put the motor in a nissan truck but never got around to it and sold the truck. so there she sits...for about 4 years now. just to expensive to tag and insure.
Posting Rules

You may not post new threads

You may not post replies

You may not post attachments

You may not edit your posts

---

HTML code is Off

---