twin 125 project
---
figured i'd just make a new thread for this since i've abandoned my quad 75 project. picked up the 125 tanks last week. Wow...that was a project on it's own. had to take the front seat out of the scion just to fit the dern things in. made 2 trips to 2 different stores also, one of them about 30 miles away. u never really appreciate life until ur barreling down the freeway w/ 100 or so lbs's of glass next to ur head, praying the guy in front of u doesn't understand the concept of braking! and then i had the pleasure of unloading and moving them into the house, pretty much by myself.
anyways..that was the hard part [i hope]. on to the fun stuff. here's the new revised plans for the 125 stands and 55g resevoirs underneath. the stands will be tall, as i'm not much for stooping, so i will make them a lil wider for stability. this will also leave me some room on the ledge for whatever. please feel free to nitpick. nm the missing crossbrace in #2. spilled water on the original and screwed up the printing/scanning process.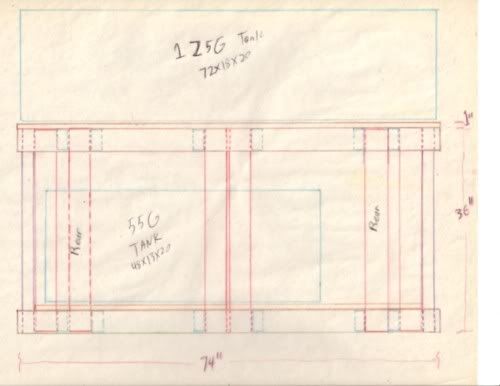 I think I love my 125 and you'll like yours as well. I wish mine only weighed " 100 pounds", mine was around 240lbs. I'm only here to agree with your decision to raise the stand to 36". Mine is at 30" and I feel that the tank is great for viewing from a chair but not so much standing up.
i'm hoping they will be just about the right height for both chair and upright viewing mike. as far as weight goes, they may very well be 200 plus lbs. i have no perception of carried weight...especially since i never actually lifted them. i used a dolly and a rectangle table top to move them around. the tanks are oak trimmed Perfecto. 72x18x20"
You need to buy some Woods 8" suction cups if you are going to be moving around all those tanks. I can lift the 400g with only 1 other person using those things.
Yeah i have a 110, quarter inch thick glass. Me and one other person carried it but it wasnt easy. I believe it weighs around 170 lbs. If only acrylic wasnt so expensive and didnt scratch so easily!

Good luck with the stand. I have a DIY stand for my 110 made out of 2x4's. The best thing you can do is notch the legs so that the base actually sits inside of them. Otherwise all weight will be put on the bolts instead of the legs.
8.3 lbs per gallon if i remember correctly... thats a heavy beast :) i also have that 110 glass. The dude who sold it to me said it best... "theres heavy, really heavy, and oh my god. this son of a bi@#$ is definitely oh my god"

lol

if i can offer advise, porksnorkel, leave the end open enough so if something tragic happens you can just slide the 55 right out the side. id imagine it would be a nightmare trying to remove it from the front doors!
---
Dedicated, converted, lowes / home depot bulb buyer!
i know where ur commin from beetle. i actually drew the first set of plans, sat back and went..."how the hell am i gonna get a 55g tank in the bottom of this thing! if u look at the top view ,[pic#2] u'll see one vertical support [red] on the outside of the main frame. it's outside so i can remove it if needed and replace the lower tank if it leaks or something. that's actually the only reason the stand is not asymetrical. the backs of the stands will not be covered w/ plywood.
Ill take a few pictures of the frame i have for my 110 cause it isnt covered in paneling yet to help explain what i meant by notching the legs. It is perfectly stable enough to hold my 110 and i usually estimate about 10 lbs per gallon even though its 8.35 when you add in rocks and such. I also try and allow for an extra 100-500 lbs of support depending on the size just in case. That really is the last thing anyone needs is gallons upon gallons of water leak onto the floor. Ive had it happen in a 10 gallon on wood floor and it is horrible!
in the fire apparatus world we use 11lbs per gallon. that helps make up the difference for the weight of the tank itself, and thats poly. for glass aquariums id be tempted to assume 15lbs per gallon just because the glass gets so heavy and it leaves some room for error :)

pork, I see now what you mean by the removeable support, brilliant! my stand was prefabricated and came with the tank (both tank and stand are 2nd hand, anyway) but I put the stand down, put the tank and giant hood on, filled it with water, then realized that there isnt enough room to put the pre-wired VHO ballast under the cabinet LOL there isnt enough clearance between the tank and the wall. now i have to drain the damn thing, move it 2", shove the ballast in the back of the stand, move it back then fill it with water lol ooooooh i can be such a moron sometimes...

anyway i digress. I hope we get a photo journal of the build!
---
Dedicated, converted, lowes / home depot bulb buyer!
i will do my best to document the process and provide a materials list. please keep in mind that this project will take some time.
Posting Rules

You may not post new threads

You may not post replies

You may not post attachments

You may not edit your posts

---

HTML code is Off

---