Wow...that looks great. Sure all that slate and the black sand will be rather...monolithic, but I think it will show off the colors of the Malawi cichlids.

Just a thought...maybe connect the two stacks across the middle with a single piece just as high as the first piece of slate up from the sand in each stack with some supporting pieces under it? And I'm thinking in the middle, you could glue up a slate shelf with another stack on top? That'd add even more hidey-holes and would help break up the monotony of the solid slate wall between the two stacks on the sides.
It looks nice what you've done so far. What a lot of work, but doing things yourself always is! I can't wait to see the final product.
I made a rock and styrofoam stacked structure for my 46 gal. community tank because I love to see the fish swim in and out. It also is "home" for my upside-down catfish, Scuttles, my clown loach and an Albino Bristlenosed catfish.
looks awesome geega!

batman..ty for the reply. i actually had a span across the original slate stacks, until i decided to go the styro route. check the first page.

i liked the look, but it kind of messed up my waterfall plans, which i can't show till the tank is full. the other probs w/ doing that now, is these stack are to far apart and may not support the piece of slat required to run the span.
Ah I had forgotten about the waterfall plans and yeah, the shelf thing I was thinking of definitely might interfere with that.
I was thinking something like this. The black would be a shelf of slate glued to your wall with triangular pieces as supports. You could put another stack on top of this to break up the middle of that back wall some. Although, like I said, it'd probably interfere with any sort of waterfall effect you wanted on the middle of that back wall.
might actually look cool in the middle of the waterfall on the bottom. it would stop the upward bubble flow and break up the falls a bit. i try it and see how it looks. just stack some rocks down there.
filled her up yesterday, and that mystery fog u may have seen in the other thread ,clouded the whole tank. i let the filters work on it, but they couldn't make a ding overnight, so i drained and filled it twice today. it's much better now, but still a bit hazy. these are the best pics i can muster between the fog and the actinic lights. plus my whisper pump is tired [drank a gallon or 2 of water last year] , so the waterfall effect is not happening yet. i'll have to get a new pump tommorrow.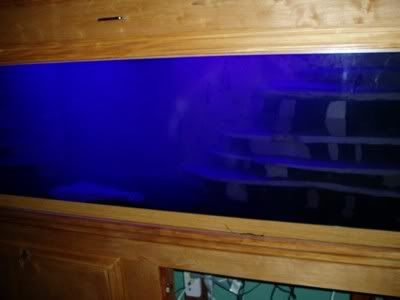 again the pics blow. my camera apparently doesn't do actinic very well. i'll bust out the video camera when things clear up, and the new pump is running.
say...mystery fog...purple lights...
DEEP PURPLE!!!
smoke on the water baby!!!
Looks great! Fog's probably just dust from the slate and will settle out or filter out. Can't wait to see it stocked!
hate to break the news folks, but i unfortunately chose the wrong type of silicone. it is disentegrating under the water. the entire backround is junk as well as the styro stacks.
i'm out several hundred dollars in supplies, as well as over 100 hours of work and gas and headache. possibly 3 ruined filters too. all because home depot was out of GEI black silicone. hopefully i can get the tank torn down w/out breaking it, and clean it up properly. going to take forever...but, better me than u!!!

i honestly feel like quiting right now, but it's not my style.lost a few quarantine fish last night to top it off. [not in this tank

the pig shall be back, bigger and better!

i will rise up my friends!!! [just not tonight...uuggghhhh]:
Aw man! That's terrible!

Don't give up though...it was a really great looking tank and getting it going would be awesome.
Yeah please don't give up. It's going to be really great in the end! So...you have a few setbacks. Take some deep breaths and try again.

What type of Silicone did you use? I belong to another fish forum and one of the moderators says he always uses GE Window & Door 100% Silicone - Type I. (He's been keeping fish for over 30 years.) As long as there are no mildicides or fungicides in the silicone it should be safe for fish (and really adhere well).

Good luck Porky!
Posting Rules

You may not post new threads

You may not post replies

You may not post attachments

You may not edit your posts

---

HTML code is Off

---