You truly have a nice tank going. I would express some concern with cichlids that may start pecking at styro. If enough of it gets loose into water it could pose digestive problems and could also weaken supports and cause possible collapse. However it could pose no problems with fish other than cichlids. Still, a very nice job! : :)
today's activities include epoxy painting styrofoam! sticky mess this is,lol.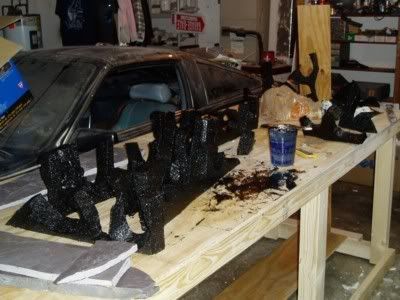 Looking good. What sort of consistency does the styrofoam have when coated with the epoxy? Is it quite solid to the touch, and how long does it take to dry enough to be safe in the tank?
the epoxy paint has created a nice hard shell over the styro, and it dried in around 24 hours, although i would prolly give it at least 48 hours.
sunday update...
rocks glued to flat cave front surfaces
i was going to leave the sharp points alone, figuring they would be fairly invisible, but after looking at it i decided to play it safe. these were tough to glue rocks to and keep in place, so i used nails and clothes pins to keep the rocks set.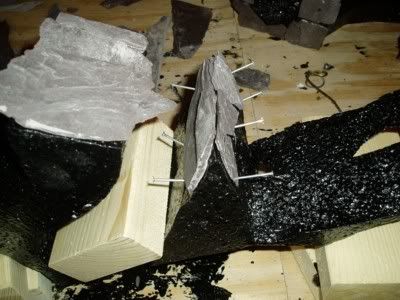 i modified a 280 also, mostly due to lack of foresight. it now has clearance over the foam of the back round. i'm going to epoxy the cut piece back on in a horizontal position, to allow water flow over the acrylic.
ohhh...i also vacuumed out all the white sand, to be replaced w/ black.
here's a dry run shot. it looks alot better w/ the light on top, as if the overhead lights were in place.
i think i'll slide the stacks over towards the outside, and tilt them back some at the upper tiers.
i have screwed up the 280 mod though. i forgot about the glass top interfering. so either cut the mod off and try again or have the glass cut.
there is a light...i can see it!!
fillin this bad boy up tommorrow folks. would have done it tonight, but i'm pooped from building a canopy all day. plus a piece of acylic is still drying. i cut some acrylic pieces to cover up the overflow areas on top of the styro blocks. this will force the filters to pull water from the sides and bottom, and also direct water over the backround, instead of back into the overflow areas, as it comes out of the emperor HOBs'.
right side...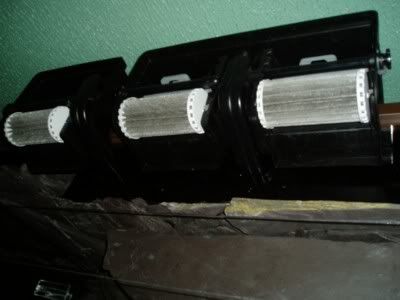 left side...
and this piece to cover the right 'side' view of the styro blocks and fx5 intake area...
to fix the emperor 280 mod from the left side error, i finally bit the bullet and cut the backround in the tank. huge mess, but worth it. of course this means i chopped up a perfectly good emperor for nothing, but no biggie i hope as i cut the filter to the back resevoire' ramp thing, then epoxyed it in place w/ an acylic tringle brace. hopefully it works. if not, i'll just get a smaller canister or another 280.
i'll put a few final pics up of the tank filled and the canopy on. after that i'll do a seperate thread titled 125g malawi tank, to track the tanks progress. hopefully i'll get some more feedback.
minor set back folks. on filling up the 125, i noticed the rock/styro stacks are still a bit bouyant. the smaller stack actually toppled, so i'll have to glue rock to the back of the stacks and another piece to the bottom of each sub stack.

get back w/ yall next week. sorry for the delay!:wallbash::wallbash:
i'm back in business today. an idea came to me while i was trying to get to sleep last night. "Pork", says my pee brain," take the dern sand and eggcrate out, and glue the stacks to the bottom. then glue each consecutive stack to the one under it. throw an extra thick rock on top of each stack, in case something breaks loose, and be done w/ it."
so that's how i spent my afternoon. i must say i'm getting pretty adept at removing substrate,lol. here's how things look now.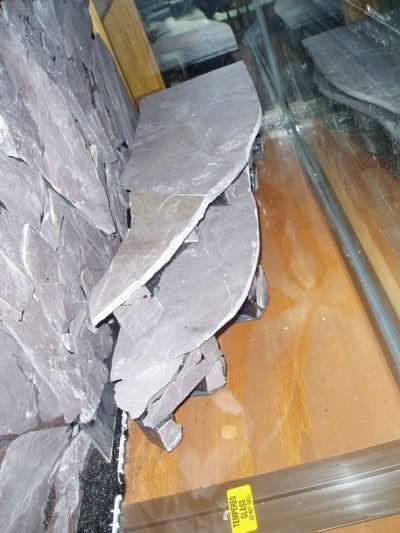 i ran out of silicone of course, but i'll finish up tommorrow. then i'll need another week or so to let the silicone dry.
....till then
Posting Rules

You may not post new threads

You may not post replies

You may not post attachments

You may not edit your posts

---

HTML code is Off

---