Tidy Davey, its so clean. :)
thanks Daz. I think the cleanliness is down to the huge population of apple snails. There's 3 adults and 50 odd juveniles
Thanks Nandoposis.
I've done a bit more, here's 2 off 24" 7 LED light bars
This is more like it. They are very bright. Each bar has a max of 21W. To achieve that they'd need to run at 3.7V per LED but I'm only running around 3.4V for now.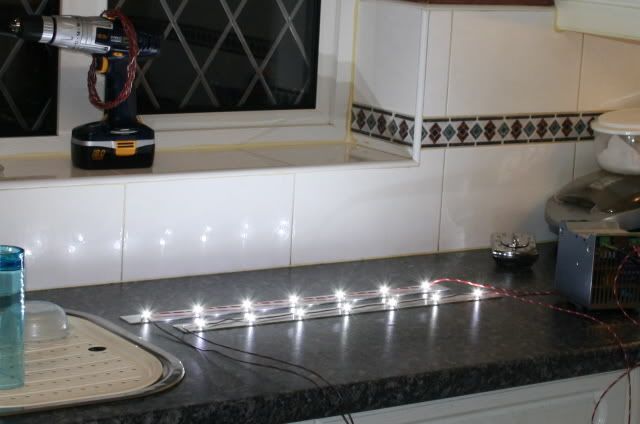 Even with all the kitchen lights on they give my cam some probs with contrast.
Just got to fit them into some sort of hood/luminaire arrangement and we're off.
Very nice! What are you using as a moisture barrier, or is one even needed with those LEDs?
Thanks Jaysn. I've got a fairly tight fitting plastic anti-condensation cover between the tank and the LED's. I've done abit more since I last posted.
Here they are in the mounting frame
and on the tank
brighter than the mkI by far
Here you can see the bars bending upwards as they are getting hotter and consequently expanding more than the frame. You can also see the anti-condensation cover.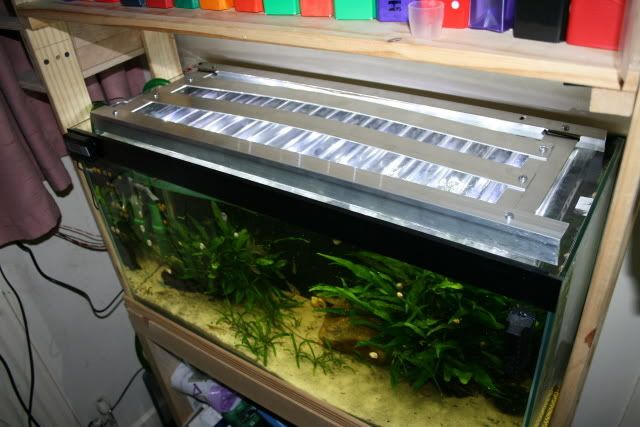 you could add some lower wattage blue leds in between the white ones so it would give off a moonlight affect for the night.You would have to put it on a seperate circuit so both the white and blue wouldn't light at the same time.
prolly use a spdt switch to perform it.
Aren't those the same LED's that PFO is using in their Solaris lights?
---
Smile, it makes people wonder what you're up to.
This thread has gone silent for a very long time.

Used to be a source on Ebay out of Hong Kong that sold high powered 5w and 7w bulbs that are used in the Solaris project. Problem with it all is that you don't even see Solaris being advertised anymore. I think the LED fad for reef lighting has worn off. But look for that source on Ebay as they sold everything on the cheap needed to make your own set up. I think it was around $1 per LED or less.
Posting Rules

You may not post new threads

You may not post replies

You may not post attachments

You may not edit your posts

---

HTML code is Off

---