finished 125g stand and canopy
---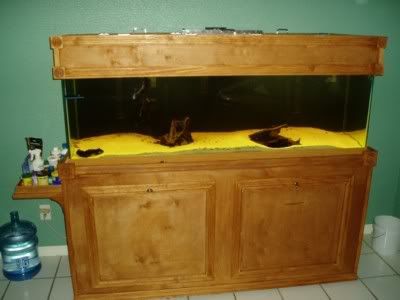 as planned, the front opens up w/ no probs. i can't believe this works!!!:clap: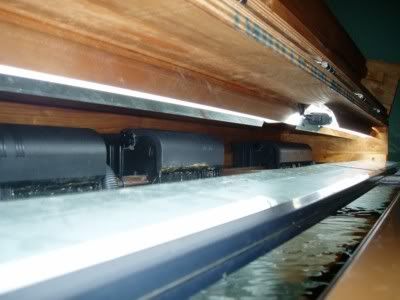 twin AH Supply 96W lights,in the 10,000k , on a single ballast. the suckers are awesome and easy to hook up.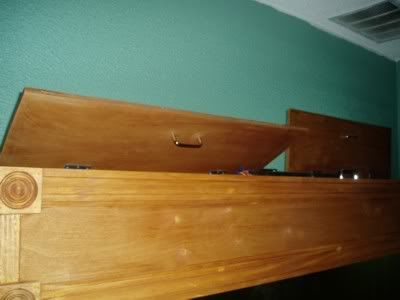 dual maintenance doors for HOB activities.
hidey ho! EMP 400!
light ballast and fan. fan is pulling air from inside, helping out natural convection. probably hide these from the front view w/ some trim, when i get a chance.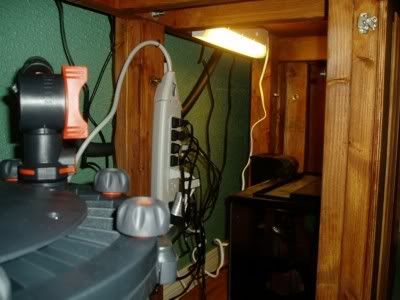 added a cheapo flourescent, underneath. 10g QT tank also.
FX5 in action.
wiring cacophony. will clean it up later when i get light timers.
hope yall enjoy!:hi:
Absolutely amazing job Mr Snorkel, it looks fantastic!

What would you say was the trickiest part of the whole project?
---
ʎɐqǝ uo pɹɐoqʎǝʞ ɐ ʎnq ı ǝɯıʇ ʇsɐן ǝɥʇ sı sıɥʇ
Quote:
Originally Posted by herefishy
Awesome job porkster. That is being delivered here Saturday right?
as soon as the football team arrives to move it, and the check is in my account, we'll be on the way buddy!
ty for the compliments guys! amph...i'd have to say the trickiest part would be the actual design and drawing up plans. i almost went insane trying to imagine what i wanted and then put it on paper. all the while trying to get the dimensions exactly like i wanted. there is actually supposed to be a 55g aged water resevoire' underneath, but still deciding if i want to put that in. other than that, the doors were tough to cut and trim.
Lights
---
I am building a canopy for my 125g. I am having a very hard time fuguring out what to do for lighting. Can you get some different pictures of your lights and maybe the exact link or the setup you purchased for your lights.

I just need to make a decison and get it done, but am uncertain on what to do.

Is yours enough for a few live plants as well?

thanks
Ron
hey jay. the lights on this canopy are 96W power compacts from
AH supply. they were easy to install and the reflector shape makes these lights much more effecient than ur avarage light set up. they are adequate to grow plants on a good size tank. i bought the 10,000k bulbs.
the other tank will be for african cichlids, and will not have plants, so i got a 'Lithonia Xtreme Wet' t-8 set up for that tank. the bulbs will be 36" actinics, but i may change one after i see how they look.
i will get u some pics by tonight or tommorrow.[/i]
http://www.ahsupply.com/
ty sst.
here ya go jay. not sure how much help these are, but i'll put them up anyway.
ballast...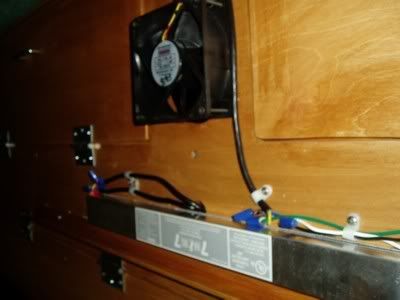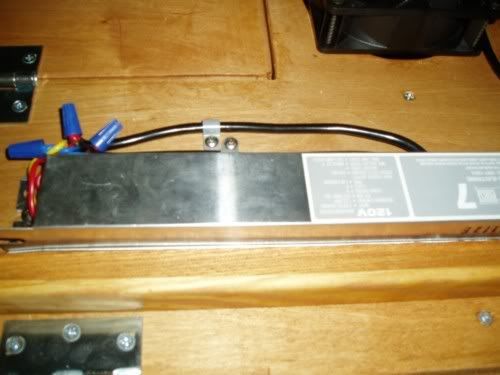 the other canopy
no top ballast here, as the light unit is self contained on the second canopy.
just a minor update. i had noticed on the second day after installing the canopy that the right side was sagging a bit.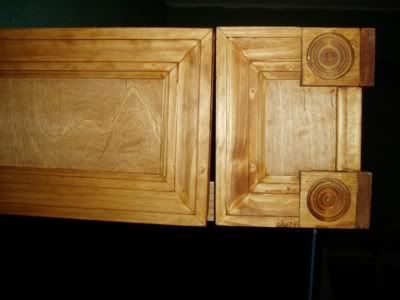 i was going to go and try and fully or partially suspend it from the rear of the stand, but then decided on the quick fix. a small wood shim.
seems to be working so far. i'll keep my fingers crossed.
also got my filters set up how i wanted, trimmed the glass cover plastic stuff to fit the filters and tagged and routed all the cords. timers are in the mail, as well as bulbs for the other canopy fixture.:yes: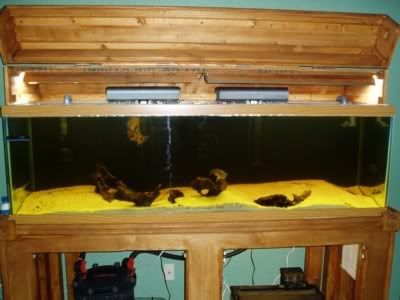 Posting Rules

You may not post new threads

You may not post replies

You may not post attachments

You may not edit your posts

---

HTML code is Off

---