that is sweeeeeeeettttt!!!!!!! i really like how it came together even with some errors .... i hear ya about the light let us know what you come up with...
---
Back in the Game!!! Live Bearers in a 40 Breeder
So, here is my idea for the light. when I first picked up the tank, it had this yucky plastic frame on top that was a bunch of pieces of plastic. I am going to make use of it. I'm gonna flip it upside down (like how i'm holding it in the picture) and silicone it to the lid to make a sort of shelf for the light to sit on. The cord can run along inside the gap, safely tucked away from the water. I'll get a piece of plexiglass cut that'll slide underneath the plastic - I want the plexiglass to be easily removed since I can never take the whole lid off and as such, would like to keep that big hole there (but coverable) for easier access. I hope my description of it makes sense... if not, just wait for pictures. :)
Done! Tried to get a picture of what I did to get the light on there... it's hard to get a photo of the back, which is where the safety concern was... so I took a picture of the front instead. It's the same thing in the back, except the cord is there... covered under electrical tape and tucked inside the plastic frame and taped some more.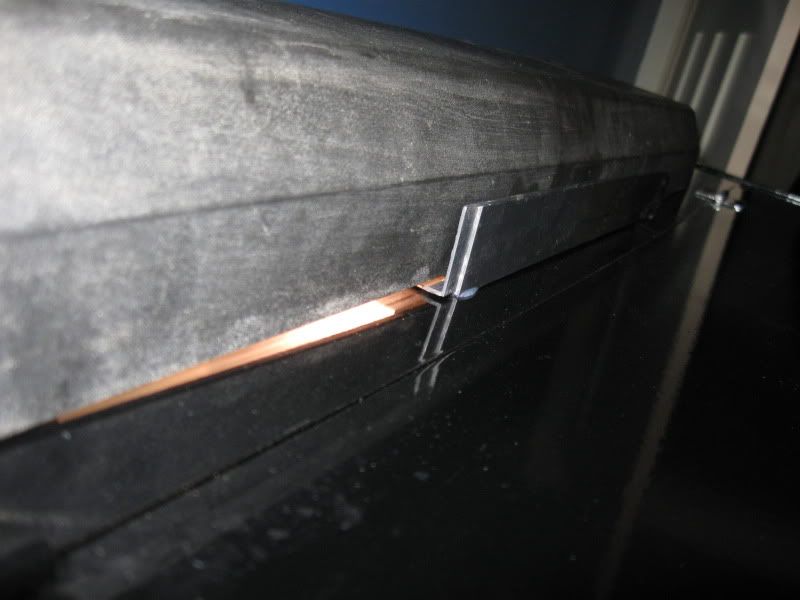 Also got some plants in the tank now. Here's a picture where I left my flash on...
And one with the flash off...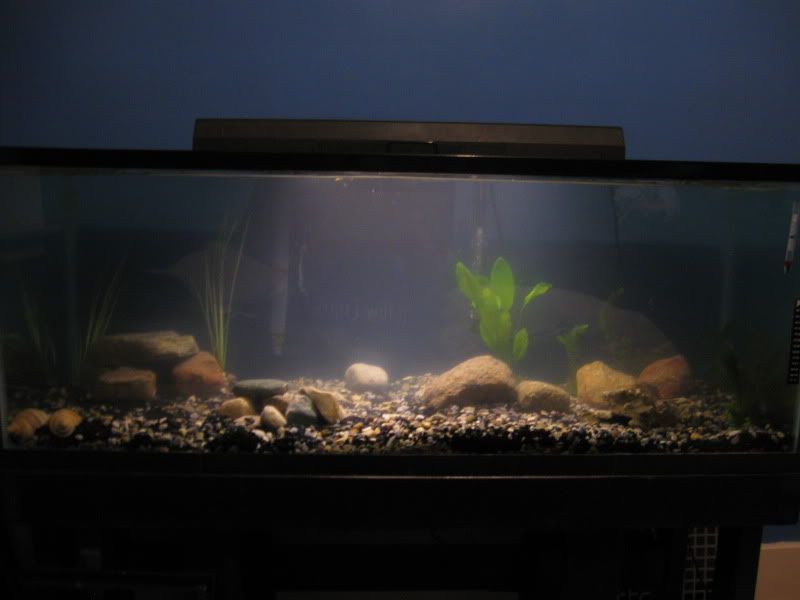 So, I would say this project is complete! well... other than the fact i have to put fish in there. And I will add more plants as I add more fish. I don't plan on adding a background... there isn't a whole lot going on outside the tank at the back, and I think once it's heavily planted enough, nobody will notice a thing. I would have chosen a blue background, and with our bedroom walls as blue as they are... it'd be a waste of money. :)
---
Last edited by iamgray; 10-02-2010 at

09:55 AM

.
Well done, looks very nice :). What lights are you using? will it be sufficient for the plants? and youre using a hang on filter? how big is the filter? sorry for asking all this questions but im planning on setting up a 4 ft (48"x24"x18"). i know it will be a bit bigger, but just to get an idea :)
thanks, pikkie! I honestly have no idea what kind of light it is... it says "aquarium & plant" on it, but that's all I know. It's just the one that came with the tank, which was bought used. Hopefully it will be enough for the plants... if I notice that they're not doing as well as they should be, I'll pick up a brighter light. the plants I bought were marked as "moderate" as far as light requirements, and I think I'm going to move them away from the corners and more toward the centre of the tank and put some rocks in the corners instead just to make sure the plants get as much light as possible. The filter is an aquaclear 110.
I'm digging the vinette effect. When do you plan on adding some fish? Look forward to it.
Quote:
I'm digging the vinette effect. When do you plan on adding some fish? Look forward to it.
Thanks! I liked the way it looked, too... it was more pronounced due to the water being a bit cloudy (bacterial bloom maybe?). I did a water change last night and it's crystal clear now. It's still a bit brighter in the centre of the tank just due to the length of the light, but the effect isn't nearly so dramatic.
I put 5 neons in on sunday... i knew the tank wasn't (and still isn't) fully cycled yet, but figured... it's such a large tank and they're so small, plus there are some plants in there so ammonia shouldn't be too much of an issue. I could be wrong... but i'm testing for ammonia daily and will do the necessary water changes.
So the tank is pretty well stocked now... I will maybe add a few bottom feeders in a month or so. Neons weren't doing too well for some reason, so I moved the survivors to my office tank which has water parameters that should suit them a bit better.

Now this tank is stocked with:

12 x harlequin rasboras
1 x dwarf gourami
3 x dalmatian mollies
5 x angelfish

I was hoping to add some more pictures before the contest ends, but I forgot my camera at work over the weekend. :(
Now that the water has cleared: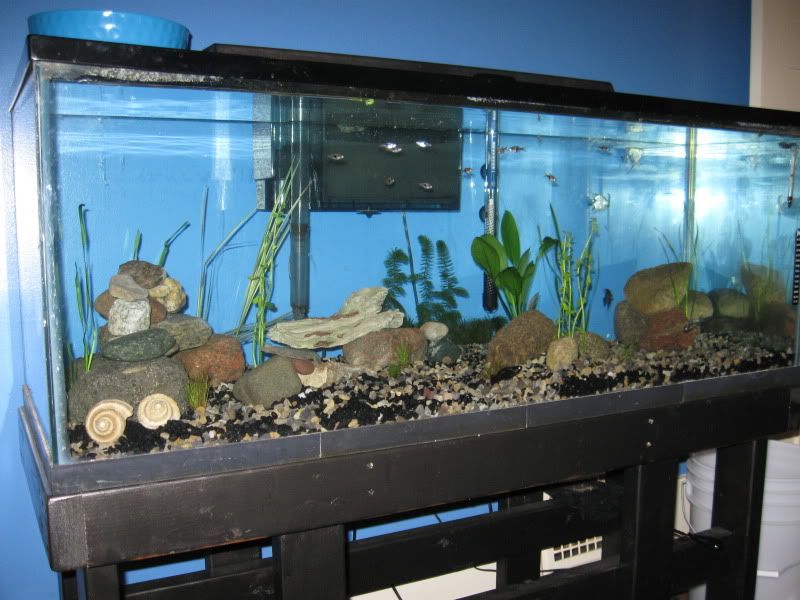 Some fish in it, with the King of the Castle on top: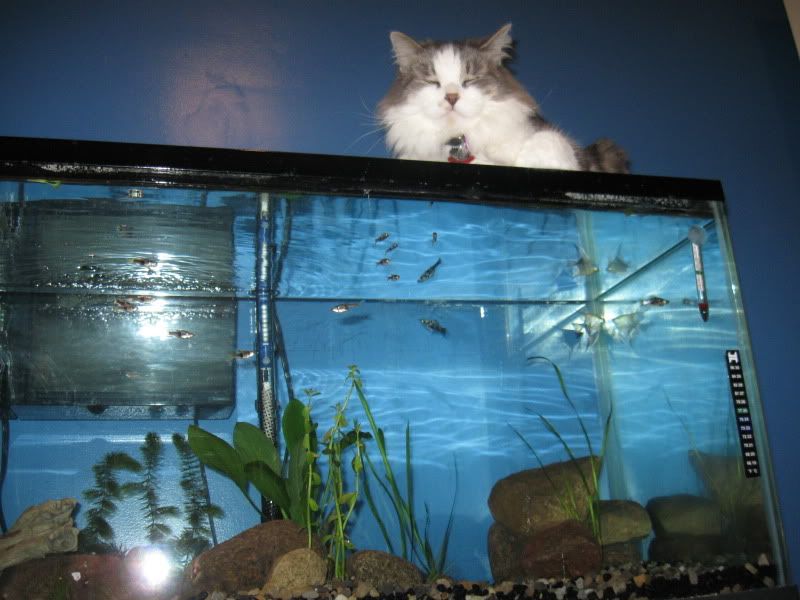 | | |
| --- | --- |
| The Following User Says Thank You to iamgray For This Useful Post: | |
the cat likes it.who am i to complain.nice job =)
---
5x2x2 aro,highfin bat,fei feng,ST,albino tinfoil,c.perch
4x1.5x1.5 planted tetras,harlequins,
otto,WMM,2 types of celebes rainbows,rcs,amano, bamboo,red ramhorns,MTS
3.5x2.5x2 flowerhorn,pleco
3x1.5x1.5 russel's lion,blue cleaner,sixline and leopard wrasse,maroon clown pair,green chromis,scorpion,tiger cowrie,turbo,lyretail anthias,jewel,anemone,star polyp,marbled and giant green mushi,zoa
2x1x1 nano sw shrimps
22 May 2012
Posting Rules

You may not post new threads

You may not post replies

You may not post attachments

You may not edit your posts

---

HTML code is Off

---