67 gallon tank project
---
Ok. So I picked up this tank yesterday and it is going to be a lot of work... I am really looking forward to it and at the same time regretting my choice to buy this tank... but it'll be worth it in the end. This is the original picture provided by the seller. My one friend and I had to carry it up from the seller's basement... did it with all of those rocks inside which was a huge mistake. I thought my fingers were going to fall off! My legs are covered in bruises from when we had to stop and rest it on our legs every so often... suffice to say it was a lot easier getting it into my house from the back of my car because that time, I made the multiple trips to carry buckets of rocks inside before attempting to lift it again! First step is to get it all cleaned... then I'll start thinking of lid designs and how to make the stand more attractive and stable, and all that fun stuff.
Hope you got a good deal on it for all those bruises :)

What are you going to stock it with?
---
Animal testing is a terrible idea; they get all nervous and give the wrong answers.
looks like a lot of scrubbing =S
---
5x2x2 aro,highfin bat,fei feng,ST,albino tinfoil,c.perch
4x1.5x1.5 planted tetras,harlequins,
otto,WMM,2 types of celebes rainbows,rcs,amano, bamboo,red ramhorns,MTS
3.5x2.5x2 flowerhorn,pleco
3x1.5x1.5 russel's lion,blue cleaner,sixline and leopard wrasse,maroon clown pair,green chromis,scorpion,tiger cowrie,turbo,lyretail anthias,jewel,anemone,star polyp,marbled and giant green mushi,zoa
2x1x1 nano sw shrimps
22 May 2012
i hope you test it first to see if its still water tight. not only does it look old, carrying a tank with weight inside ( the rocks ) does a job on the silicon seal.
Quote:
i hope you test it first to see if its still water tight. not only does it look old, carrying a tank with weight inside ( the rocks ) does a job on the silicon seal.
+1
and when you test it you can envision what it would be like to turn it into a saltwater tank .. just sayin
---
Back in the Game!!! Live Bearers in a 40 Breeder
It was a great deal, definitely worth the work so far. I am thinking of stocking it with rasboras (I'm thinking harlequin, I have them in my smaller office tank and I really like them - had a couple other kinds suggested in another thread, checked them out, but still like the harlequins best). I would also like cardinal tetras and a few angelfish. I'm trying to decide whether I should add an additional type of fish, or if I would prefer to increase the number of rasboras and tetras. I've thought about a few different fish, and african dwarf frogs, but all of the other ones that I've thought about and plugged in to aqadvisor have come up with issues/incompatibility.

i got the tank scrubbed out... will post pics when I can get some decent ones. I took a bunch of pictures periodically throughout the scrubbing process, but the pictures of the tank once I got it (almost) completely cleaned turned out fuzzy.

I've got the leak test started... I looked online for different methods and found a bunch that suggested filling it in increments over a period of a few days so that's what I've started doing...I am slightly concerned about the seams along the top (starting from the top, and extending about 1/5 of the way down) because the silicone feels a little harder to the touch, but so far the tank is half full and no leaks yet.

and... I don't think I'm ready for saltwater just yet...
the stand has now been reinforced with some extra 2x4 muscle. There were some creaks that made me uncomfortable, and I also added supports across the middle in a couple spots. I also painted it shiny black. The leak test was ended prematurely due to the tank needing to be emptied and moved from where it was for awhile, so I'll do the complete check this weekend. Feels like this is taking forever from when I started, but really... it hasn't even been 2 weeks yet. Not too shabby progress when I think of the fact that I work full time and go to school at night. I'll pick up gravel on my lunch hour today, and a new filter... The one that came with the tank is missing some hoses, and for multiple different reasons I've decided on a filter that hangs on the side rather than a canister. So... tank will be cycling by the weekend. w00t!
Couple more pics to show how the setup is looking so far... the white 2x4's are the ones I added.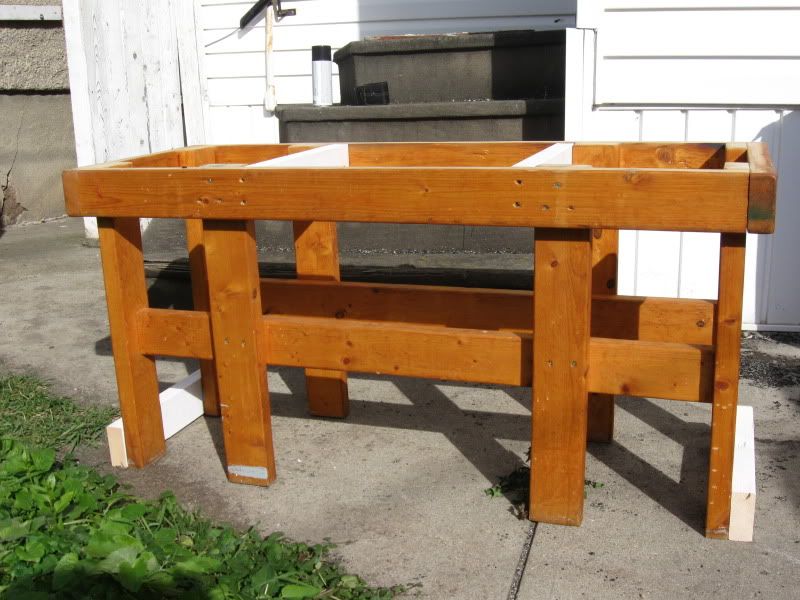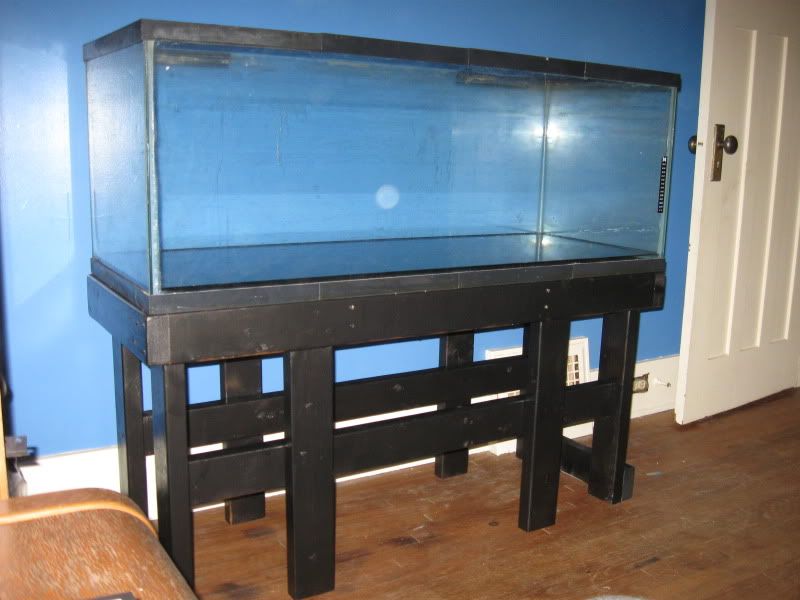 very nice its coming along great!!!!!!!!!
---
Back in the Game!!! Live Bearers in a 40 Breeder
thanks, bear!

And yeah, the stand is pretty... um... rugged. I was paranoid because it creaked a bit, and I have a German Shepherd that chases our cat around and they run into things... so I thought, better to overdo it than to run the risk of it coming crashing down!
Posting Rules

You may not post new threads

You may not post replies

You may not post attachments

You may not edit your posts

---

HTML code is Off

---