It's coming along nicely! The plants add a lot to the tank, but it even looked nice before. 8) Keep up the good work, Porksnorkel!
---
"One fish, two fish....red fish, blue fish."
Re: 125 Amazon Tank Photo Journal
---
Quote:
Originally Posted by Skeeter
Quote:
Originally Posted by porksnorkel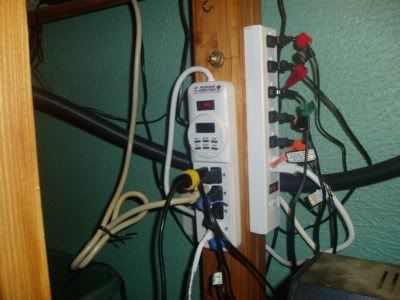 Holy mother of firehazards.
At least you have water nearby!
Just a reminder NOT to put water on an electrical fire! :D
thanks so much guys. i have to agree that the plants have made a world of difference. fish seem to enjoy them too. now if i can just keep them alive...
I've just noticed you have an algae magnet on the front of the tank. Just a quick heads up, and you probably don't need reminded - but be very careful with it. I had a magnet in one of my tanks and some grains of sand got caught between the magnet and the glass. It got really badly scored when I was cleaning it.
good heads up amph. i'll be sure and check it out!
update for july...
tank is coming around. i had to mow down most of the plants as they got beat up in shipping, and also the filters were destroying the valls. since then i have moved some of the plants away from the filters, removed the glass canopies, added a pressurized Co2 system, and another FX5. the emperors will go to the other tank, since using them is wasting the Co2. the plants are rooting well and have started to come back. it will be awhile till they get to the top i think.
this is the new FX5 and Co2 bottle. i'm using an Azoo regulator and needle valve, controlled by the timer. the gas is delivered in the aquarium via this easy lil DIY set up. basically i'm using a small internal Elite filter, to diffuse the Co2. it makes a tapping noise when the bubbles pass through it, so a bubble counter isn't really needed.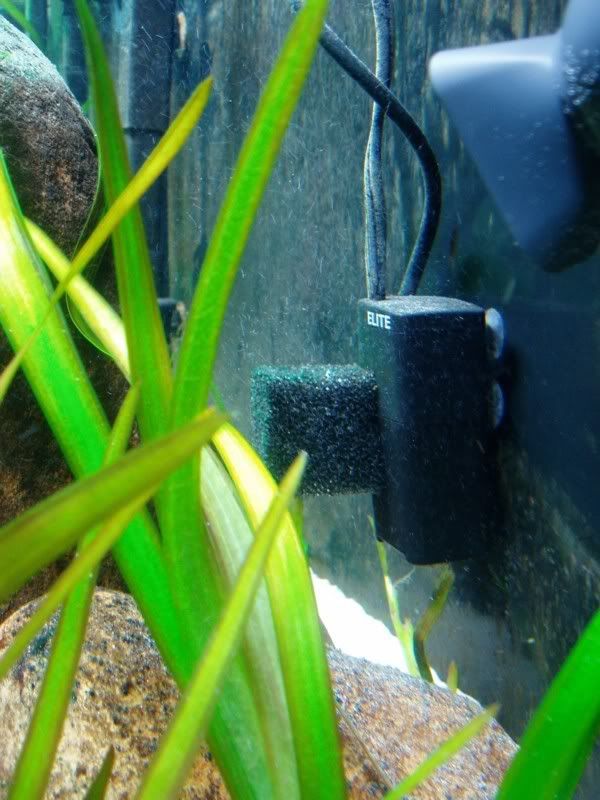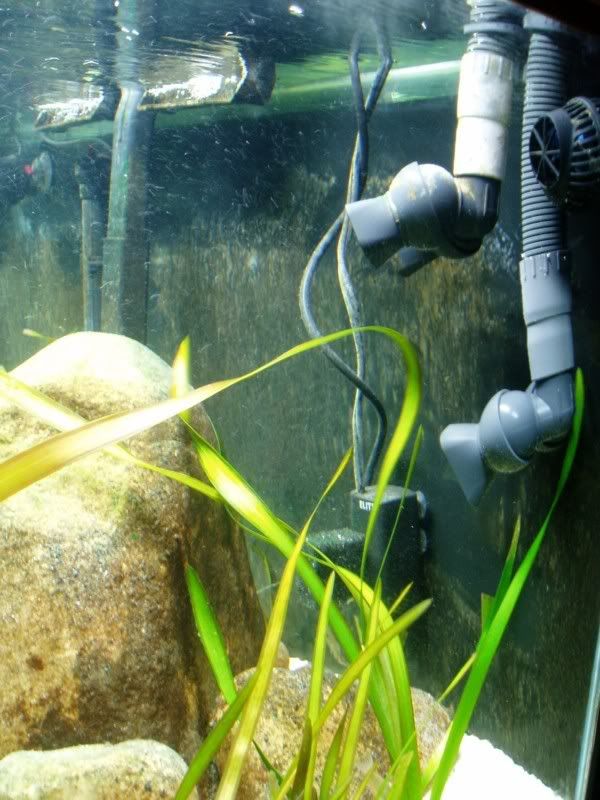 twin intakes...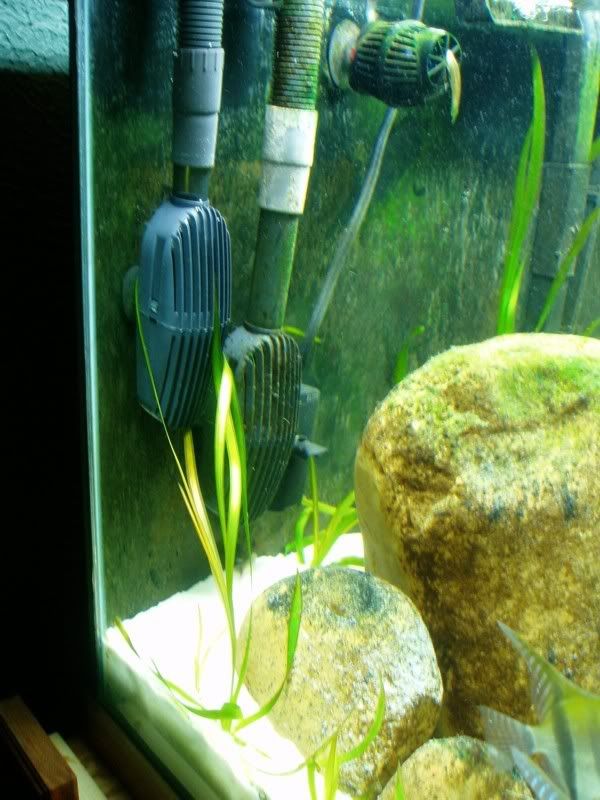 current fauna is the angel pair, 5 bolivian rams, 9 scissortail tetras/rasboras, 1 whiptail cat, 4 hatchets[had a jumper and never found him], 1 rummy nose[the rest did not survive] and a mess of cories.
this tank has claimed many lives thus far, some do to my stupidity, and some do to unknown causes. things seem to be getting better though. i will likely order another light kit so i can replace the glass tops. the evaporation is obscene. several gallons a day go missing. also helps stabilize temps w/ the tops on. seems to stay at a nice 80d-F. twas to hot before so i flipped the fan upside down to blow cold air into the canopy. works much better. i have a set of night time LED's now too. should have those on by next week. check back then...
ps...the angel spawn yielded no fry this time...or the filters ate them!
Wow! Great looking tank! Glad to see it's coming along nicely. I'd like to see those night time LED pics.
---
4 8 15 16 23 42
appreciate the input guys as always. haven't searched for wood yet. been focusing on some other stuff. i think i may add some more plant varieties soon. currently still having algae issues. i'll get it figured out though. i added 2 t-5 light strips from coralife. very cheap regular t-5's. no HO or VHO. these 2 are around 40W a piece i think. i am using these from 12pm to 12am. the big Pc lamps come on at peak growth times. i'm trying 1pm to 11pm currently, but will likely lower that time cause algae.
the lunars are working fine thus far. a bit clumsy looking and not quite bright enough, but worth a try on a smaller tank. this tank needs at least 6 more LED's. these are blue,wide angle LED's btw.
night LED's. looks brighter in reality, but not much. puts a nice ambiance in the room, but not good for viewing. Posting Rules

You may not post new threads

You may not post replies

You may not post attachments

You may not edit your posts

---

HTML code is Off

---