peculiar long-fin zebra danio behavior
---
I looked inside the tank today and te zebras were acting oddly. They weren't swimming as fast and one of them was holed up BEHIND my pleco's cave and was always hovering there. When they got near each other, they would display their full finnage (which is amazingly beautiful I might add). The holed up one seemed to sorta chase the other away.

Did they spawn or something? I don't see any "full-body" difference or any kind of difference in size.
Also, one of my angels has been fluctuating his color. Sometimes, his black spots are shockingly strong and other times, they are not there.

Pics will come soon... my camera is a bloody battery eater.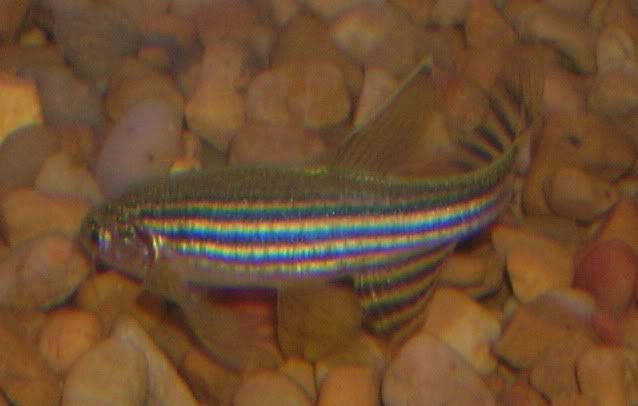 this is the one taht is holed up behind the cave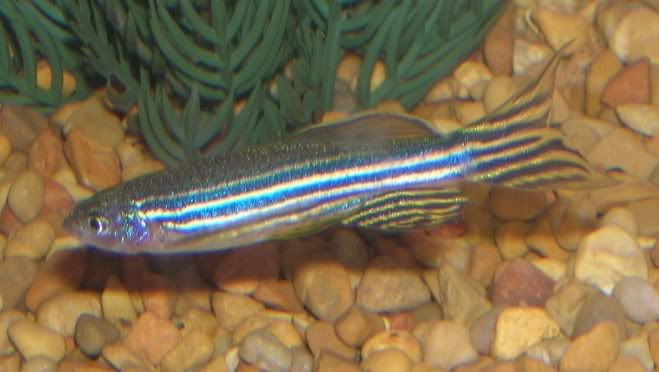 this is the one that keeps on getting chased away by the top one
Seems like a spawning behavior to me. Danios are often the easiest cyprinids to breed.
I cannot say that it is indeed a spawning behavior so you might have to wait until you may notice some fry(if they did manage to survive the tankmates).
Another possibility is pecking order which all shoaling fish will do that to specify the ranks within their group.
---
Sent from my desktop or phone or whatever else I am holding on to

I'm ready for the pressure.
The drama and the pleasure!

If there is one thing I want to see here, it's HUMOR.

I believe I can fly!
I believe I can touch the sky!
I think about it every night and day!
I stand in awe of my body.

Males are thinner in the body and more vibrant in colour and the females are much broader. Their tummies will be large and white when laden with eggs.

When spawning they will travel rapidly in a group around the bottom of the tank. When the eggs have been released, the females usually move towards the upper levels of the tank, while males stay at the bottom swimming around on hyper mode. Males will eat eggs they stir up off the bottom by all their activity. Another indication of a spawn of eggs is when other fish from the upper tank levels, such as livebearers, feed off the bottom of the tank.

Zebra danios can be fin nippers especially in smaller numbers. The more you have the less agressive they are towards each other. They are a very hyperactive fish and often just chase each other for fun. They can become less active and eat less when the tank temperatures are cool.
---
Cheers

B
Posting Rules

You may not post new threads

You may not post replies

You may not post attachments

You may not edit your posts

---

HTML code is Off

---