Male or Female? Species?
---
IS this fish male or female also if anyone could tell what spesices it is that would also help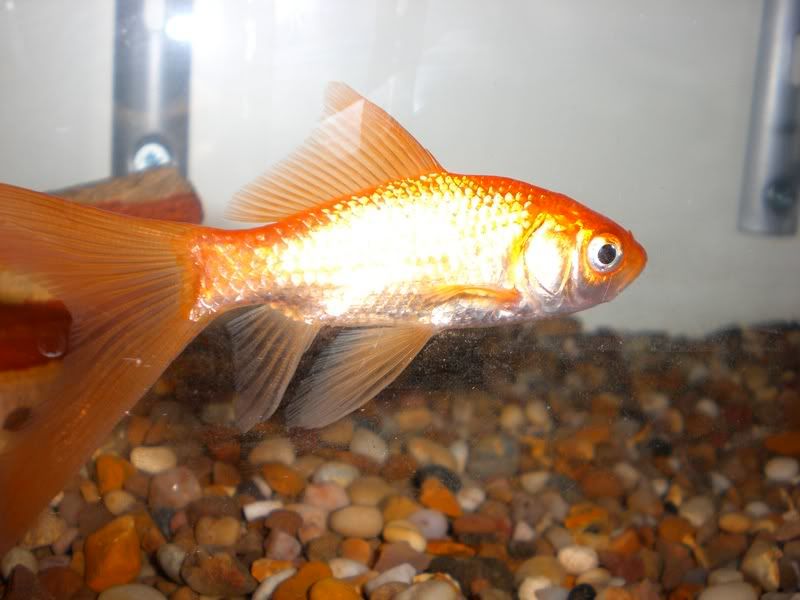 Thanks
---
I have two fish
Hi Mycael.

There is no way to distinguish sexes of goldfish species except males having tubercles at the start of spawning season. That goldfish looks like a comet to me.
---
Sent from my desktop or phone or whatever else I am holding on to

I'm ready for the pressure.
The drama and the pleasure!

If there is one thing I want to see here, it's HUMOR.

I believe I can fly!
I believe I can touch the sky!
I think about it every night and day!
I stand in awe of my body.

Thanks it also help
---
thanks it also help by the mods moving the post to he Cyprinids and Anyhernids section. lol.

thanks
---
I have two fish
Definitely looks like a Comet. I've no idea how to sex them but as Lupin says it's impossible unless they're spawning so just give him/her a unisex name, LOL!
like butch lol.

i always thought commets are cool, but u like to keep my freshwater and goldfish seperate. - though i dont keep gf anymore.
Quote:
Originally Posted by Julie
I've no idea how to sex them
did you try a 30 pack of beer and some flowers?
im just on a roll this week.
hmm unisex name... PAT!
---
Dedicated, converted, lowes / home depot bulb buyer!
RE:
---
Named Steve after Steve Jobs ( i am a nerd) now has a friend called Bill guess who after...
---
I have two fish
Posting Rules

You may not post new threads

You may not post replies

You may not post attachments

You may not edit your posts

---

HTML code is Off

---