Goldfish and their Coloring
---
I have had a few gold fish over the years and have always wondered why some change colors as they age. Is this part of them maturing?
Like the picture attached, this guy was all orange at one time and is now all white. I've had a comet that was a mix of black and orange, then turned almost all black and then turned completely orange.
I have always been curious if this was part of the aging process.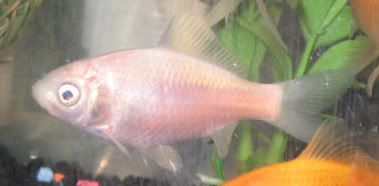 It's quite normal for all goldfish to shift colors. Genetics plays a major influence in this followed by the foods they eat and environmental conditions. Formally, it would be called or apoptosis or in layman's terms, cell suicide or cell death meaning the initial pigment cells die or fade away as a result of factors that influence this result only to be replaced by a much more different set of pigment cells.
You'll find more explanation here. It's quite a long story. Let me know if you have any further questions.
Developmental Color Change in Goldfish | Goldfish
---
Sent from my desktop or phone or whatever else I am holding on to

I'm ready for the pressure.
The drama and the pleasure!

If there is one thing I want to see here, it's HUMOR.

I believe I can fly!
I believe I can touch the sky!
I think about it every night and day!
I stand in awe of my body.

Posting Rules

You may not post new threads

You may not post replies

You may not post attachments

You may not edit your posts

---

HTML code is Off

---