It would be nicer if his mouth returned to normal but as long as he eats, he'll be fine. I'm sorry about this problem.
---
Sent from my desktop or phone or whatever else I am holding on to

I'm ready for the pressure.
The drama and the pleasure!

If there is one thing I want to see here, it's HUMOR.

I believe I can fly!
I believe I can touch the sky!
I think about it every night and day!
I stand in awe of my body.

I just feel really bad for him. I wonder if Shaft maybe bumped him and broke his top jaw in the middle, maybe making it slack. *sigh* poor little guy. I guess there no fishie plastic surgeon I can call for this problem. Seems ok tonight, active. Maybe a little listless.
Quote:
I have had this goldfish named Bowie for a few weeks after falling in love with his coloring. Tonight I noticed he can't close his mouth. I gently netted him and inspected him by hand for a few seconds and could not see any gravel inside---but it's actually quite hard to see inside (seems a little swollen to me? like the inner cheeks) He seems to be eating ok? I mean he's sucking food in (I fed him softened sinking shrimp pellets as a treat) So weird. Imagine a figure 8---his mouth looks like that---both sides are almost touching on the inside. Nothing furry or cottony, just normal colored mouth tissue to me.
His tankmate is a larger Black Moor named Shaft, who seems to be picking on him a little which got better when I fed softened floating food to the big guy and softened sinking food to this one. I've tried to give him plenty of hiding places----but he seems to like the big guy so much (who knows) and will follow him around even after being nudged by him.
I have pictures and Video (I'll link to youtube)
Pics: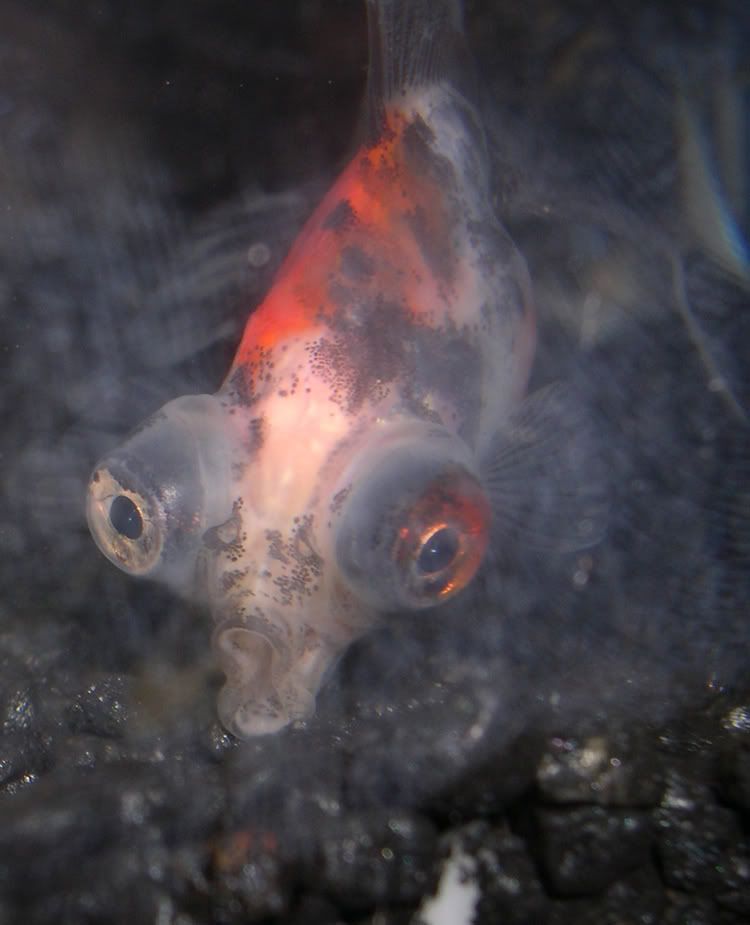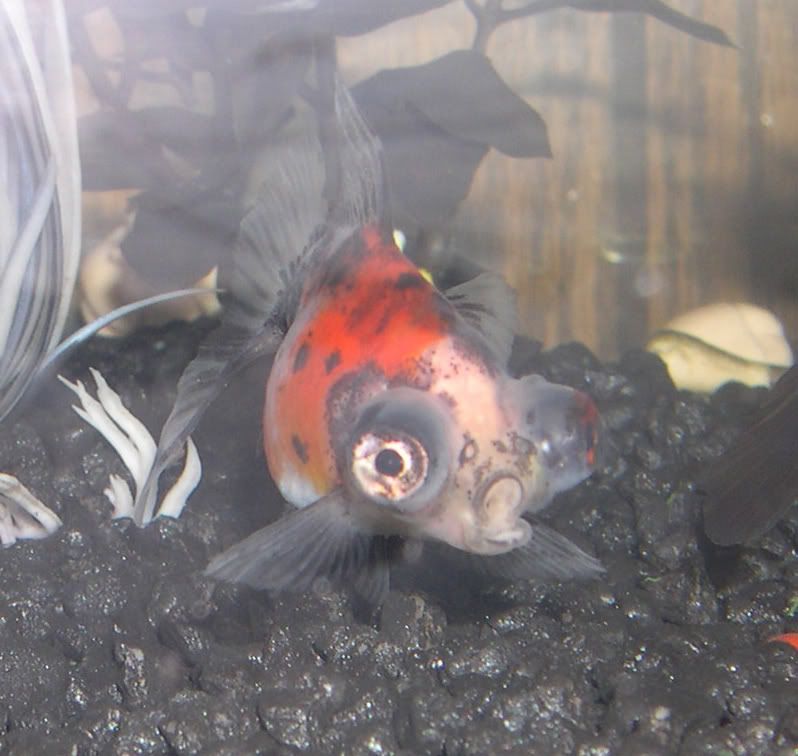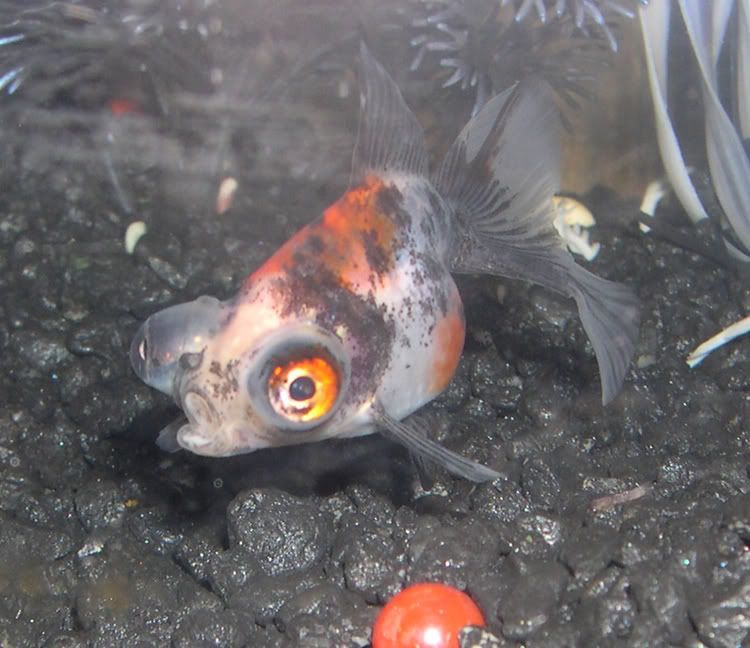 Video:
YouTube - Goldfish Mouth Issues - cannot close mouth
1. What is the size of your tank?
29 Gallons
2. What are your water parameters? State the brand of test kit used.
API Liquid
NO- 20
NO2- 0
GH - 75
KH - 40
PH - 7.8
3. Is your aquarium set up freshwater or brackish water?
Fresh
4. How long the aquarium has been set up?
2 years
5. What fish do you have? How many are in your tank? How big are they? How long have you had them?
Fancy Goldfish - Both Moors. 2 fish one 3ish inches from nose to vent and the ill one is about 2"
6. Were the fish placed under quarantine period (minus the first batch from the point wherein the tank is ready to accommodate the inhabitants)?
No
7. What temperature is the tank water currently?
71 degrees Farrenheit
8. Are there live plants in the aquarium?
No
9. What filter are you using? State brand, maintenance routine and power capacity.
Penguin Biowheel 170, back filter changed once a month, never changed Biowheel. 170 GPH.
10. Any other equipment used (aside from heater and filter which are two very important components of the tank)? Ario Blue LED bubbler turned on low bubble
11. Does your aquarium receive natural sunlight at any given part of the day? What is your lighting schedule (assuming you do not rely on sunlight for our viewing pleasure)? No Sunlight, 12 hours on 12 hours off I have a Plant/Aquiarium bulb.
12. When did you perform your last water change and how much water was changed? How often do you change your water? Do you vacuum the substrate?
Yesterday morning and 20%. I change it 20% every week. I do vacuum with water changes.
13. What foods do you provide your fish? What is the feeding schedule?
Softened goldfish floating pellets and Sinking Shrimp pellets(I soak them in a cup of water from the tank) Veggies on occasion and algea tablets on occasion (Once a week) 5 pellets and one shrimp pellet broken in half 2 times a day.
14. What unusual signs have you observed in your fish? Mouth open and will not close, other fish is in perfect health. Fish seems to be eating and healthy otherwise. Inner mouth seems odd and possibly swollen?
15. Have you treated your fish ahead of diagnosis? If so, what treatments did you use? State your reasons for planning ahead of proper diagnosis.
I have only visially inpected the fish and added a little stress coat to the water.
Please help!! I really like this little guy!
This same thing just happened to my goldfish last week. He was fine one minute, I stepped away, I came back and his mouth seemed to be stuck open. He tried to eat some dinner, but he couldn't close his mouth to swallow the food, which I would imagine is extremely stressful for a goldfish since they love to eat. I couldn't see that there was anything stuck in his mouth.
It turns out, there WAS something stuck his throat, but without the proper tools I would not have been able to see it. I late figured out that he had actually swallowed the leg of a stink bug that had fallen into his tank. (Soon after I found that my goldfish's mouth wouldn't close, I saw that there was a stink bug floating in the tank and I scooped it out, never putting two and two together.) So there WAS something in his throat, it was just too tiny to see with the untrained eye and without the proper tools that a fish vet would have.
Do you live in/near New Jersey? I highly recommend contacting Fish Medicine Diagnostic Service - Bernard G Levine DVM in Tom's River, NJ. He is a true fish doctor. He saw us on a Sunday night when no other animal hospitals or fish vets were available. With the proper tools and using the right procedure, he was able to poke around in our goldfish and dislodge what was stuck in him. It cost $40, but this is nothing if you really want to save your pet's life.
He then gave us a brown medicine tablet, said to put our goldfish in a 10 gallon "hospital tank," let the tablet dissolve in warm water first, then add it to the hospital tank with your fishy. Be sure to add an aerator so Goldie has plenty of oxygen, but do not add a filter, charcoal, or allow for UV light. After 5 days like this, our goldfish was back to normal and we were able to put him back in his usual tank with this goldfish friend who clearly had missed him very much.
My answer may be too late for your goldfish, but I hope it can help other people who have the same problem in the future. Just because you can't see something in there, doesn't necessarily mean there's nothing there. If your goldfish's mouth won't close, take him/her to a specialist - a fish doctor like Dr. Levine. I would never try to correct a goldfish's mouth myself. Leave it to a professional. With a creature so small, it is very easy to make a mistake on your own and poke out the wrong thing.
Quote:
I'm located in North East TN. The only place I know of as far as fishy vets near here is VT in Blacksburg.

I'm scared he's in pain. Would you recommend getting a divider for him to keep his buddy from roughhousing? I don't have a cycled iso tank right now.
Hi, I also have a goldfish with mouth continously open. He must be feeding ok as he has been like this for at least 1 year that i'm aware of. I also have another that continously skimms the surface of the pond, as if it needed more oxygen and another that often jumps out of the water to gulp air. The pond is home to several koi, numerous goldfish and a sturegon non of which show any similar behaviour. The goldfish have all breed from a very small inital number and I would expect some genetic problems to occur. My policy is not to intervene unless the fish are clearly in distress as I have found that intervention stresses the fish and often makes the situation worse.
Posting Rules

You may not post new threads

You may not post replies

You may not post attachments

You may not edit your posts

---

HTML code is Off

---