Are Bosemani Rainbow Fish injected with color?
---
So I went to the LFS and picked up another Bosemani. I was talking to a guy there and he told me that bosemanis are injected with color and that they also don't live very long because of this. So my first question is, are they injected with color? What is the typical life span of this fish?
No, they're not injected. When I bought mine as juveniles they were kind of plain. They got more colorful as they matured. Not sure of their lifespan. I think it's about 5-7 years. Here's a pic of one of mine:
---
150 Gallon - Mostly American Cichlids
135 Gallon - Angelfish Community
75 Gallon - Odd couple (Polleni/Angelfish)
55 Gallon - African tank
20 Gallon Long - QT
10 Gallon - Empty

That guy is a doof. go slap him next time you are there.


I was at the LFS as well, looking at rainbows as well, found some dwarf rainbows and think I fell in love with em, however unsure of compatability, colors at sexual maturity are friggin awesome.

Instead I got 6 longfin zebra danios and 3 more peppered cories and a peach colored betta splendin**
They are defiantly naturally colored. Heres an old pic of the big males I use to have before I sold them. They were all 3.5-4" long and about 2 years old.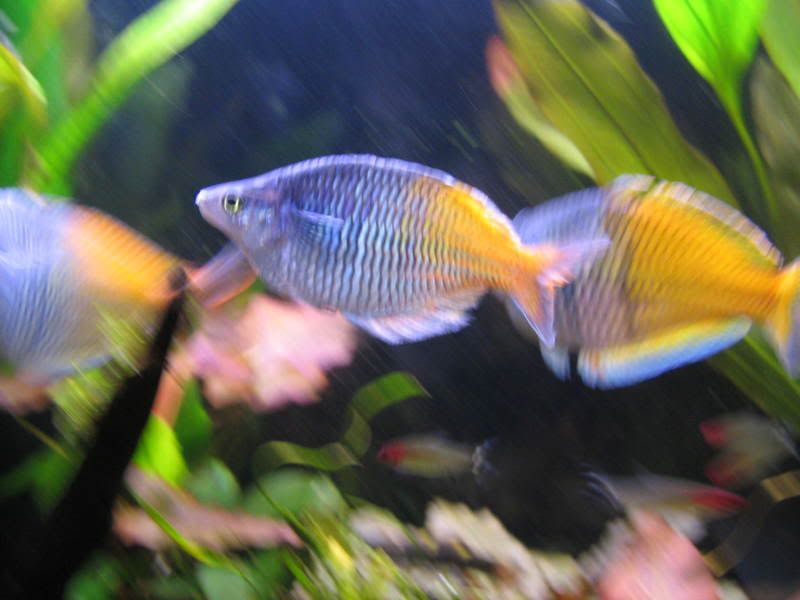 I pretty much knew the guy didn't know what he was talking about. I had to make sure though. It didn't make sense to me, if they were injected wouldn't they stay the same color and not change as often as the bosemani's do. Anyway, thanks for the help guys. If anyone could get a lifespan on them, please let me know.
Posting Rules

You may not post new threads

You may not post replies

You may not post attachments

You may not edit your posts

---

HTML code is Off

---