Are there any here with large reef tanks?
---
Are there any here with large reef tanks? 150 gals and up>
This boxfish here photo I taken some weeks ago and as well im sorry to report that this $650 fish died
Crosshatch trigger, they a pair for $500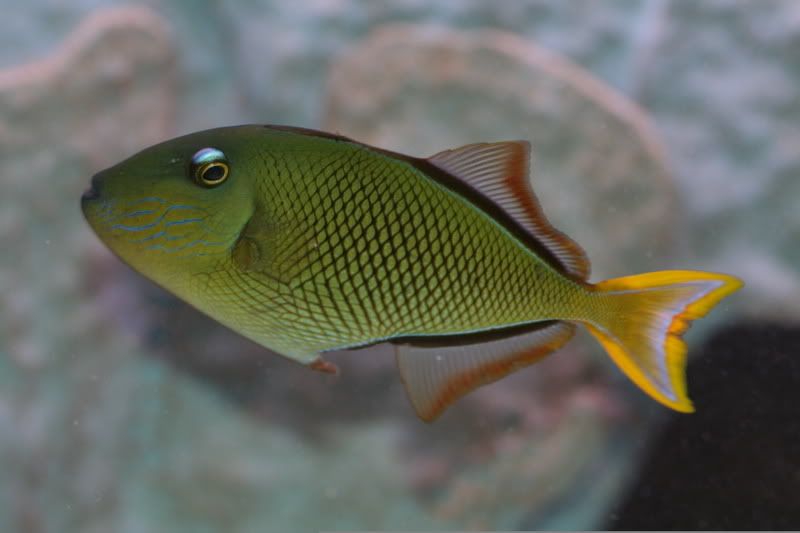 Spotted Mexican Puffer $300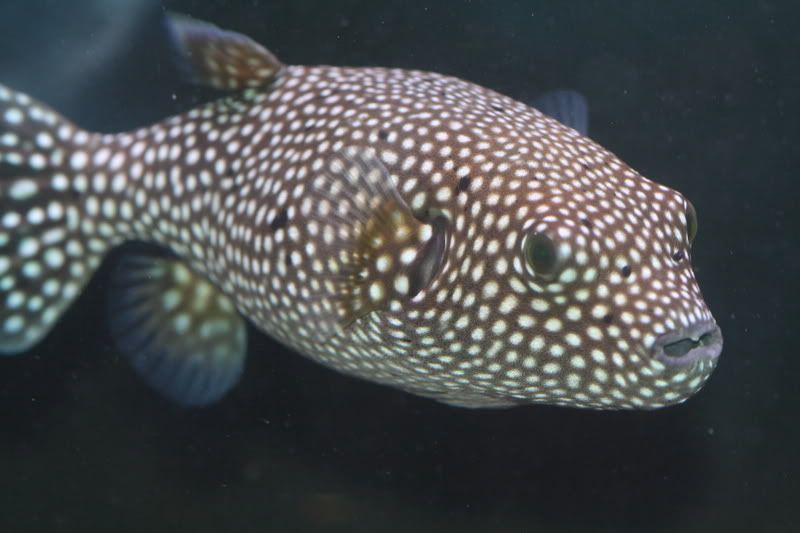 The electrician has put in two boxes, one near each reef tank with two lines of 20 amps each. That means that I now have with both outlets, 80 amps in all. Also im still with the two 15 amps outlets making it an extra 30 amps of a total electrical power of 110 amps in all>
Fish World has ask me if I could take a series of photos of a few fish that`s coming in this week. They have one in right now, a Gem Tang that is priced at $3,500 and Jeff told me that few other fish will be in that he likes me to take pics and email him the best shots for the stores Internet site.
---
Have five tanks> I 40 breeder as a QT> 70 and 130 gals twin eel tanks (are one system) and two reef tanks, a 180 and 240 (Hadn`t started yet)
Beautiful pics, thank you for sharing! Can you tell me which species of boxfish that is? I've never seen one so colorful!
I'm super confused. Are you SELLING or BRAGGING by placing the prices after each fish? You want pics of my $2,500 blue eyed panaque? You need pics of my $1,700 efflo?

I'm setting up a 400G reef right now, 7x3x3 Acrylic. With stand and canopy it stands at 9'6" tall. My Euroreef skimmer is a custom build that stands over 5' tall, 14" diameter with a 24" diam collection cup that stands 12" tall, powered by 5 Eheim 1264 custom needlewheel impellers. 4 400w lights in Lumenarc reflectors and 6 72" VHO retro kits all powered by IceCap. I have a 1HP Pacific chiller (yeah punx just got that last weekend).

Now let's see,

SeaClear tank and stand $12,000
ER skimmer, $5,700 base price but each Eheim adds $300 to the price so that's $7,200
Approximately $1,900 in lights.
$1,200 for the chiller
Looking at about $1,000 for pumps.
Sump/fuge is a 240g acrylic that is being built for a price of $500.
Plumbing parts about $400
350g nylon cylinder I bought to hold extra tank volume, $900.
2x 100G nylon cylinders to hold RO/DI water and mixed water, $375 each.
Mako RO/DI 300GPH unit, $650.
Aquacontroller $390 plus $300 in probes.
MRC CA reactor, $700
CA CO2 regulators and such, $300
custom Kalk reactor $325.
used laptop to control the Aquacontroller, $200.
Various $1,000-2000 for random bits and pieces. (cords, 6 way strips, timers etc..)

PLUS I bought
8 Woods 8" suction tools rated at 125lbs each for lifting the tank, $100 each.

a 1,000lb capacity rolling hydraulic lift cart, $600

A used pallet jack for moving the gear around in my storage area, $700



I hate to think of what I've spent putting it all together. Plans to fire it off in August. I currently have most everything I listed in my storage lock up unless noted.


Since I have a whole sale account in my name I have set up a shipment for 1 pallet box of aragonite sand and 1 pallet of boxed live rock. That's what the pallet jack is for. The sand will be shipped unbagged and dry in a plastic pallet cube. The live rock will be Walt Smith cubed on a pallet in 80lb boxes. Approx 1,600 lbs each when delivered. I'll be selling the leftovers to local reefers when I'm done with the set up.


Now on to a better story.

Has anyone ever read the story Le Petit Prince? Or The Little Prince? There is a paragraph about how children see beauty with the heart and eyes, adults only see beauty through numbers. One line read about how a young boy could run home and describe a beautiful house he saw to his mother, she asks "how much is the house worth". Basically saying that unless it has a high price it can not have value.

When I saw my tank I did not ask how much, but simply fell in love with it and asked how I could own it. I did this on a modest construction laborers budget. I've scrimped and saved everywhere I could. I took on 1 even 2 extra jobs to make ends meet at times.
try setting up a reef tank with no pay and no allowance (in other words lots and lots of begging)

sorry about the death of that expensive fish, i would never buy a fish that expensive since i would be so paranoid if it died
CRM when I get out I will have a nice big tank to, I had to beg the wife for the 120gal. LOL
Nice CRM, I cant wait for pictures =D I want a huge tank when I get out of college, a 200 gallon+ freshwater would be nice. And those are EXPENSIVE fish! I thought my shrimp were expensive.
Mike i think hes bragging, he hasent even told us about his tank, i want to know how big it is. Some nice fish you got there, I love puffer, there so freindly.
Mike you are prime example of "Reef Addict" hahahaha..I thought a 75 gal is a ball breaker. I can't wait to see your 400 gal. I saw a 1200 g reef at sea world a couple weeks ago. Unreal. Post some pics of the $2,000 fish or did you already?
---
75 Gal reef
1 blue sided wrasse
1 firefish
2 Tangs (Blue, Yellow)
1 Percula
1 Longnose Hawk
1 Electric blue damsel
1 Coral beauty
1 Foxface
1 bristle star
2 linckia stars (purple, orange)
3 Emerald crabs (2 green, 1 red)
All types of coral and snails
If you care how much it is you probably shouldnt be buying it. I know that is how i have to take it to swallow this passion. My 150 and 55 ref. have cost me over 10,000 and i could still use another couple thousand on corals.
Posting Rules

You may not post new threads

You may not post replies

You may not post attachments

You may not edit your posts

---

HTML code is Off

---