new creture to my tank?
---
does anyone know what this is?
---
David A. Rayfield
are you referring to the tiny dots? dp they move? are they transparent? i had something like this and they turned out to be ostracods. they got a little out of control- they tend to feed off excess nutrients in the water. i had a nutrient problem for a long time, which i found out was comming from my tap water. once i cured the nutrient issue, they went away.

how long have you noticed them? how old is the tank? and did you recently add any new plants?
---
"Instant gratification takes too long"
reply
---
no not the little dots ...the big animal in the middle on the glass that is eating the algae off the glass. my profile shows i have a 55gal and its been up for over a year.
---
David A. Rayfield
wow, the computer screen I was on last night didn't show me the full picture- oh my god- it looks like a creature from out of space! its hard to tell the scale size of the creature, how big is it?
---
"Instant gratification takes too long"
creature
---
yes the dots are big and so is the creature..itook the pic with my digital camera one inch from the glass with the macro setting on...that allows the camara to take a pic in focus extremely close... the creature is probally about 1 centimeter max
---
David A. Rayfield
I'm wondering if it is a larval stage to a planaria or flatworm.
Here is a pic I got from Yahoo as I've no experience with them in my tank.
i am still thinking ostracod or copod. google some pictures and see if that looks like it. if it is, don't panic- its fixable, and they won't really hurt anything.
---
"Instant gratification takes too long"
creature
---
im not sure what an ostrocod is but the guy in my tank was like sucking on the glass ...i thought that copepods were free swimming and i think thats what the dots are....or theyre micro bubbles i also found this other new guy an hour ago it is moving on the glass as well sorta has like a star fish appearence but it is only 3 millimeters or so
---
David A. Rayfield
The first is definitely not a pod. Pods are like insects of the oceans complete with exoskeletons.
In fact I've now spent a few hours on this just for the fun of argument or debate.
Here is a picture from yet another website detailing flatworms.
Melev is considered one of the most authoritative sources around. He is local to me and I've been able to visit many of his demonstrations.
http://www.melevsreef.com/flatworms.html
Here is what a typical "pod" looks like.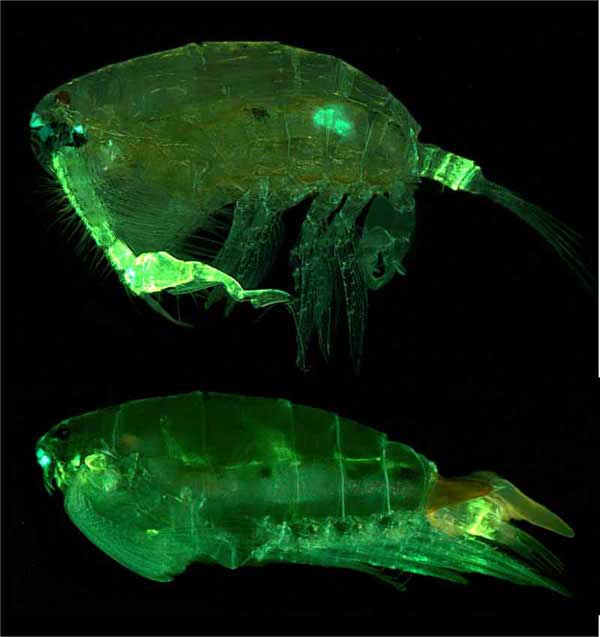 Notice the "shell" surrounding these animals?
If you agree with me that it is a flatworm trouble could come ahead as some have a tendency to eat corals. Good news? You can get one of these to eat them,
The new pic looks to be a tiny mini brittle star offspring. It could be a hydroid taking root but I'd guess along the lines of mini star, BTW not the debated asteria star.
Brittle star.
Hydroid.
But I'm leaning towards brittle star.
All pics taken from "public domain". If any are yours feel honored that I used them to inform others and decided your pic quality was excellent. Thanks.
creature
---
thanks cafe...
i started doing some other research on your identification of the pics and im quite sure your right on...and thanks for the cheer on my photo taking ability all are welcome to them
---
David A. Rayfield
Posting Rules

You may not post new threads

You may not post replies

You may not post attachments

You may not edit your posts

---

HTML code is Off

---