Found these tentacles coming out of my rock
---
So i was staring into my rock and noticed these tentacle looking thing was coming out of my rock at first i thought it was a worm but then i saw like 4 of them. but nothing really came out of the rock but the tentacle looking thing. Anyone know what it might be?
Also on top of my other rock are these bubbley looking things if anyone can help me with that as well. thanks
Tentacle thingys
and the bubble looking thing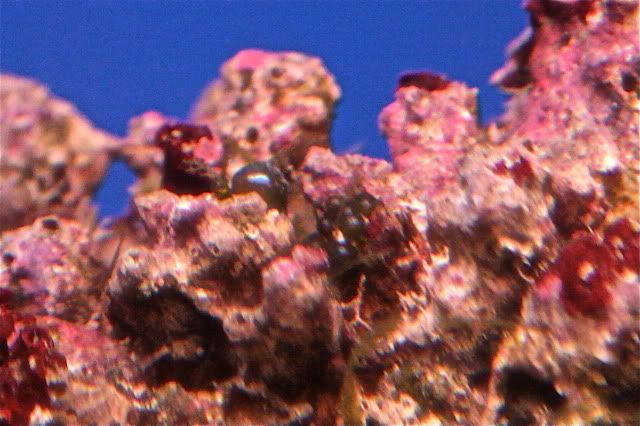 The first two pics are of Caulerpa, a macroalgae used primarily in sumps for nutrient absorbtion. It has a tendency to go asexual and take over a tank. You will notice the ends start to turn a pale white before this happens. I had an outbreak of the Caulerpa, and I haven't had it in my sump since. It's too temperamental.

The third pic is either grape or bubble algae. I can't really tell from the pic. Grape algae is also used in a sump, and bubble algae forms on the rocks from detritus buildup. I don't have any experience with the grape algae, but I have seen bubble algae in my tank. I just plucked out the bubbles, and haven't really seen it since.
---
Nothing good happens fast in an Aquarium
My 30 Gallon Long Marine Tank
My son's 20 gallon FW Community
hey wake thanks for the replay but the first two pics i wasnt talking about the plant if look closely theres these brown tentacles coming out of the rock
Oh. Those look like bristle worms. Some say they aren't beneficial at all to a system, but I think they are. They scavenge for uneaten food in the tank. If you see too many of them, then it is a sign you are overfeeding. To diminish their population, just cut back on feeding and they will starve. The ones that don't starve should eat the dead ones. I know, sounds kinda canibolistic...
---
Nothing good happens fast in an Aquarium
My 30 Gallon Long Marine Tank
My son's 20 gallon FW Community
I have a harlequin serpent star fish. The tentacles look just like that. Do the get active when you feed? Mine hides and I never see him until I feed the fish and the you always see his tentacles waving.
Here's a picture:
http://www.seacrittersinc.com/images...ent%20star.pdf
Mine is more tan stripes where this one has black stirpes but you get the idea
i always see the tentacles waving around i did notice it waves alot more during feeding time but i might say ive had my tank for 2 months and i have not yet ever seen this guy come out. I even stay up late usually at night and ill walk over with a flash light and still nothing. I just want to see how he looks lol.
they are mini stars of some sort, theyre all over my tank. they never seem to grow any bigger then the size they are, no matter how long you have them for. dont worry about them at all, harmless, infact beneficial as they catch any uneaten food in the water with one of their arms.
dont take everyone you see for one as they can look/act very similiar to bristle worms.
Posting Rules

You may not post new threads

You may not post replies

You may not post attachments

You may not edit your posts

---

HTML code is Off

---