Spotted Cichlid ID Help!
---
I "Rescued" this cichlid from Wal-Mart. It almost has a flounder resemblence to it coloration. Its def. a cichlid but I'm not sure, never seen it before. I'll have a picture uploaded in about an hour or two.
I'm assuming its a Giraffe Cichlid (Haplochromis Venustus) it looks similar to this.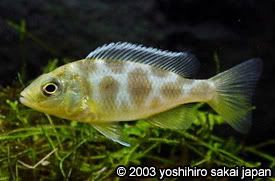 these guys are awesome...they get big tho
---
75 Gallon
mbuna tank
55 gallon
mixed african tank
Looks like a little venustus to me and hes a looker. Again be aware they get big and need alot of swimming room.
ok. Right now I have a 55g tank but plan to upgrade to a 75 in about 6 momths. I have another cichlid I need help id'ing. He looks to me like a peacock species but I have no idea. He has a silverish body with a horizontal black stripe, some blueish tint to his body, and yellow from nose to tail running on his top. Pic soon.
Mkae sure you post a pic of the new cichlid but it sounds like a peacock. 75 IMO won't cut it for venustus. Most haps need a 6ft(125) to house properly. Venustus can get 10in and are open water predators meaning they like to swim far and need room to do so. They love the open water and need plenty of room to swim.
Posting Rules

You may not post new threads

You may not post replies

You may not post attachments

You may not edit your posts

---

HTML code is Off

---