Smell :(
---
Okay, I inherited 2 cichlids and 2 plecostomus (sp?) from my cousin that moved out of state. Since then (about a year) they have been upgraded to a 20 gallon tank from a 10, they grew a lot. I have 2 power pumps in the tank and syphon it every 2 weeks. IT STINKS UP MY ROOM! Even after changing out some of the water, maybe in 2 days, the smell returns. Is this common with these fish? It is getting to the point I'm considering finding them a new home with somebody that has much more experience and a love for these fish. I have been told it might be they produce a lot of ammonia? I would never give them to just anybody. But if I can solve this problem then I would like to keep them. Any suggestions please? They are very beautiful and a joy to watch. ~ Ali aka Affirmation.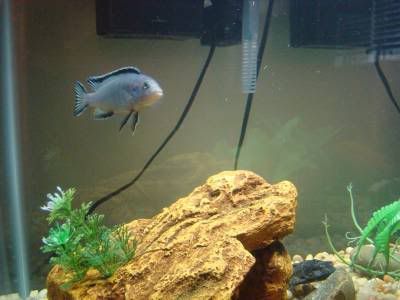 You say you have power pumps.
Do you have a filter on the tank?
Maybe try a HOB Bio-wheel filter, with some carbon. (maybe that would help with the smell)
I would also do weekly 25% water changes.
It is not normal for the fish to smell, that is why I am thinking its a filtration problem.
I think the problem is you have some rather large fish in too small of a tank.
---
75 gallon
1 pleco
1 OB Peac0ck
1 Yellow Lab
1 Blue Peac0ck
1 Greshakei
1 Red Peac0ck
1 Acei
1 Chailosi
1 Flameback
1 Rock Kribensis
1 CAE

20 gallon
2 female bettas
6 emerald green cories

2 dogs Diesel and Hummer!
Agreed - how big are these fish? How often are you doing water changes, and how much? Do you clean the filters, and if so, how do you do it?

Can you describe the smell? The two most obvious culprits are high ammonia levels (due to fish waste not getting processed by the filter system) and sulfur (smells like rotten eggs) which is a result of having dead spots with no water flow in your gravel. Both of these are harmful to your fish.

A clean, healthy fish tank shouldn't really smell like much at all, especially if you don't have any live plants in it.
---
4 8 15 16 23 42
Similar Threads
Thread
Thread Starter
Forum
Replies
Last Post
Bad Smell

Rogergolf66

Saltwater Fish Diseases

6

06-10-2007

05:22 PM

funky smell...need help

lilla17

Beginner Freshwater Aquarium

3

04-30-2007

06:06 PM
Posting Rules

You may not post new threads

You may not post replies

You may not post attachments

You may not edit your posts

---

HTML code is Off

---