Sad/good news all in one!
---
Well ... What had happened was.. MY power went out last week and African Cichlids get all types of angsty and mean when there is still water! I kept hearing ruckus and then one loud slam of one of my fish hitting to top glass. They were going crazy fighting and Rusty is notorious for pushing a fish in it's mid section to exactly where he wants it...so umm. he wanted that fish outa the tank. A day or two later my f1 white lab from tumbi reef finally died. No bite marks so he as the one who hit the glass(I could see what looked like internal damage from impact.) So sad, he was so beautiful and a rare fish to find. But to my surprise .. The breeder gave his dad to my store and nobody bought him yet. He is a WILD! My very first true wild! They are holding him for me ill I return from my trip on Wednesday. And then they should have 3 more or so Electric blue ram babys for me to pic from for another tank. eeeeehhhhhh. A wild! He is 3-4inchs so I'm praying my dominant and subdominant same sized males will take no issue to him.

PICS SOON! Both the new ram(s) and My wild white boy !
aww poor fishy :( but a wild is really cool, hopefully there will be no problem with adding him :)
How exciting! Can't wait for pictures!
---
10 gallon- 8 Harlequin Rasboras, 1 female betta.

20 gallonH - 1 Peacock Gudgeon, 2 Skunk Cories, 1 Sparkling Gourami. , one male betta, 2 nerite snails.

55 gallon - 3 Turquoise Rainbows, 1 Boesemani Rainbow, 2 Australian Rainbow, 4 Gold Dust mollies, 1 L. Dorsigera, 2 White Cloud Mountain Minnows, 1 Honey Gourami, 3 Cherry barb, 1 Koi Angelfish, 4 female betta.

I'm just so excited. He is beautiful! And was in suburb care as I know the breeder and almost only bought from his stock. He only breeds his wilds a few times before retiring and rehoming or keeping for non breeding purposes. Best in the area. And to think my new boy was born in Tumbi Reef in lake Malawi in African spent some time there then traveled here. What a cool thing to know!
My wild white boy got murdered the day before I got there *naughty cichlids!*
Currently trying to see if the breeder has another wild or held back any f1 babies

got the rams tough! pics coming later today !
Still hoping to hear from the breeder about any holdbacks he had of the tumbi reef white boys...
but...
Picture fest time of the electric blue ram babies
(owever one I'm unsure is a true electric blue..the black stripe is throwing me off but they took well the my origin ram.. and seem well adjusted.
(Sorry, I swear they always are pooping when I'm cooking which happens to be the easiest time to take pics of them lol)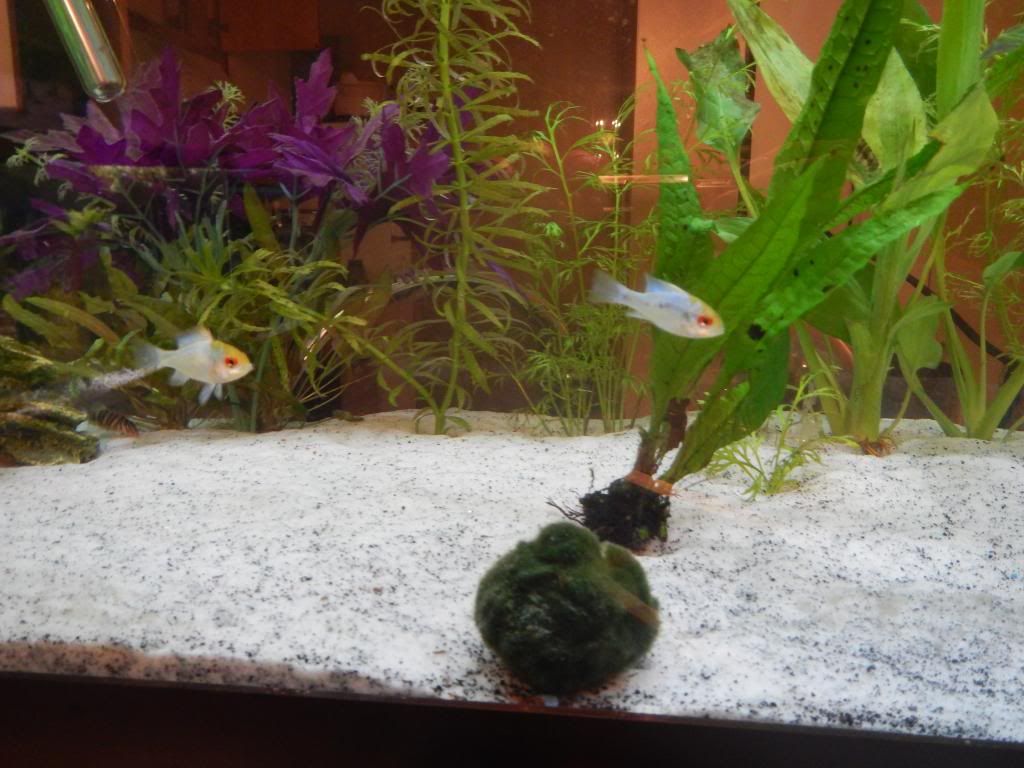 I love this new one! He has a bright blue upper lip lol!
and always a fan of the camera.
They tend to take group pics better hen I put my finger on the glass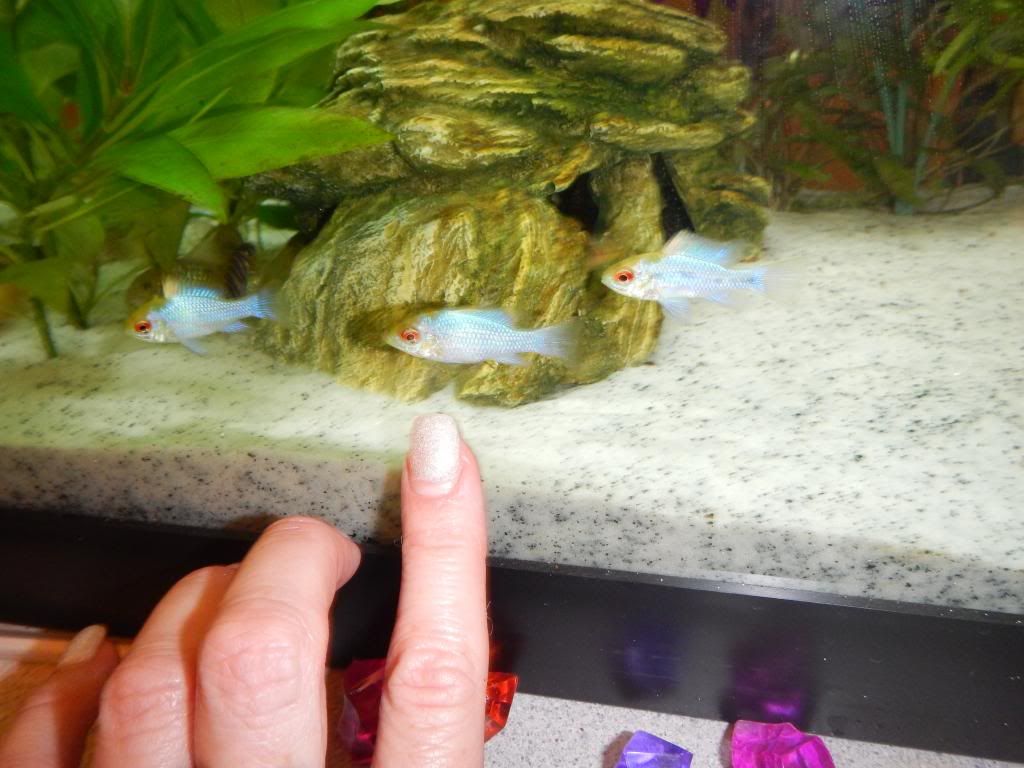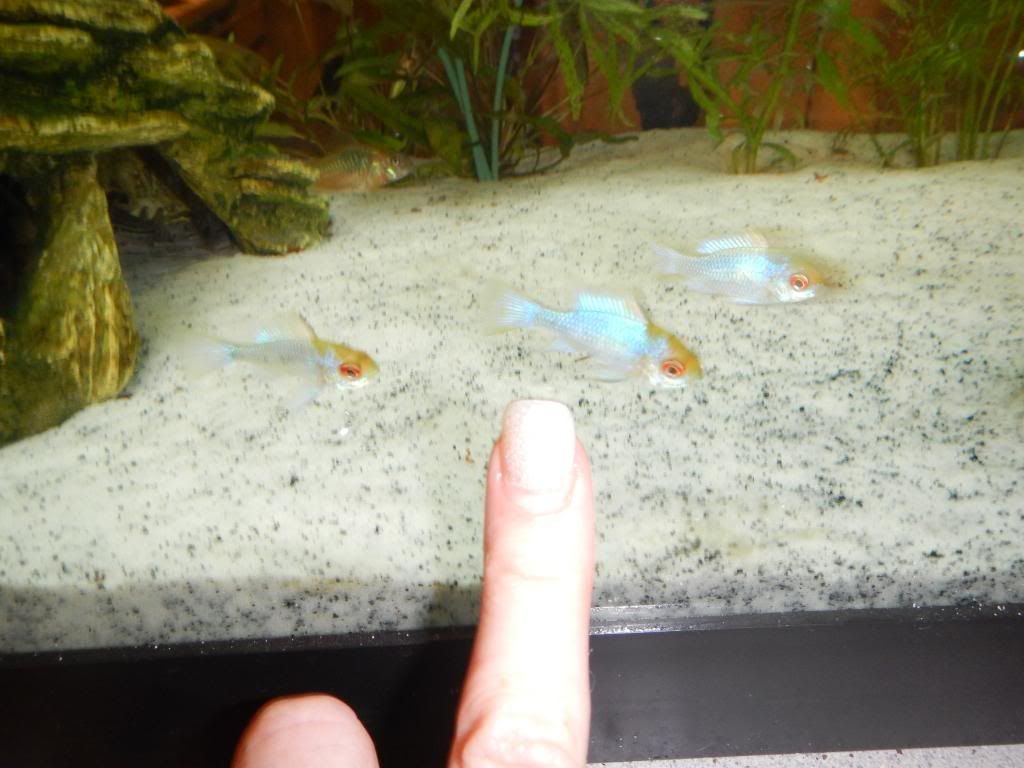 Thats my blue lipped one coming to my finger
AWWWWW. sorry about your wild boy, but omg the babies are so cuuuute! I need rams. time to start fighting the 55 again
Posted via Mobile Device
Posting Rules

You may not post new threads

You may not post replies

You may not post attachments

You may not edit your posts

---

HTML code is Off

---