Quote:
What size is your Discus tank and what other fish do you have in the tank? I saw a Denison barb, I used to keep them with my Discus until I realized the Discus needed to be warmer and the Dension cooler. What temp do you keep the tank?
no its not Denison barb its like him but he has different face much taller , his name something with barb and i forgot what it was i have to go to the store to know the name ,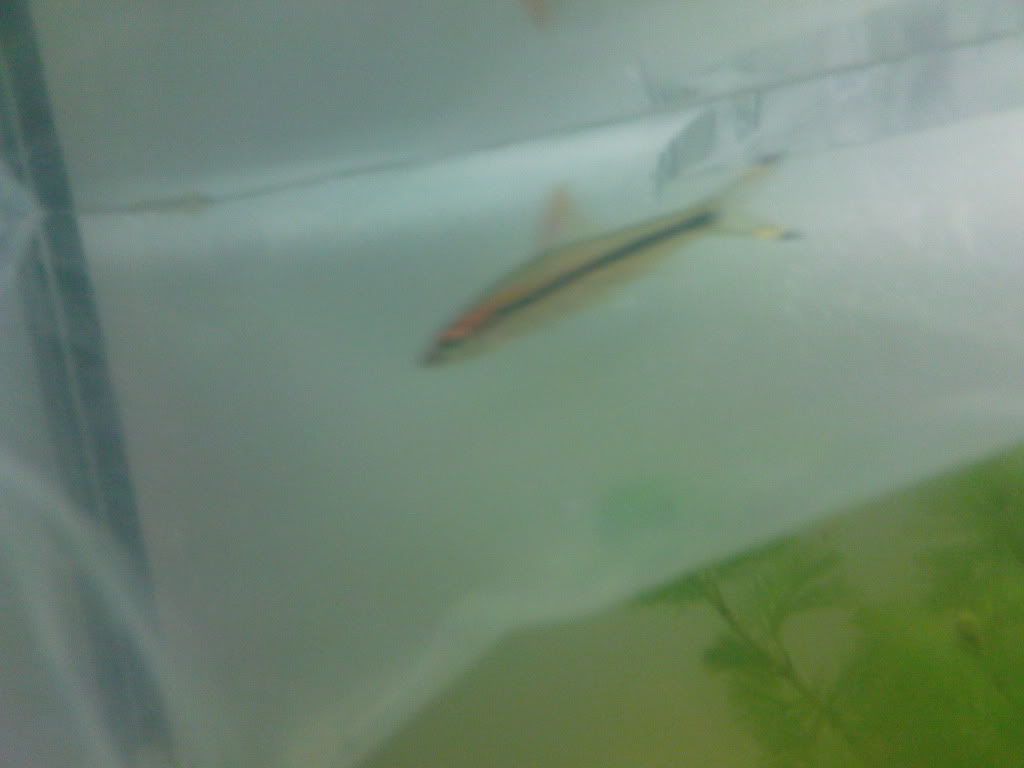 i have this guy from August 12 and when the water used to be kind cooled his colors goes whiter , i don't know
this picture when he was small
i set the heater100W at 27C and the Temp shows at 30C
the tank width is 80c , i know that it very small for discus and elephant nose fish but when i am able to empty my other tank from big fish i will put all these guys in there that one width is 1,5cm
so you saying i have to take this guy barb out from the aquarium ?
fish list
Rainbow shark
Albino Rainbow shark
Baby Rainbow fish
Tetra zera
pink tetra zera
Discus
Elephant nose fish
Black Ghost knife
a fish from eel family has tiger camo likes to hide under rocks
platy red and black , red and orange
placo
yellow spotted placo
something barb
Hi Fin Nose fish
---
Last edited by Kwtblack; 10-08-2010 at

01:41 AM

.
| | |
| --- | --- |
| The Following User Says Thank You to LisaC144 For This Useful Post: | |
cute babies!!!!! nice going =)
---
5x2x2 aro,highfin bat,fei feng,ST,albino tinfoil,c.perch
4x1.5x1.5 planted tetras,harlequins,
otto,WMM,2 types of celebes rainbows,rcs,amano, bamboo,red ramhorns,MTS
3.5x2.5x2 flowerhorn,pleco
3x1.5x1.5 russel's lion,blue cleaner,sixline and leopard wrasse,maroon clown pair,green chromis,scorpion,tiger cowrie,turbo,lyretail anthias,jewel,anemone,star polyp,marbled and giant green mushi,zoa
2x1x1 nano sw shrimps
22 May 2012
| | |
| --- | --- |
| The Following User Says Thank You to kitten_penang For This Useful Post: | |
Posting Rules

You may not post new threads

You may not post replies

You may not post attachments

You may not edit your posts

---

HTML code is Off

---