Need help ID'ing 2 Cichlids.
---
Once again I "Rescued" an African cichlid from wal-mart. Made sure he was healthy looking and acting normal, then decided to take him home. Theres another that I might be buyin tomorrow. Cant exactly tell what this one is, I'm still pretty new to cichlids so I myself have never seen this one before. Tried looking him up, Only ones that looked like him was a Pseudotrophues Demasoni and Pseudotropheus Minutus but he almost doesnt even look like those species either. It was showing more of black when it was in the store tank. Maybe it just hasnt quite got into a comfort zone yet. He's usually hiding somewhere, or wondering around on the bottom, never out of cover for very long. He has a single egg spot on him.
And this one I'm quite sure is a hybrid. I'm guessing Kennyi and something else. At first I thought it was a male getting his colors but its not, I'm trying to find a male Kennyi though. One on the right is the one that I need to have ID'd. He looks kinda brown at times, then sometimes shows a Blue Kennyi color. You can see the Female Kennyi color on his dorsal fin.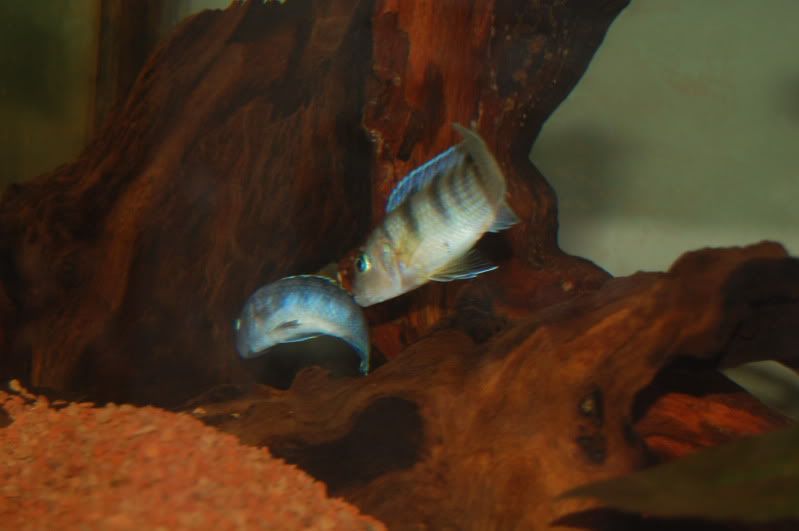 My nephew liked one of their cichlids, I believe it was a M. Johanni, I might buy him tomorrow so my nephew can have a fish, but I'll be taking care of him.
Not 100% sure because of the picture quality (fish photography is not easy) and the fact that his fins are not out but I would lean towards blue peacock. Beautiful fish regardless. :)
i think the top fish is a johanni........probably a female.....The other fish in the bottom pic, looks like a female kenyi, who is starting her color morph........
Posting Rules

You may not post new threads

You may not post replies

You may not post attachments

You may not edit your posts

---

HTML code is Off

---