Here is a shot of the Cichlids my buddy is giving me. I will eventually post pics of the tank, which is very badly overstocked at the moment, so i will sell some fish then post the pics so i dont get yelled at for having to many haha =P
Oh it showed up on my computer, hm, this damn technology.
Haha and I'd hope not, My buddy took horrible care of his tanks, im glad to finally get one off his hands.
This one work?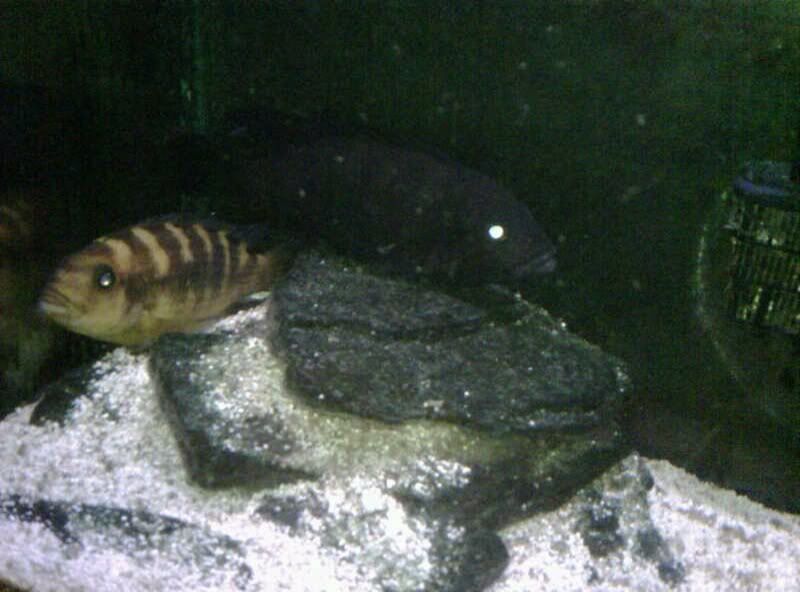 I hate to say it but those are not convicts. Those are Bumble Bee Cichlids. An African cichlid. Is the one solid black? If so thats the male the one with the strips is the female. You have a breeding pair. Now my Question is how many do you have in the tank?
Oh I know these are not convicts, these will be going in a whole seperate tank, and I am just going to have those 2 in the one tank i currently own.
ok explain on your post there i have gotton confused. we will go to that post. see you there. lol
The glass is a little dirty but here is some of the pics that have ben laying around. The dates are wrong.
100_0851.jpg
100_0849.jpg
Posting Rules

You may not post new threads

You may not post replies

You may not post attachments

You may not edit your posts

---

HTML code is Off

---