Cichlid aggression question..
---
I got a new boy.. a Pseudotropheus polit. Pretty sure it's male. Don't let the color confuse you. This boy is tiny.. an inch max! Was extremely worried due to his size when it was time to add him to my main tank but I went with it. My others are ranging from 3 to 4inchs( maybe bigger for my 2 dominant ones) and very thick. I'm aware Polits have an aggressive tendency(yes this is half why I wanted him
) but I am extremely shocked this itty bitty thing has tried to show aggression fin shacking and all to all my most aggressive fish and nobody has tried to mess with the bite sized morsel.
So on to my question ..What is it that makes the other African leave him alone? Is it simply the bold behavior? Or I'm wondering..they are highly evolved fish that have been around for a LONG time...would they have instincts perhaps that just let them know what species to leave alone? Hormones? What is it? Guesses?
here are some blurry pics. he is to fast
for size reference .the white lab directly behind him is about 3inches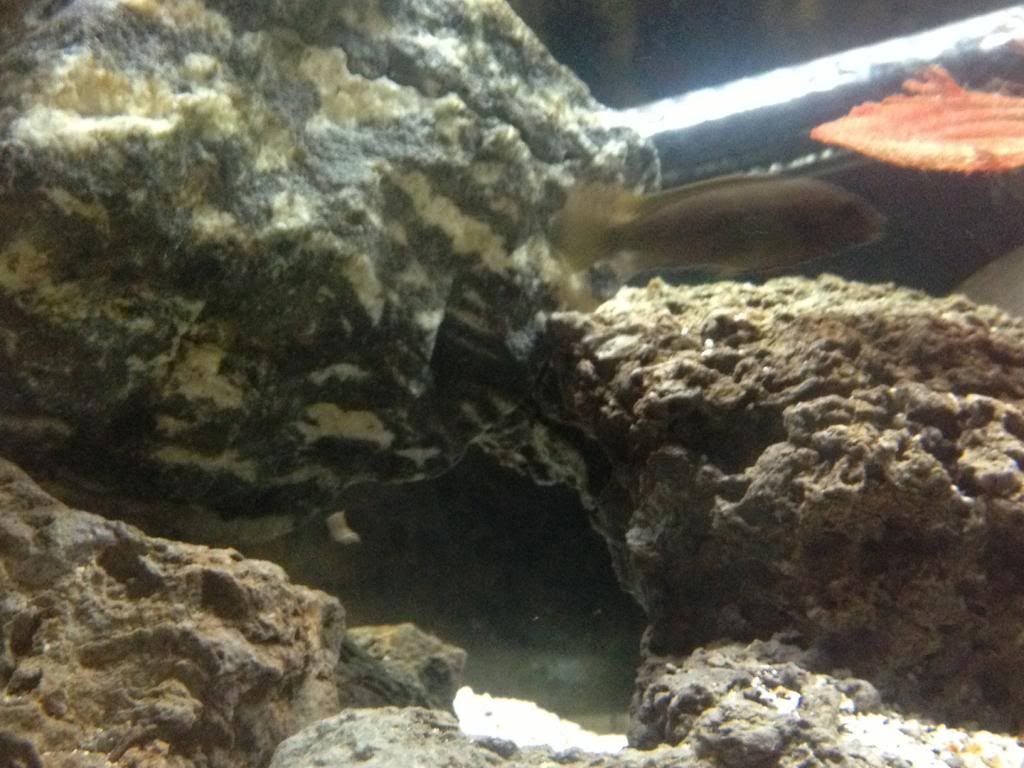 Erm, nice little terror you are going to have there
I had one once, it lasted 3 days in my tank at 1.5" it was chasing EVERYTHING and not caring who it was, my Male Auratus eventually put it in its place but not after giving it a good going over.
There is no real defining factor in mbuna aggression, it really depends on what they are brought up before being offered for sale. If it is the same species then it is their natural behavior to be nasty and aggressive, survival of the fittest in the wild.
Be careful and watch the labs, they have a tendency for some reason to go after labs, regardless of color, they originate in the wild from where yellow labs where originally harvested, Lions Cove.
Bit young to tell the sex but if he is male, he will turn blue at about 2.5 inches and be fully grown at 4, female and it will develop a light blue but be mainly brown like it is now.
---
10g Fry / Hospital / QT tank (as needed)

75g Saltwater Reef, Ocellaris Clownfish, Lyretail Antias (baby), Lemon damsel, Longtail Fairy Wrasse, purple dottyback, snails, crabs and a few LPS corals.

220g Still sitting empty (come on Lottery I need the numbers to come up!)
I know hard to sex... he was in a tank of about 10. He was the most dominant and occasionally showed a bit of blue when chasing the others. Call me crazy.. but I think he has a chance at making it. Time will tell. He actually ignored the white and yellow labs.. He is from wild parents from lions cove and so is the yellow lab but the white labs I have are from tumbi reef. Seems he has shown displays more to my tank boss Rusty and to the two White top haras and my demasoni
I'm just gonna start chronicling my cichlids and there aggressive behaviors here. I think a shift in tank boss is in the air. It's kinda like a soap opera lol. My more dominant of my two White Top Haras has start ed to show extremely domminant coloring lately and it's soo pretty. He's like a chameleon and can change colors in 1 sec at will. He turns almost white with dark black bars and a black mask on his face when mad or near another dominant fish. But the moment I step near to take a picture a little more blue appears. And he has started digging in the tank bosses cave
I'll keep trying to catch a picture of him when his blue is white..( his brother rarely shows bars and I can't recall a time when he went fully white either).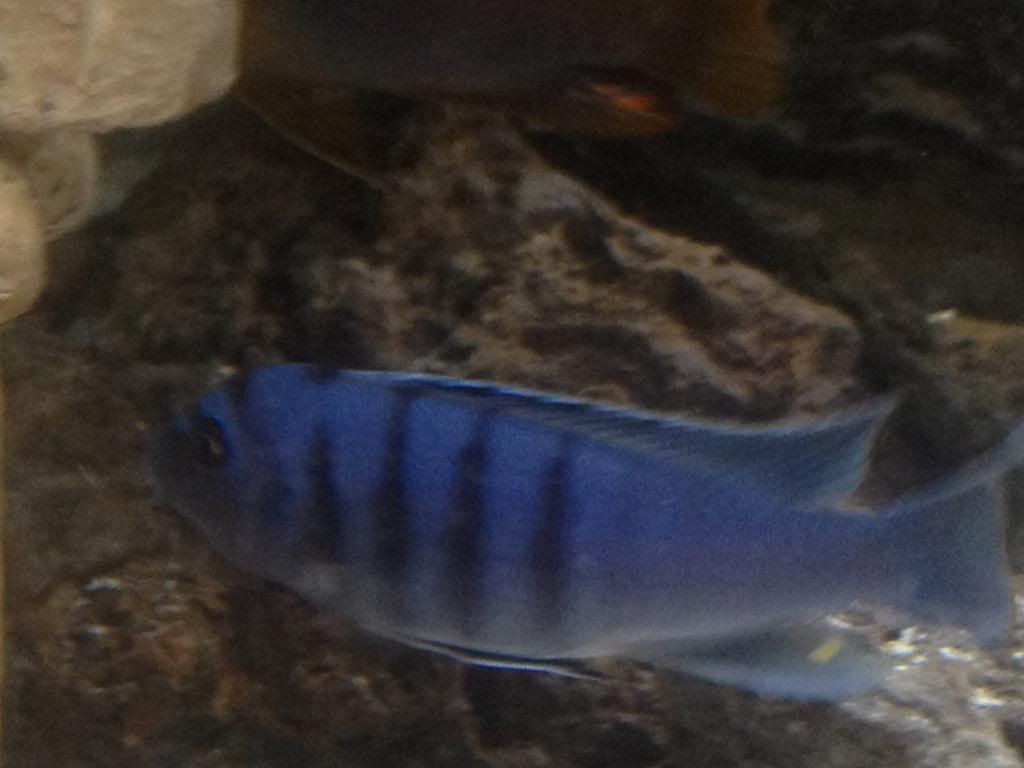 I think this is what made him mad. I finally caught my Rusty the tank boss on video spitting sand on him earlier this week. He had his bars at the beginning of the video on the far left then went behind the rock and back out near the roman columns as blue then Rusty spits sand on him around :23 lol... Then he turned totally white with black bars later that day and hasn't changed fully blue since
(excuse my daughters bedhead walking in front of the camera
)
Posting Rules

You may not post new threads

You may not post replies

You may not post attachments

You may not edit your posts

---

HTML code is Off

---