i have a chichlid in my tank that when its a juvenile and with other of the same species it is clear sort of colour but if you put it in the tank with no others of the same species it gets bright orange spots but i dont know the name of it ill show you a picture its only just starting to display the orange but i have seen fully grown ones and they look awesome.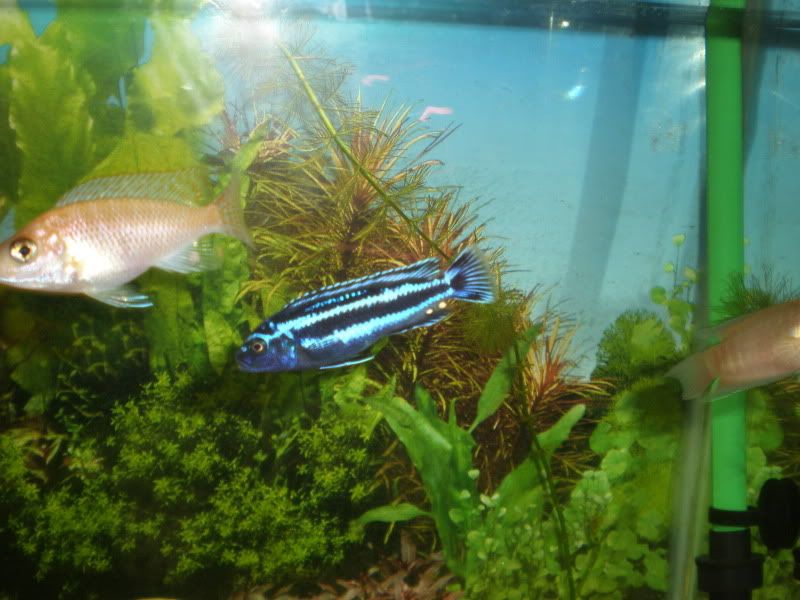 the one on the left lol
Geo do you know the name of those fish? they kind of look like the (red spot Nyassae)?
i cant remember the name but... im about to go to the lfs to get my phosphates checked and have a look at their chichlids they get some in every thursday and i know that they have one in the display tank so will find out and post back in an hour or two. All i know about it is that it gets large orange spots and normally only when it is by itself will try and get a picture of the one in the display tank.

Cheers Zac
Yeah I've been monitoring the pH being that the drift wood can lower it. Everything seems ok so far. Its Mopani driftwood so I thought it'd make a nice touch to my african theme. I had originally gotten it for my south american planted tank but since I decided to do an african cichlid tank it still worked out. I'll be going friday or saturday to check out some landscaping stores for good rocks, looking for " texas holey rock" which shouldnt be hard to find here in South Texas lol. What do ya'll think of the gravel color and size? Any answers to buying the 3rd kenyi?
Yes you could get another one. YOu will want sand or fine gravel natral looking, African cichlids are pron diggers. So when you place your rock work in, put it to the bottom of the tank glass. Then put the substrat around the rocks. You will want to make sure every thing is secure so when there digging they do knock the rock scape over. ....... Oh the gravle in your tank looks great.
its called a dragon blood peacock pretty cool looking fish when they are fully grown.

Cheers Zac
Yeah i have 100# of it to coat the bottom of my 50g. Going to look for rocks this weekend. hopefully have'r up n runnin by monday.
Cant wait you will have to post up some pictures once you have it all set up.
Cheers Zac
Just scored 2 more kenyi (one male one female) and a Yellow lab (male i believe.) I watched them for about 30 minutes to see if they acted healthy. Pics comin after dinner
Posting Rules

You may not post new threads

You may not post replies

You may not post attachments

You may not edit your posts

---

HTML code is Off

---