I'm quite sure they're not an albino of an kind. they were a nice looking white instead of the albino vanilla looking white, no red eyes or any signs of them being albino. I'm going to get them friday if they're still there which im hoping they will be. if a 10 gallon tank is big enough to hold them for a few days i'd like to buy them today.
Yes it would be ok to hold them as long as you watch your water params. And keep the 25 percent water change every other day till you get them moved over.
i just read thru this entire thread and their are a few things that i wanted to state........First, do NOT vacuum your gravel tlll your done cycling your tank..........Sucking up the poop and left over food is a good practice for weekly maintainance, but doing it while your tank is cycling is slowing the cycling process.........Your also sucking up the good bacteria forming in your tank that is trying to convert ammonia to nitrite and then to nitrate.........Vacuuming during a cycle is just lengthening the time it will take to finish...

Second, the sand you would like to use for a substrate, i would be really hesitant to use..........I played softball for a bunch of years and also helped maintain the fields we played at....The sand we used for the infield was treated with insecticides and weed killers to keep the playing surface free from pests and weeds........If the sand you would like to use contains either of these items, it will leech them back into your water, more than likely killing your fish.......

The fish you posted pics of look to me like they could be real young female Pseudotropheus lombardoi.........The white you are seeing could be their colors have not shown yet due to age, or possibly due to stress..Its tough for me to say with just that one pic.........Good Luck with your tank!
Ok mollies I'll have pics up after dinner, I bought them but they do look to be a little more bluish purple looking color then they did at the store, Maybe they are just not matured yet. Fishin Pole might have them spot on. If they are P. Lombardoi would they be suitable to stay in the same tank as the yellow labs and acei?
As promised here are the pictures, I am starting to think that they ARE Pseudotropheus Lombardoi. In these pictures they look more blue, but in person they are more of a lavender type color. Either way I still think they're beautiful even if they aren't as white as I had thought them to be.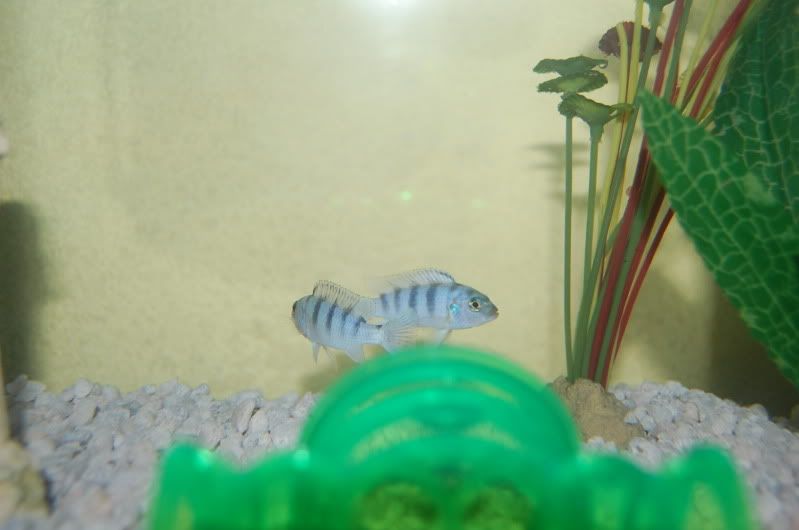 Also about the gravel I have, It contains no chemicals or anything of that nature. It is a very popular substrate in the planted community as its very cheap and exactly the same thing as eco complete except no plant ferts are added, But it is the same grain size and texture.
---
Last edited by andrewr2488; 11-09-2009 at

07:23 PM

.
Two more questions.

1. I have a tetra whisper 10g filter going in the 10g tank, i have it setup to where the water that comes out makes alot of air bubbles, do I need an air pump/stone? they'll be in there for about 5 days. if so I can run to wal mart real quick and buy a decent one.

2. Since theres only those two cichlids in there, is there a chance they'll fight and possibly kill each other? i have a divider that my brother made for a 10g tank. its made out of acrylic, it has holes drilled into it for water to go through and that way they both get filtered water. I have a decent sized driftwood and a few fake plants setup in there along with a T shaped tunnel i had in my old hamster home. That would be enough to keep them off each others backs right?

I've already come to like them very much and I'd hate for anything bad to happen to them, any and all help is appreciated!!
every thing should be ok. And fish should be right on with the name of the fishys.
Ok,yeah they seemed to have a small squable about who gets the driftwood but they've been sharing it now... lol not sure if thats typical of an african cichlid. One of them does seem to have darker stripes and is a smidget bigger than the other. I'm sure its too early to tell but maybe one is a male and other is a female.. Either way I'm pretty impressed with their quality being that they came from wal-mart. They had one yellow lab but i'm getting the yellow labs and the acei from petsmart. I'm going to set up the 50g wednesday and let it run til friday, then could I add these 2 fish or is it too early? I'd like to get all my fish within a weeks time if possible.


For my cycling process, Would adding 2 Pseudotropheus Lombardoi, 3 Labidochromis Caeruleus, and 2 Pseudotropheus Acei be too many fish for my 50g tank cycle? If so how many should I add being that I already have the P. Lombardoi.
---
Last edited by andrewr2488; 11-09-2009 at

11:09 PM

.
Posting Rules

You may not post new threads

You may not post replies

You may not post attachments

You may not edit your posts

---

HTML code is Off

---