Well not all get to 6 inchs. But some do like Auratus, Demasoni, Johanni get to around 4 inch. the Red Zebras Yellow lab, Elongatus Mpanga's get to 6 inchs. Go to livefishdirect.com check them out there read up on the africans it will tell you how big they will get.
Ok got a few min to typ this out now. Here is a list of what i have. 6 Yellow labs, 5 Auratus, 4 Red Zebras, 3 demasoni's, 2 Bumblebee's, 2 Kingsizei's. I have the 4 Red Zebras, 1 pleco, 2 bumblebee's, in a 55 gallon. with 2 fake plants and 70 lbs of lace rock. One peice of driftwood. Then i also have about 300 fry of the cichlids, of all the ones i have named. You could do one of each kind like 6 diffrent one's. or Try just one kind, and get 1 male 5 females. afr cichlids are mouth brooders. They Breed quit well in the home tank. So if you dont want fry get all males or all females. Or if it dont bother you then do the 5f to 1m.
I went to the local petsmart since the lfs was closed last night, to check out some fish that i could get locally and not have to order online, today ill be going to the lfs and petco. Found 2 species i'd like to get and apparently they both come from lake malawi so they should be good together

Labidochromis Caeruleus (Electric Yellow)
Pseudotropheus Acei
I'd like to get my hands on a few Metriaclima Greshakei and a white L. Caeruleus
I can't remember the name of the blue cichlid i saw and liked. I cant get it though unless the other stores have a small one. the yellow labs and acei were small maybe 1 1/2" fish. The blue fish i believe was sciaenochromis fryeri was about 4" so all the others would just be snacks, ill have to wait unless i can find a smaller one. how long would you suggest cycling the tank?
This is a new tank. with new every thing corect? If you have another tank you could take some of the gravel and put it in pantyhoes. Then in the tank it will help speed up the cycle. I would just put the fish in if there that small with out over feeding them. and test your water every day for the first 10 days. Do a 25 percent water change every other day for 2 weeks. Then go to once a week with a gravel vac every other week. Your fry is what you will be getting if only 1.5 inchs, will be able to go throw the cycle pretty easy.
Yeah I figured they were pretty young which is what I wanted. I don't want to buy a fish in which is already grown up and I know nothing about what it was fed or what condition it may be in. I'm trying to source a white Labidochromis Caeruleus fry.
Me too. I have ben looking for over a year still cant find any one with any. If you go to cichlidforum they have people on there with them dont know if they would sell or not.
Ok, my local wal-mart sells fish and just out of curiosity i took a gander and they had the " assorted african cichlid" tank. They had 2 that were white with black bars. I'd like to buy em but i am interested in what they are and if theyd be good in my tank. I feel kinda bad for them, right now their in clean looking water but this wal mart in particular seems to have an on and off track record for fish care. I dont really mind buying them from there its just i dont know if they are a true full species or some sort half/half speices?? They are about 2" in length so i guess that 'd be considered Juveniles?? I am thinking the 2 of them, 3 yellow labs, and possibly 2 aceis but im skeptic about the acei because they get quite big from what i've seen and i'm worried about the labs being picked on. also i have 100 pounds of turface pro league gravel i was going to use as substrate in my planted aquarium, would it be ok to use it for the africans? its "red" in color, its more orangish rusty colored, its whats used as top soil for baseball fields.
For the substrat i would use Playground sand or Fine gravel. I dont know any thing about the turface pro leg grav............ For the fish i have gotten some from walmart have had no Problems with them yet. I have heard some have a problem like you said. You have to quarintine them so that way if they do have any parasites they dont give them to your other fish. Your fish selection is good even with the (acei) I have 2 of them and they give me no troble. But remeber to add them last......... If you can get some pics of the white ones to show we could help ID them. Im going to gues that they are not white labs. As white labs look just like the yellow labs and are a cross breed of yellow and albinos or white cichlids. I cant think of the exact name right now will get back to you on that tho...... Remeber to add the least agresive fish first then the more agresive fish last. 2 fish a week or every other week.
Ok i have a picture but its from the camera on my phone which sucks btw. Not sure if its much use but here it is. I know from the pictures they might now look white, But they are white with black vertical stripes going down. fish is probably 2" maybe 2.5"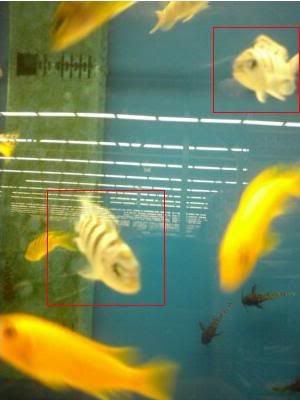 Also, This is what Turface Pro League looks like, its very very fine gravel used in the aquarium world for planted tanks, but its main use is top soil on baseball diamonds, and other athletic venues. i already have 100 lbs of the stuff from my planned planted aquarium so i would like to be able to use it for my africans, think it'd be ok?
---
Last edited by andrewr2488; 11-08-2009 at

04:52 PM

.
They kind of look like the (albino zebra red fin) (Metriaclima Pyrsonotos). Or like you said a mix breed. I have never seen them befor. I would get them if it were me........ Yes your choice of sand would work ok in your tank. If you get them fish you should get better pics and show us and show an tell the progress of your build. Good luck.
Posting Rules

You may not post new threads

You may not post replies

You may not post attachments

You may not edit your posts

---

HTML code is Off

---