What kind of tetra is this?
---
I got them on sale at Petco back in September.... they helped me cycle my 55G when I set it up (there were originally 5 now only 2
) anyways they were in a tank that was just a general Tetra tank, just wondering what type they are? I don't normally keep Tetras.
(Sorry about my horrid photography)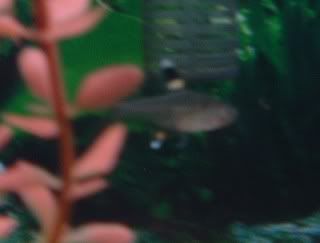 Kinda hard to see on these pictures...googel image results for Pristella maxillaris that should be what you got there as far as I can tell from the picture.
---
~ Life Is Too Short, Break The Rules, Forgive Quickly, Kiss Slowly, Love Truly, Laugh Uncontrollably And Never Regret Anything that Made You Smile.
Life May Not Be The Party We Hoped For, But While We're Here, We Should Dance. ~
That is exactly what it is!
Thanks!!! :)

Oh... and I meant to say there are 3 left, not 2! LOL
Wow, I have these exact tetras, and also was unsure exactly what type they are. I was also going to post a "what kind of tetra is this?" thread, but now I know. Thanks!
I will be adding this fish to the Fish Profiles section on this forum this morning, so check back later today and you should see some information about this nice little tetra. It will be under the Characins category, as Pristella Tetra.

Byron.
---
Byron Hosking, BMus, MA
Vancouver, BC, Canada

The aquarist is one who must learn the ways of the biologist, the chemist, and the veterinarian. [unknown source]

Something we all need to remember: The fish you've acquired was quite happy not being owned by you, minding its own business. If you're going to take it under your wing then you're responsible for it. Every aspect of its life is under your control, from water quality and temperature to swimming space. [Nathan Hill in PFK]
Thanks Byron!
---
JoAnn
custom 7ft 125g softie/leather Reef
44g marine predator fowlr
100g outdoor pond/waterfall

Posting Rules

You may not post new threads

You may not post replies

You may not post attachments

You may not edit your posts

---

HTML code is Off

---