If cost is no object, then I'm 100% behind you on the cardinals. I admit that they look incrementally better than neons. And I wouldn't fault you on no ottos either. I think the red nebula you're working towards will be a truly stunning sight. Nothing but luck to you.
---
Logic is only the beginning of wisdom
I wouldn't say cost is no object but I'm willing to be a little extravagant! Do you have any thoughts about which corries I should get. I don't like the bronze ones so much. I like the serbai cos they are very pretty and can cope with slightly higher temps but they are very expensive too. I'm trying to find an option that I like just as much that can cope with a bit of summer heat.
haha this is a absent minded statement but that is alot of tetras, in my opinion cardinals are prettier though :D
u should run the highest level canister filter out ther and through in about 50 neons, 50 glow lites, 50 diamond tetras and about 20 cories. make the tank planted and have lots of rocks and wood ... it would look amazing. with the tetras in the schools constantly breaking off in shoals and coming back together. cories will do the same on the bottom.
u know wat. run 2 canisters and increase the amounts of each fish by 50%. set up the filters like this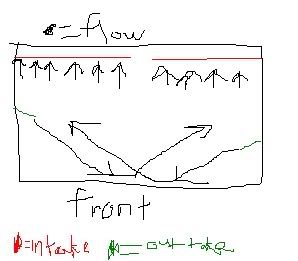 how about peppered for cories? theyre not expensive. and have a pretty pattern, thoguh different from the sterbai, and are less plain than the bromze
Sounds like a great plan. I love large schools of fish. With such a large tank like that, I'm wondering if you have looked at other kinds of schooling tetras like lemons or diamonds? You could do like 6 schools of twelve fish. It would still be a substantial school but then your eyes would jump from school to school. Just a thought.

If you aerate and filter it REALLY well you can potentially hold more fish...

I didn't do well with cardinals, but then again, I was still cycling.

Best of luck!
---
Continuing toward lifelong learning.
i must say, i like the sound of this tank set up,
is there any progress yet ?
:)
Brilliant! I've mentioned before i'd like to see someone set up a big tank with loads of small fish in it, as everone immediately thinks of monsters as soon as they hit the bigger tanks.

I'd like to do it myself, but the new tank is for the angels, so we gotta work around them!

Hope it all works out good, i'm afrad that tetra's ain't my subject, but i'm with you on just 1 huge school rather than a few smaller ones.

And pics please, when it's done!
Posting Rules

You may not post new threads

You may not post replies

You may not post attachments

You may not edit your posts

---

HTML code is Off

---