Black Neon Tetras - their stripe has turned from white to gold?
---
So I got some Black Neon Tetras recently. In the store, they had white stripes. When I added them to my aquarium, however, their stripes turned gold. The exact same shade of gold as the Gold Tetras I have in there now, in fact. They are now schooling with the Gold Tetras, too. I've actually had the Gold Tetras change a stripe to different colors before as well (bright orange and bright blue, when the wanted to school with Harlequins and Praecox Rainbows respectively, most of them now have regular gold coloring again though).
However, I've never heard of a Black Neon's coloring changing in this way. Does anyone know if the Black Neons will get their normal coloring back or not? If so, is there anyway I can make that happen? I've been excited about the Black Neons and wanting them for years, but with a gold stripe the black and white contrast I bought them for is ruined, and they just look like Gold Tetras with a black stripe now. I'm really unhappy with how this is looking...
I only have 8 Black Neons right now. I was planning on getting 11, but with them looking like this I'm not sure I want more. Would having more Black Neons maybe fix this?
Here is a picture so you can see what I mean: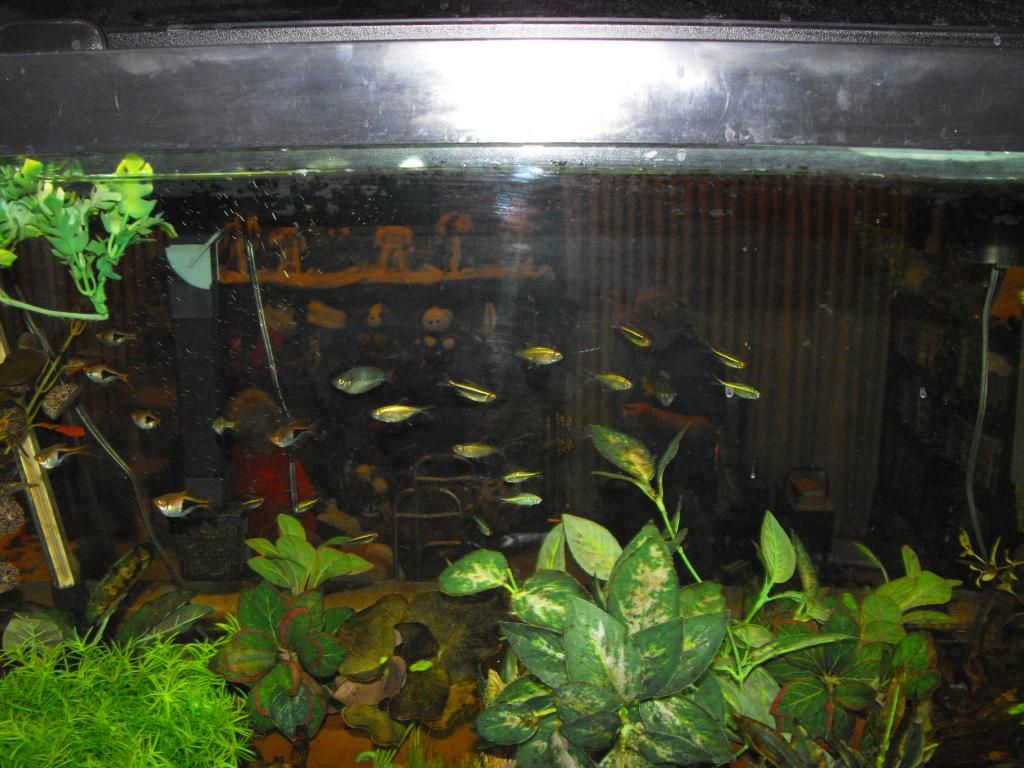 the lower black stripe has stayed the same color on the Black Neons, it is only the upper stripe that has changed from its regular white to a gold color.
Yes, when I had them the stripe was golden. as long as they are happy, I am
---
540L/140G - 'Tidal Jungle' (Crabs) | 254L/67g - 'Backwater Pool' (Fish/Snails) | 96L/25G - ''Twisted Minds" (Fish/Snails)

I've never had any problems with 'Impulse Buying'. They're just animals that I forgot I had planned to get.
Unless it is a trick of the light/photo, I am seeing two different species in that photo. For illustration, starting with the upper row of fish on the far right, going across to the left there are two black neons then the third fish is different. Can you get a close-up clear photo of one of those?
---
Byron Hosking, BMus, MA
Vancouver, BC, Canada

The aquarist is one who must learn the ways of the biologist, the chemist, and the veterinarian. [unknown source]

Something we all need to remember: The fish you've acquired was quite happy not being owned by you, minding its own business. If you're going to take it under your wing then you're responsible for it. Every aspect of its life is under your control, from water quality and temperature to swimming space. [Nathan Hill in PFK]
Posting Rules

You may not post new threads

You may not post replies

You may not post attachments

You may not edit your posts

---

HTML code is Off

---