Got a 55 gal tank to house a pleco who outgrew his old tank, but no clue what kind?
---
My friend was giving away her plecostomus because he had severely outgrown her tank, and did not have money to invest in a larger one for him.
I had been wanting an aquarium for a while, and decided to take him. His tank is still empty, we're working on that, since I know he needs safe places to hide in, and wood to chew on, etc.... However, curious as to what type he is, and how much larger I can expect him to get-- since he's wider than a 5 gal bucket (as you can see from the photo, he's at least 4 inches longer than the bucket that we used to transport him from her house, to mine)...
Thanks for your time :)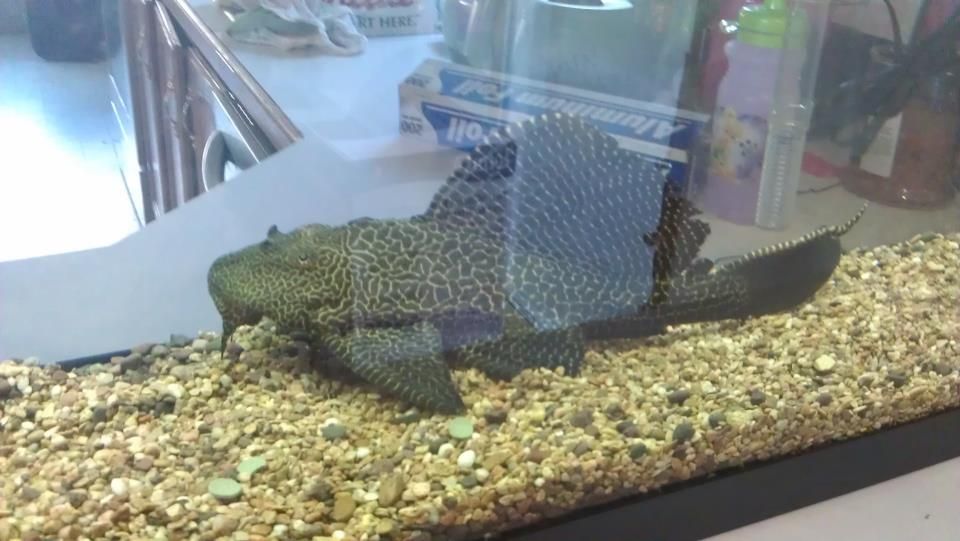 Wow thats a beautiful fish. I cant be sure of what kind of pleco it is either however. Also... that 55g is not really big enough and you should try and find a bigger tan k for it to go to.
Most aquarium plecos max out at no more then 18" so I would say that one is fully grown. If you cant get an answer here maybe try this website
Index page
they are great at identifying plecos and helping with any sort of catfish.
Thats a sailfin (Pterygoplichthys gibbiceps) and it will top out at about 24" in the wild, most only get to 12-18" in aquariums. As has been said, a larger tank would be ideal but what you have is definitely better than before if your friend had smaller than a 55. If you plan on leaving him in there for a bit I would get (or make) him a large cave, or at least some type of structure he can lay under. Some floating plant would also help him feel more comfortable. In the wild they live in murky waters so cover from direct light makes them feel secure.
---
Last edited by lorax84; 05-04-2012 at

01:37 PM

. Reason: typos
here is what i did for my fred which is 15in long .i took a 5 gallon pail and cut the bottom out of it.use 100% silicone and silicone gravel rock to it and stuff it in the tank.my tank is 100 gallons but i had him in a 55 when i got him and used this pail trick he loves it.
Thats awesome, he is a gorgeous fish. I'm sure he enjoys his new tank and cave.
Posting Rules

You may not post new threads

You may not post replies

You may not post attachments

You may not edit your posts

---

HTML code is Off

---