Quote:
Can I pick your brain on my two proposed methods (a few posts up) of working out my phosphate issue? Do either of the above sound like they would be a workable way to work out my phosphate issue in addition to the RO filter media change and addition of a DI stage. I was thinking method 1 as I'd really like to replace the sand in the tank and go with a shallower sand bed. I figure while Im at it i will remove the algae from my rock and whatever else comes out of it. Do at least a 50% water change at the same time and set up a couple of PhosBan Reactors with some RowaPhos. There are a ton of snail shells in my tank that were/are part of the live sand. I honestly don't know if any of them have dead snails rotting in them, there are allot of shells and I have only looked into a few of them. I think getting rid of the sand and all those shells with whatever may be dead inside of them and laying down a fresh sandbed of 80lbs of aragonite and 40 lbs of new live aragonite would help. But I'm a newb so may not see some of the pitfalls to a plan like I have come up with.
pick my brain? there's not much there! lol. Anyhow let me stasrt by giving you a history to my current tank. i upgraded to a new tank and did the following.
1. removed all live stock from the old tank and stored them in a 30 allon tank with a filter and some of the live rock for bio filtration.
2. removed all my rocks and used a steel brush scraping them completely clean and throwing them into a garbage can filled with SW and an air stone for a several days.
3. removed all the sand and tossed it into my garden.
4. used new sand and made a low sand bed in the new aquarium. never reuse old san otherwise major roblems!
5. re-scape the new tank with the rocks from the garbage can
6. took some left over rocks and threw them into the sump.
7. loaded up on rowaphos canister and ran it and is a constant in my new setup.
8. huge skimmer
9. in the process i lost one fish, a maroone clown. i had to seperate him from the rest of the fish because he was too agressive and forgot that he was in another tank so he froze to death.
i now have undetectable phosphates.
so i would pick option 2. run rowaphos no matter if you can detect phosphates or not because algae can consume phosphates at the same rate phosphate is being released and you'll never detect it and can't figure out why algae s growing. just MHO
this is how my current tank look now at least the left side!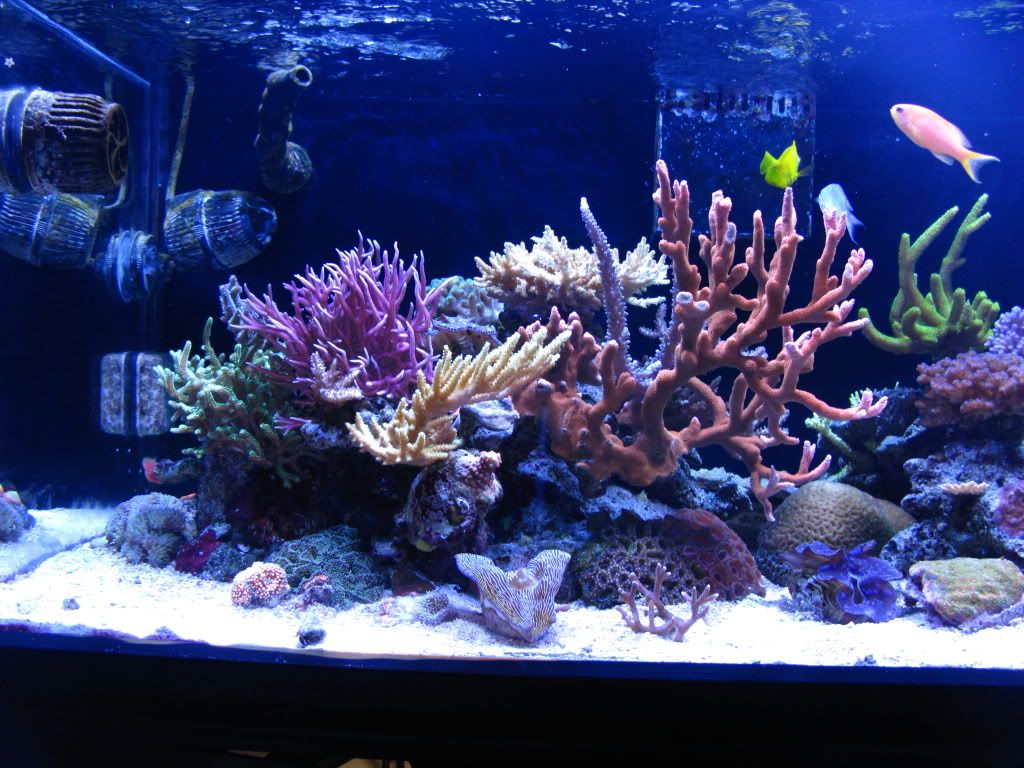 Being I didn't have any fish in the tank yet I decided to do a 99% water change and replace all my sand. I anticipate my live sand moved from the old setup and into the new setup had quite a bit of die off. and was probably leeching phosphates back into the tank. So I pulled out the rock water and sand and replaced the sand. I also didn't have a DI stage in my RO filter. I added a DI stage and a TDS meter and now am sure I am not putting nutrient rich water into the tank. I decided while I was at it I would add a pair of PhosBan reactors to the sump and run some RowaPhos. Tank has been running this way a couple weeks now and I have finally added my first fishes to the tank. 5 Yellow Tail Blue Damsels. Next up. A Diamond Goby a Yellow Headed Sleeper Goby and a Royal Gramma.

Here is a link to a video for anyone interested.


Water parameters are doing ok so far.

SG 1.026
PH 8.2
Ammonia 0.25
Nitrite 0
Nitrate 5
KH 8
Phosphate 0
Calcium 420
---
Last edited by Warpig; 02-13-2011 at

11:59 AM

.
After 3 weeks in Q. all three eating aggressively and looking great I moved my newest additions to the display tank over the weekend.


have some Cyano on the glass and it had speckled up my sand pretty good too. after just two days the gobies have most of the the sand cleaned up. My Yellow Headed Sleeper goby even likes to pick at the green hair algae on some of my rocks.
time to wake this thread back up...
So I've been heading down the road of stocking my tank. had some ups and some downs. The tank is really starting to look great. I have a little bit of hair algae nothing like 6 months ago. Coralline algae has been taking hold over allot of my live rock. My sump, skimmer, live rock is doing a fine job keeping the tank clean. i do have a small "bioload" if you will, on my tank as the 180 only has 7 small fish in it right now. 5 yellow tail damsels, a Royal Gramma and a yellow headed sleeper goby. Just to get an idea how well things were working with my filtering setup I did a test. Weekly complete water testing and no water changes, a little bit of calcium and alkalinity buffering here and there to keep it in the sweet spot as much as possible... I wanted to see the timeframe of my water starting to go downhill. With weekly water tests the tank went 4 months without a water change with all parameters good... 0 ammonia/nitrite/phosphate the entire 4 months finally after the nitrate got up to ~20 I did a 50% water change over the weekend. The remaining 7 fish in the tank seem to be thriving and all get along great so far. Thats it for the "ups"
as for the "downs"... there have been a few of those too. I lost my favorite fish, a two lined "railway" sleeper goby he had an awesome personality and I never got tired of watching him.. I goofed and left the center lid open on the tank one night and he jumped out of the tank. I found him dried up on the floor the following morning. :( had some other downs. I have been trying to get a flame angel or pair and a coral beauty or pair into my display tank. Things went bad with both the flame angel and the coral beauty they died in the Q tank a rather quick death same symptoms for both. Fine and eating well one day... the next day not eating. i tried garlic laced foods but still no eating... I didnt see anything else wrong but they stopped eating and two days later or so each one died... same scenario for both it appeared. That was a very time consuming affair as they each lived in Q for at least three weeks each before they died. So, I have not successfully put a fish in my DT in over four months. After my experience with the Angels I figured i needed to break down my Q tank and washed EVERYTHING in/around the tank in a bleach/water mix and I was still down from my Angelexperience so I let the Q tank sit empty for a month. Then I filled it with fresh RO water and let it sit with all my goodies in it soaking in the tank but nothing running for another two weeks just to be sure there was no residual bleach in/on the goodies. Then emptied the tank again and filled it with salt water. I pulled a small piece of live rock out of my DT sump and put it in the Q tank to seed the tank and start the "Cycle". When the cycle is done that piece of rock is going from the Q into the trash. The Q has been running for almost a month now and is almost cycled and ready for fish again. Ammonia at 0 nitrites at 1 and nitrates at ~20 looks like it's almost "done" still hesitant to put any fish in q until my nitrites are at 0 and I do a 100% water change in the Q tank. Q tank has been down for several months whats another week or so for the cycle to complete.
Of course all this time has made me think of what I want to do next. I want to replace my railway goby but don't see them too often locally. Also still want to get a Flame and a coral beauty or pair of each in there. I am also giving serious thought to getting a porcupine puffer. they are just so neat I really want one. I do have some concerns with that. Not too worried about my clean up crew becoming lunch as I never put in a clean up crew, but I am concerned that there is a chance the puffer will see my gobies as lunch since they are kinda small still. Also would be worried about my Damsels if I thought a putter could actually catch one of them... Reading about them and watching some videos has scared me as I have seen some people for whatever reason they may have feeding goldfish to their puffers... Not sure why people do that but makes me worry about my other smaller fish in the DT. I do have a stocking list from several months ago that I am working down and still dont have any of my fish from my uncles tank home yet... i hoped I would long ago, but things are going slower than i hoped.
Here is a link to my stocking list thread for anyone interested.
http://www.tropicalfishkeeping.com/s...tocking-56306/
Anyone have any suggestions/concerns advice on things I may be overlooking on my new desire for a puffer and when in my order of things he should be added?
Edit: I will post some fresh pics/video soon of the DT... the lights are off on the tank right now...
Nick
---
Last edited by Warpig; 08-10-2011 at

11:10 PM

.
Posting Rules

You may not post new threads

You may not post replies

You may not post attachments

You may not edit your posts

---

HTML code is Off

---