Ok, got a test kit today. We've got...
No3-5
No2-0
Buffer-200
pH-8.2, 8.3
And I got a Ca test too, and the levels are at
340-375 with nothing using up to much Ca in my tank anyway.
If you dont mind my asking Andrew, What Brand kits are you using? And what type of kits are they? I use Aquarium Pharmaceuticals Inc. (aka API or Doc Wellfish). I've been using them for years with little to complain about, though some of the tests can be a bit difficult to read accurately.
At bare minimum, I would recommend regular (bi-daily) testing of the following throughout the first few months. then continue periodic (weekly)testing thereafter.

Ammonia
Nitrite
Nitrate
Phosphate
PH
Calcium
KH (Carbonate hardness)

You may also want to think about additives. While much of the bio available minerals and chemicals are supplimented via water changes, These essential elements are not only used up by the animals you house, but also via protien skimming. You should research your animals thoroughly and see what additives will benefit your environment. I have a softies dominated tank with a few LPS corals, so I dose Strontium and Molybdenum, Iodine, and Essential Elements. I suppliment Calcium and Alkalinity with B-ionic 2 part and also via kalkwasser top-off water.

Rmember, you should test for any additives you add to the tank.
---
Take pride in what you do, for it is a reflection of who you are.
The Haunting Grounds
-
SKAustin's Reef Diary - Part 2 (the 75g upgrade)
Not at all, I am using Mardel 5-1 test strips, and today at work I used Aquarium Pharmaceuticals Saltwater Liquid Calcium Test Kit
I'll be the first to say the inevitable:

test strips are not reliable.

:D

Try to use the liquid test kits your work uses. They will be far more accurate.
I have to agree with the last 2 posts, but I need to add one thing that was missed. If your Calcium level is at 340 - 375 (you should be able to get a more accurate reading than this) then your calcium level is a bit too low to sustain your animals in that tank. A healthy calcium level should read between 400 - 500 (450 is a good place to be).
Too much or too little calcium can be deadly to all of your animals.
---
Dawn Moneyhan
Aquatics Specialist/Nutritionist
Juneau, WI
Hey guys, its been a while.
So here is an update + some pics
Levels
No2 10
No3 0
Buffer- 270
Ph- 8.3
Ca- Have had no problem with. hasn't slipped from 450 due to weekly water changes, and small tank.
In the beginning I was having problems with Ca, but I was reading the tests wrong.
Stock list.
Finger Leather and small frag
Green Plate
Green eyed Cup coral
Purple Zoas
Pulsing Zenia
Here are my pics
umm bump? Any suggestions, plus maybe a cool fish I could add, I like Clown Gobies and I read that a green clown gby would work in my tank, but may nip at corals. What do you guys think about that, and could you make other suggestions

I also have a peppermint shrimp in there.
So I know no one cares about this but her is an update to my tank
For all the newbies. Shoot for the stars, try everything you want in your tank, but research it first, and for god sake, get you research from many different locations before making your final decision. Patience is the object in this hobby, and with enough patience, your tank will be amazing!
( for good places to find info, google these terms)
Wetwebmedia.com
Melvesreef
Garf.org
reefcentral
asira.com
great sites, really
pics from a few months ago...
cup coral
Some zoos
Huge open brain
Emerald Mythrix Crab
Full tank shot
Branching montipora sps coral.
(lived FINE, until i dropped my glass lid in there and broke it. Its still fine though, just smaller)
So I built a little 2.5 gallon fuge for my ten gallon tank. It is ridicules I know, but its almost kind of cute really. I drilled a little platform into my stand for it and it came out uber strong. I raised it up of the stand with some stands and a little bit of wood for support.
I have it hooked up so the the water comes in via j siphon, and leaves through a jerry rigged PVC system pumped by a via aqua 360.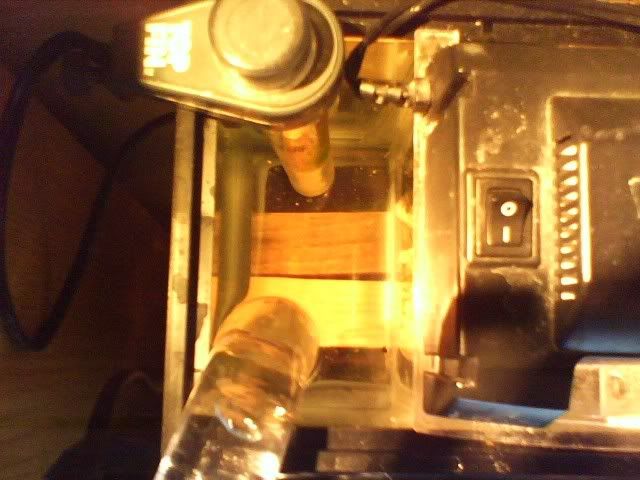 I run a filter sock every once and a while, especially the day I do a water change to help catch debris. Once I added this my 'trates dropped down to about 5ppm
And now her is my tank, more recent shots.
Since the previous pictures I added a awesome light.
its a mogul based 175w metal halide running a 1500k RX bulb on a magnetic ballast.
Oh and a stock list would probably help you guys.
Fish
Carpenter's Flasher Wrasse
True Perc Clown Fish
Inverts
Serpent Banded Sea Star
Emerald Mythrix(sp?) Crab
Spotted Porcelain Crab
3 hermits
3 snails
Corals
Chalice Coral (lps)
Frogspawn
Radioactive Green Candycane
Huge open Brain Coral
8 head Acan
Maze Brain Coral
Zenia
Assortment of zoos
assortment of Corallimorpharians
branching monti
Now here are the halide pics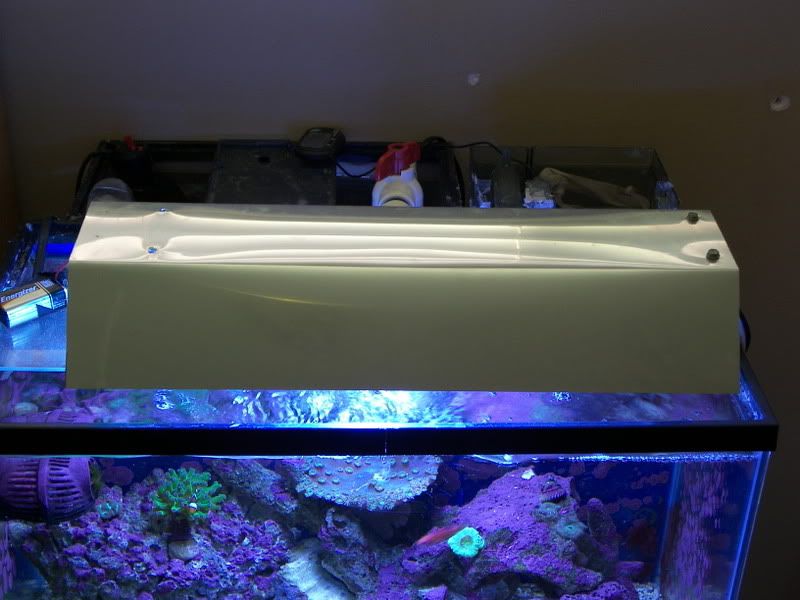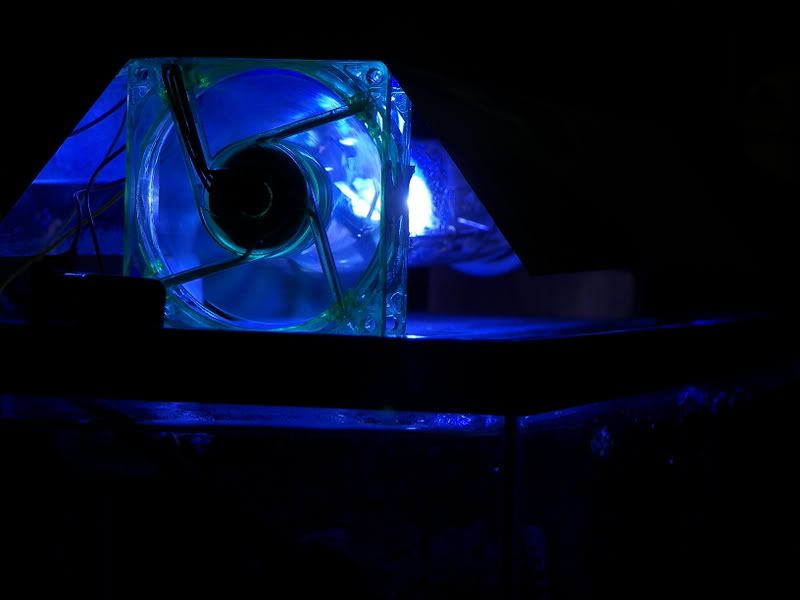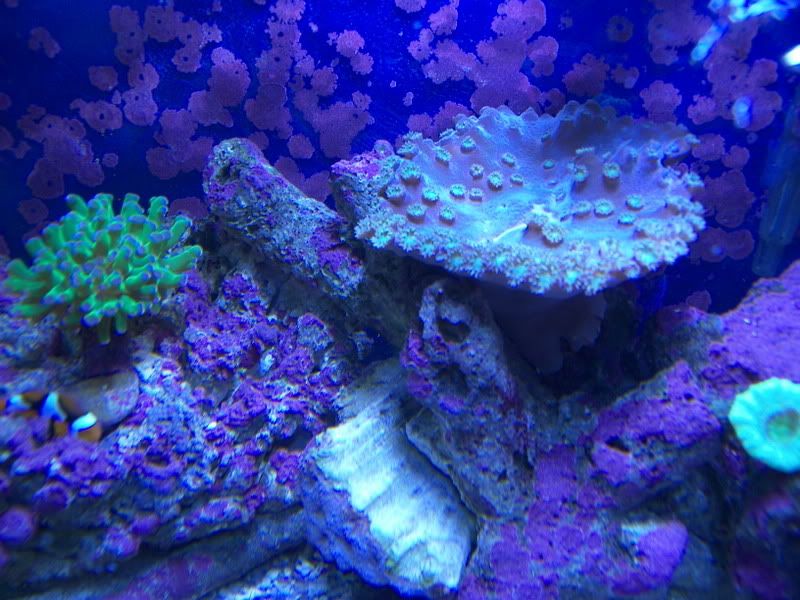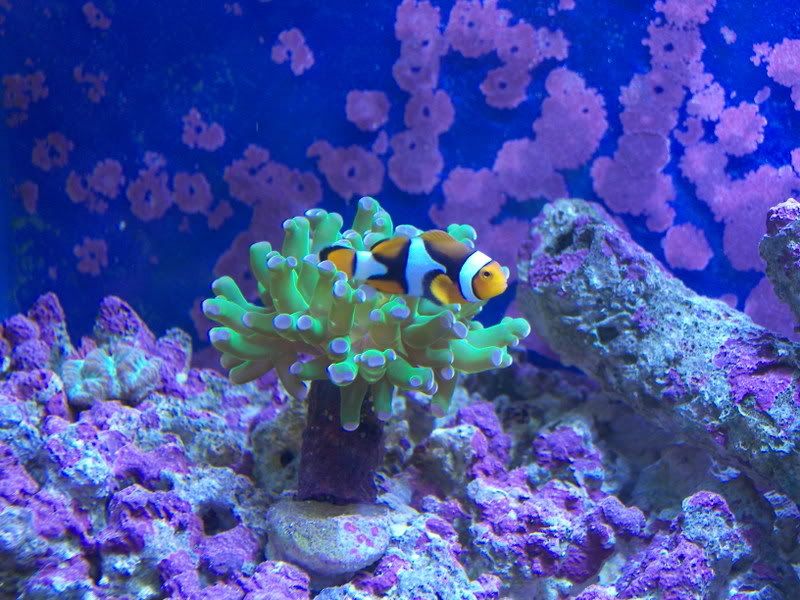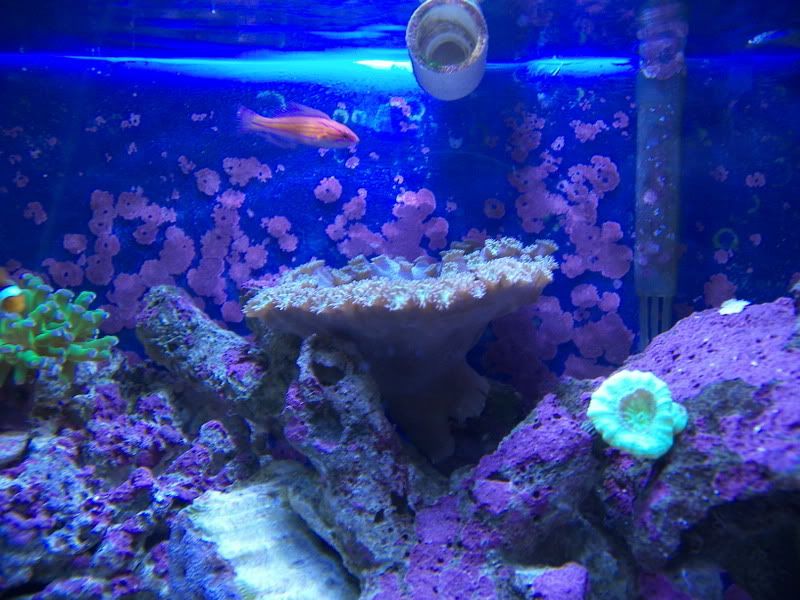 Ok, now I never come on this site anymore. Here is what pisses me off.
When I first came on, it was almost s if anything I asked wasn't answered, just the little questions.
I want to let you know though. From what little I knew then, and how much I know now I can tell you that in both times I KNEW my tank was cycle when I added things. I didn't rush anything and it was 2 months before I put a fish in.
Beta Baby, crushed coral is working for me just fine. You don't need a anaerobic section in your tank for it to function.... Having plenty of nitrifying bacteria and doing weekly water changes is fine. Oh and you pushed that my Ca was screwed up a little too hard. A two week old tank with 14lbs of live rock and 10 pounds of crushed coral? Oh and its a nano too,why would you even think of ca? Sorry maybe on a bigger tank baby. Wow, how many years have you been doing this again?
you took things out of context betta, and you seemed to twist what I had to say.
Boy I am glad I found a good website (reefcentral) cause you guys had me thinking that any lps in a PC lit tank was pushing it. So now ban me or delete this post but know this. I set up my tank and it looks good now. I have never killed anything in there, and it was technically called established two months ago.
peace guys.
oh, and enjoy the picture of the zoos that I put in my week old, CYCLED, tank, they are still around
Posting Rules

You may not post new threads

You may not post replies

You may not post attachments

You may not edit your posts

---

HTML code is Off

---