Ordered my refractometer only because I'm starting to not trust the hydrometer I have being that the reading I'm getting varies day to day. Since I've added the emerald crab he has done wonders let me tell you lol the clam that is attached to the lr I have was starting to get covered with algae. I saw the emerald crab on it the other day working away on the algae, I looked last night and the clam is near clean haha. The cuc is doing a kick ass job!
Another update! I recently added 2 yellow tail damsels and 3 nassarius snails. I'm thinking the 2 power heads that are part of the tank are a bit too strong for my clown he's often confined to a corner..

So here is a list of what is in the tank so far.
10 mixed snails astrea
2 Mexican turbo snail
2 peppermint shrimp
3 nassarius snails
1 emerald crab
1 percula clownfish
2 yellow tail damsels
The Clown will always confine himself to a corner, they never venture far from what they call their territory. You are going to learn to hate Yellow Tail Damsels, very, very mean fishy, they will start to go after your Clown shortly.
The damsels have been fine and keep to themselves I just added a lawnmower blenny and another emerald crab
I undersand. And this is what everyone says when they have had Damsels for just a short time. Just giving you some friendly advice.
Update: its been a while since i have been on here. I have added some things since then.
I got rid of the cyanobacteria. With the trade off of all my halimeda plant dying :( i had the lights off for three days and it got rid of it.
Anyway i did get a new fish
A royal gramma
And here's a picture of the hectors goby who used to hide all the time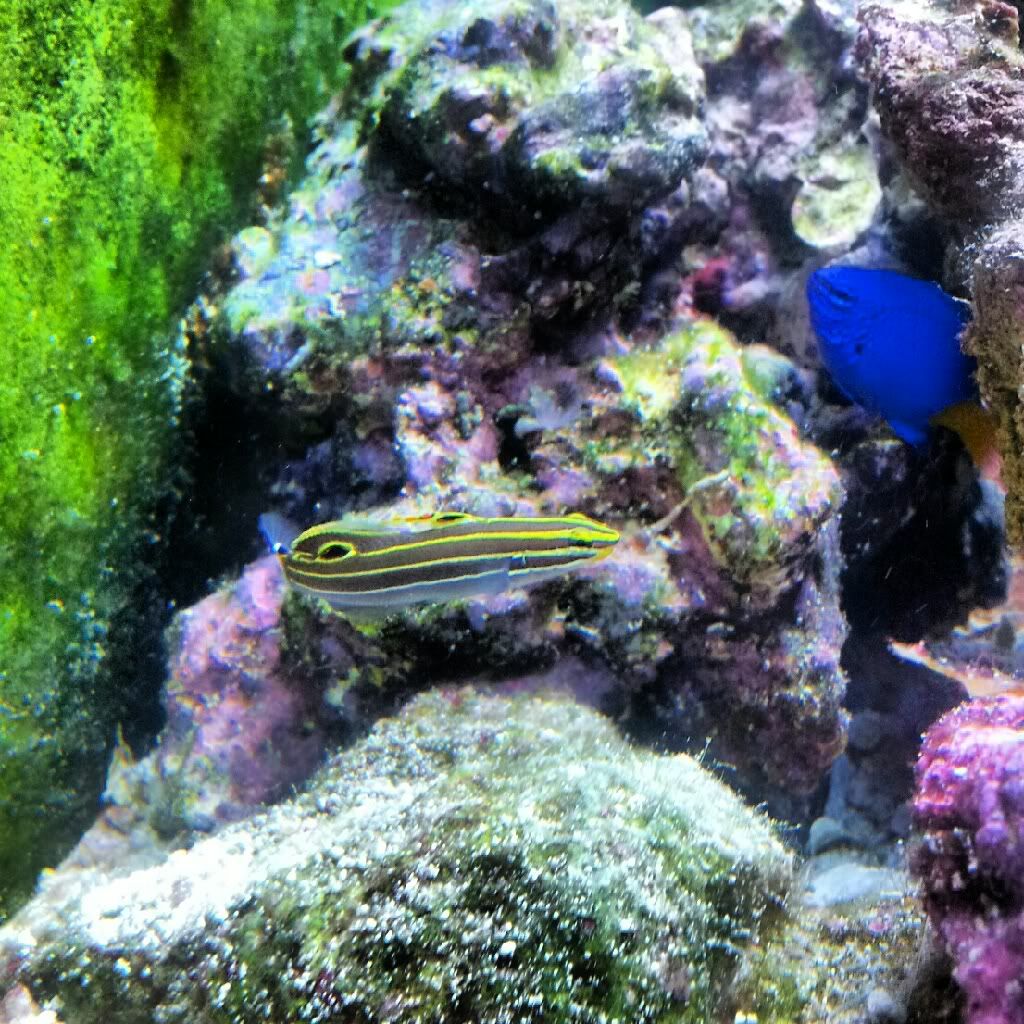 Everything has been good!
I had a yellow tail damsel in my 90 and I had to take it out. I harrassed my lawn mower blenny to death. By far IMO the meanest little fish.
Posted via Mobile Device
Quote:
I had a yellow tail damsel in my 90 and I had to take it out. I harrassed my lawn mower blenny to death. By far IMO the meanest little fish.
Posted via Mobile Device
Suprisingly they keep to themselves really. They'll bother any new comers for the first few hours but then they go back to keeping to themselves
Posting Rules

You may not post new threads

You may not post replies

You may not post attachments

You may not edit your posts

---

HTML code is Off

---