Still no answer. I tried calling from a friends phone and got the same result, so maybe he lost his phone or something. Idk, I'm just glad I was able to knock him down to $425. Now hopefully I can find a skimmer for under $100 somewhere. But I still have to figure out how to plumb the whole damn thing! I know I could figure it out if I had all the pieces in front of me, but I dont! UGH!!!
Anyways, I rescaped the left side. I didnt think the mushroom would like that much light and flow so I moved that rock to the bottom. It seems to be doing okay. Prob would be doing better if I had a FILTER >:(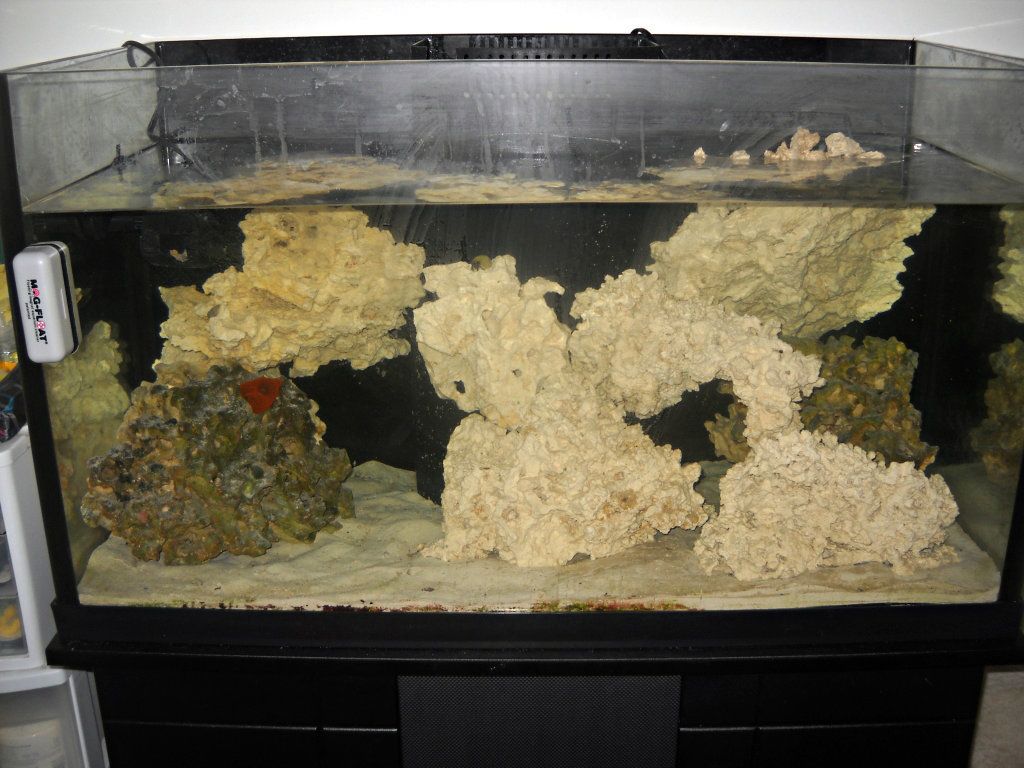 Marco rocks do ship to Canada but it is not free and you have to email them your details to be able to get an accurate quote.

I ordered off them and it was slapped with an import duty fee at customs. This may not happen to everyone but beware that you are liable for it.
---
10g Fry / Hospital / QT tank (as needed)

75g Saltwater Reef, Ocellaris Clownfish, Lyretail Antias (baby), Lemon damsel, Longtail Fairy Wrasse, purple dottyback, snails, crabs and a few LPS corals.

220g Still sitting empty (come on Lottery I need the numbers to come up!)
Theres a new, in box, Coralife 65gal skimmer for sale for $75 on craigslist. Can I get this one or will it make a really big difference if I get a 125 gal skimmer?
Reefing how do you DO THAT!??!? I spent like an hour on Ebay! lmfao! Thanks again for coming to the rescue. The price is great, evens out my purchase to the original $500 it was supposed to be so I dont feel so bad. Now, to get the refugium set up and figure out what I need for plumbing.. o.0
. Can give references on that Skimmer also, from a guy who just set it up. Recently from here.
http://www.tropicalfishkeeping.com/s...-setup-112325/
As far as the plumbing goes, you'll need 1" pvc for your flow to sump, and 3/4"-1" return pvc to the tank. 1" pvc using 1 pipe and your looking at getting a pump that will accomodate 600gph return after head loss.
So the Quiet One 4000 is 991gph to start and 621gph at 5' of head loss. Or we go with the 3000 model at 4' head loss for 611gph.
I do have the return pump it came with.. let me see if I can figure out how many gallons it pushes out
Quote:
I do have the return pump it came with.. let me see if I can figure out how many gallons it pushes out
Posting Rules

You may not post new threads

You may not post replies

You may not post attachments

You may not edit your posts

---

HTML code is Off

---