MiamiLeos first ever reef tank build!
---
Just got the setup, 57 gallon rimless with all the bells and whistles. I was hesitant at first but I'm happy to have it now. It was hell to move by myself but so worth it! It's got 50 lbs of live sand (I think I'm going to have to get more, seems a bit shallow) and two large live rocks along with a bunch of baby hermits and some turbo snails. One of the rocks is submerged in a tub because it's got a little red mushroom on it that I hope makes it until tomorrow afternoon when I fill the tank. I'm really happy to see that it's got some coralline growing on the bottom and the rocks have a bit as well. I can't wait to get this baby up and running tomorrow. I'll post some more pics when I add the dry rock (from the incredible Marco Rocks). Should I add the rock first, then fill or fill first? I'm a little worried that without the water to support it, the rock will tumble.. Anyways, here's an empty pic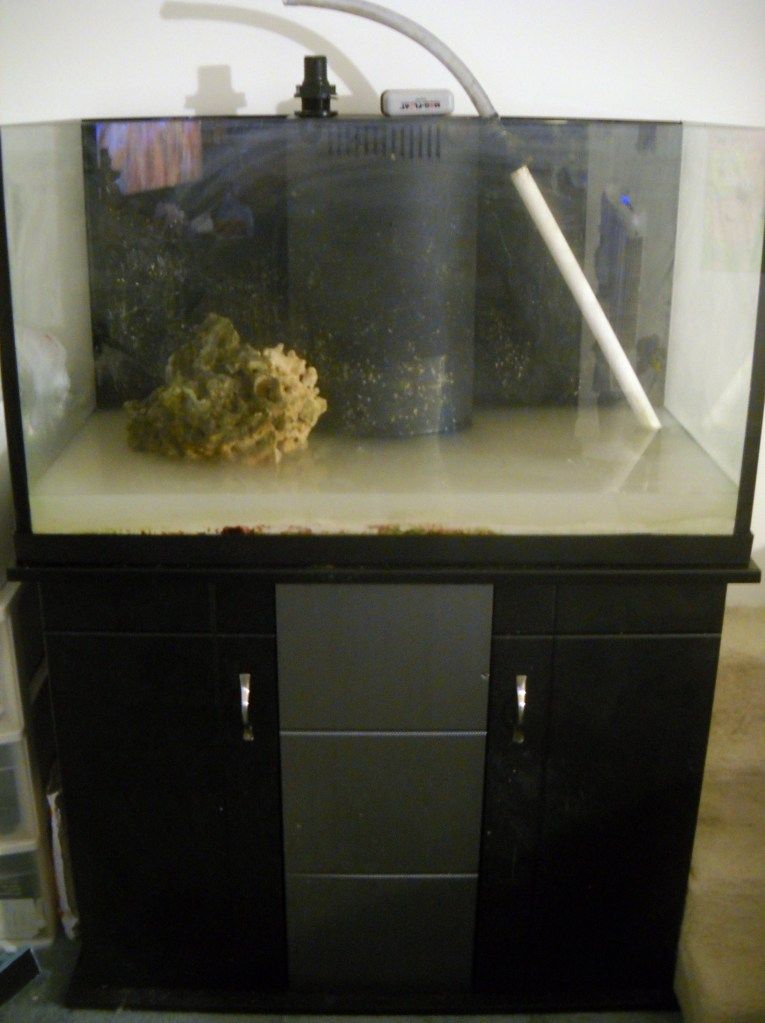 Fill it half way to 2/3rds then add Rock, then fill in around with the sand. This ensures that the rock is on the bottom and can't be tunneled under and thus toppled by critters.
And also. CONGRADULATIONS!!!
THANKS!!!!! I'm happy with it :D Should I buy live sand or dead sand to fill it a bit more?
I personally go with either less than an inch or or 4" of sand. Denitrification takes place in the depths of the sand bed; anaerobic bacteria complete the nitrogen process with an end result being nitrogen gas leaving the aquarium naturally. It is a good method of keeping Nirates in check.

The problem with a sand bed between 1" and 4" is that detritus gets caught up in sand and without the anaerobic layer of bacteria, results in a Nitrate spike over time.
---
Nothing good happens fast in an Aquarium
My 30 Gallon Long Marine Tank
My son's 20 gallon FW Community
ZACKLY!

With no burrowing fish, a deeper than one inch sand bed is a lot of needless maintenance. Worst advice I ever got as a novice was to buy two big ol bags of crushed coral as substrate for my first large FOWLR sustem. Boy was that tank a nitrate infected, algae-covered mess for the duration of its short life.

Thanks, fish dude who's no longer in business, wherever you are!
---


thousands have lived without love; not one without water.


W.H. Auden in "First Things First"
So in a reef system, would you guys agree that it's better to have a deep sand bed or the shallow 1" sand bed? Some places in the tank arent even 1" I would still prob buy a 10lb bag to get the whole floor up to an inch. That sure does sound easier on the wallet than another 5 bags lolol
BUT! I do plan to have a watchman goby, possibly another goby, and hopefully once the tank is established a manderin. Would these guys require the deep sand bed?
Mandarins need well established live rock with lots of 'pods.especially until they take to captive food. If they do. Deep substrate is not as essential to them. Research any fish like jawfish or wrasses you may want at some point. Not all wrasses bury themselves, but some do. Shrimp gobies burrow, I think. Gotta check them out species by species. They have very different lifestyles, so generalizations will get us all in trouble.
---


thousands have lived without love; not one without water.


W.H. Auden in "First Things First"
Posting Rules

You may not post new threads

You may not post replies

You may not post attachments

You may not edit your posts

---

HTML code is Off

---